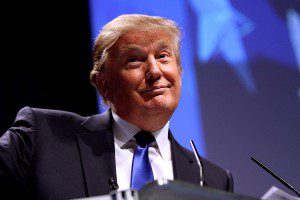 When you said that you voted for Donald Trump based upon your prudential decision, because you thought he was the lesser of two evils, I disagreed but could understand the argument. Trump did not promise to be the lesser of evils; he only promised evils.
Be it as it may, Trump won.
Now we have a rogue President who has no interest in the rule of law: he denies the authority of the judiciary to override his illegal decisions. He thinks he is the law, and judges have to execute his decisions. His advisers are already telling the media Trump's authority must not be questioned.
We have a rogue President who is willing to engage in secret discussions – out in the open, where anyone can overhear and record what is being said.
We have a President whose National Security Adviser had to "resign" because he failed to consider the security of the nation and instead seemingly betrayed the United States to Russia.
We have a President who pushes his business interests as President (explaining why Conway would do so as well).
We have a President who not only engages tirades on twitter, he does it during the time his attention should be with the intel he is being given!
Ok. So Trump won.
When will you stop talking about Hillary Clinton and actually engage the mess the United States finds itself in? When will you stop talking about Obama and start talking about what President Trump is doing? You were all concerned about e-mails, but you have no concern about sensitive top secret meetings done in the open? You were concerned about Benghazi, but you say nothing about Yemen?
When will you start being concerned with the activities of the current President of the United States? When will you show that you were concerned about stopping evil by helping the concerned people of the world stop the evil which is happening before them? When will you stop defending Trump?
You made a mistake. Trump won, and the United States lost. You helped elect a corrupt businessman who has no business being President of the United States. He is insulting our allies while giving support to those seeking to undermine our well-being.
The time for silence is over. Even if you thought you were right in choosing him as the lesser of two evils, even if you still think he was better than Clinton, the fact of the matter is he is President. He is the one doing the evil. When will you stop your silence and help the rest of us do something to fix the damage he is doing not only to the United States, but the rest of the world? When will you speak out when his advisers desire to take on the Catholic Church and her teachings?
You should join many of your fellow Catholics in speaking out . The rest of the world, is waiting.
Stay in touch! Like A Little Bit of Nothing on Facebook: