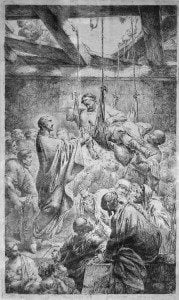 And when he returned to Capernaum after some days, it was reported that he was at home. And many were gathered together, so that there was no longer room for them, not even about the door; and he was preaching the word to them. And they came, bringing to him a paralytic carried by four men. And when they could not get near him because of the crowd, they removed the roof above him; and when they had made an opening, they let down the pallet on which the paralytic lay. And when Jesus saw their faith, he said to the paralytic, "My son, your sins are forgiven."

Now some of the scribes were sitting there, questioning in their hearts, "Why does this man speak thus? It is blasphemy! Who can forgive sins but God alone?" And immediately Jesus, perceiving in his spirit that they thus questioned within themselves, said to them, "Why do you question thus in your hearts? Which is easier, to say to the paralytic, `Your sins are forgiven,' or to say, `Rise, take up your pallet and walk'? But that you may know that the Son of man has authority on earth to forgive sins" — he said to the paralytic — "I say to you, rise, take up your pallet and go home." And he rose, and immediately took up the pallet and went out before them all; so that they were all amazed and glorified God, saying, "We never saw anything like this!" (Mk. 2:1-12 RSV).
Jesus healed the paralytic, both in body and in soul. That man represents all of us, as we find ourselves stuck in the mire of sin. Humanity had abandoned God, and so was left to its own devices, helpless and weak.
Not all suffered with the same ailments, the same weaknesses, and so some were able to take positions of power and authority in the aftermath of the fall, positions which they wanted to keep but knew would be left behind if the paralyzing effects of sin were overcome. This is why so many of them denounced Jesus when he came to offer God's restorative grace, freeing humanity from the bondage of sin. They could see their power over others was beginning to wane. By helping the paralyzed man to get up and walk, Jesus showed, in analogy, what he had come to do for humanity, and nothing which his critics would say or do could withstand his authority and prevent the release of humanity from the fetters which held them down since the dawn of history.
Pope St. Gregory the Great saw that in the fall of Adam, all of humanity was seen in one accord, man and woman and child, as they attached themselves to the things of the earth instead of heaven, to the world as it existed in itself without the radiance of God's glory. Without the light of grace, humanity became spiritually blind, incapable of seeing the kingdom of God:
After Adam, the father of the human race, was driven from the joys of paradise as a result of sin, he entered upon the distress of this dark exile we are now suffering. Driven outside of himself by his sinful act, he was no longer able to perceive the joys of heaven which had been the object of his contemplation before. [1]
Indeed, what had been lost due to the fall was soon forgotten, so that humanity only knew and understood itself in accord with its carnal attachment; that meant that if anyone spoke of a rich spiritual treasure which all should strive for, most people would find no reason to believe in it because they have no experience of it:
Carnal men, on the other hand, cannot remember or appreciate these joys when they hear about them, because, unlike him, they have no past experience to fall back on.[2]
Humanity had effectively died, as God had warned would happen. Its greatness had been diminished and it lived almost as if were the walking dead, because it no longer knew and found itself united with God, the Lord and giver of life. There was left within a few sparks of life, enough that it could be rekindled by grace, but until the Spirit should blow forth and make the sparks turn back into the living flame of life, humanity as a whole could be said to be neither fully alive nor dead, and so among the undead