A Black Muslim I knew in High School gave me the Koran which I still possess to this day (the one translated and commented upon by Yusuf Ali). This was because we would discuss religion and theology and he wanted me to have a better understanding of Islam. A couple years later, during my first year at college, my dormitory was used, in part, for foreign exchange students, most of which were Muslims. I got to know, and talk with from time to time, and form a casual friendship with them. They were more comfortable with their fellow exchange students, but they respected me and I them, and I would help them if they asked for it, and they would at times ask me questions and show interest in my own religious beliefs.
As a part of my undergraduate degree in Religious Studies, I also took several classes which either in whole or in part, dealt with Islam (and I would take several more, years later, in my graduate studies). I got a sense of the diversity of thought in Islam, and found in the Sufis a tradition which intrigued me but it would only be later, after I understood Christian mysticism, that I would truly understand the significance of Sufism.
In all my early encounters with Muslims, I knew we had theological differences, but there was a lot of mutual appreciation between myself and them, an interest in inter-religious dialogue, and even an acceptance that we held much in common, including our belief in the one true God.
Even as a Baptist, I recognized Muslims believed in the same God as Christians. It was more than a little obvious to me. They believed in Abraham and the God of Abraham, and their religious tradition showed they held a common heritage with the Jews. Many of their practices, many of their moral positions, could be seen as fitting the general paradigm established by Abraham.
When I became a Catholic, I had no reason to doubt this. Indeed, I had every reason to hold to this understanding even more firmly. When Christian apologists like Justin or Lactantius could see righteous pagans seeking after, and following the one God to the best of their natural ability, or when Augustine pointed to the Platonists as seeking after the one God and were to be commended for it, they did so with a general belief that monotheistic reasoning, however imperfect it was followed out, at least pointed to and brought people together in worship of the one God. If pagans could be seen as holding to the one true God, however imperfectly their faith and understanding of God, it is not difficult to see how Muslims, coming from a tradition which specifically joins itself with the God of Abraham, must follow and believe in the one true God.
This is not a question of Muslim understanding of God, that is, of the greater theological revelation about God through Jesus Christ, revelation which transcends human comprehension, but of the object of their adoration. They worship the true God, and indeed understand many qualities and attributes about God correctly. This is why their own theological reflection, kalam, could and did influence the schoolmen as they read Arab philosophers commenting about Plato and Aristotle. Certainly scholastic theologians would adapt what they read, add to it Christian notions, but often the general outline of theological argument would follow what Muslim philosophers said before them, showing not only the importance of Islamic thought for the development of Christian theology, but also the recognition that Muslims and Christians were talking about the one God together, reasoning out what they could and would know about God through natural theology and revelation.
Today, the sad fact is that many Catholics, following political rhetoric, have ended up denouncing the whole of Islam and trying to declare Muslims and Christians worship different gods. Their argument demonstrates a fundamental disassociation of the Catholic theological heritage (it would destroy the arguments of the earliest apologists, if their reasoning was correct), as well as a rejection of official Catholic teaching. Islamophobia tries to find all kinds of excuses to denigrate Islam, to mistreat Muslims, and in the end, to turn the Christians speaking out with Islamophobia into what they fear from the Muslims, a group trying to exterminate the other. They project their own inner demon on the Muslims, and in doing so, create the conditions by which Muslims, facing such hostility and belligerence, might act in defense. That defense will then be misread and used to suggest that Muslims are violent and in such Islamophobia will be said to be justified. Muslims will become more violent as they grow afraid of retaliation, and in their violence they will inspire more Islamophobia and violence against them. The never-ending cycle of violence will continue as each side projects their own inner demons on the other and use that as just cause to destroy the other.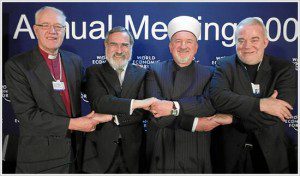 The solution, the way to put a stop to it, is to recognize the unity which Christians can have with the Muslims, a unity which should be founded upon our general belief in God and mutual respect for the moral and ethical values we hold in common.
Catholics should take note of this. Our own official teaching, such as found in Nosta Aetate, affirms that we can find common accord and peace with Muslims. Indeed, we are told Muslims are to be esteemed, not denigrated, because they worship the same God as we do:
The Church regards with esteem also the Moslems. They adore the one God, living and subsisting in Himself; merciful and all- powerful, the Creator of heaven and earth, who has spoken to men; they take pains to submit wholeheartedly to even His inscrutable decrees, just as Abraham, with whom the faith of Islam takes pleasure in linking itself, submitted to God.[1]
Moreover, we are told that in the long history of conflicts between Christians and Muslims, it is true there have been violence committed by both sides. Christians and Muslims both have often written terrible polemical literature which have fueled contentions between members of both religious faith. But, we are told, this must not continue. We must find ways to overturn the bitterness of the past and to find ways in which Christians and Muslims can work together for justice:
Since in the course of centuries not a few quarrels and hostilities have arisen between Christians and Moslems, this sacred synod urges all to forget the past and to work sincerely for mutual understanding and to preserve as well as to promote together for the benefit of all mankind social justice and moral welfare, as well as peace and freedom.[2]
Even if Muslim did not show forth a spirit of cooperation, this would not remove the Christian responsibility to try. We are called to love our neighbor and our enemies, to do good to others, even if they would not do good with us. We cannot justify disrespect and belligerence towards Muslims because we think they will be hostile towards us. Nonetheless, what we need to recognize is that some Christians are violent and act in hostility against various Muslims, and some Muslims are violent and take their hostility out against Christians. Neither represent the best of their traditions when they act against the other in violence. Just as we would not like Christians to be judged by the worst of our believers, our extremists, so we should not judge Muslims due to their extremists. We can and should work together. We hold God in common. We hold principles of peace and justice in common.