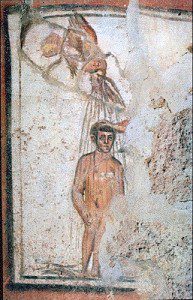 This is the second post of a series on the sacrament of baptism.
Click here to read Part One.
Baptism is said to bring us salvation, because it renders us the grace of the Holy Spirit. For this reason, it is said to be the entrance into the new and everlasting covenant. It brings us spiritual rebirth, giving us our birth from above, because through it we are born of the Spirit, no longer beings merely attached to the temporal world. Baptism is received through water even as it is sanctified by the Spirit. It must not be seen merely the washing of water, nor the magical invocation of names: neither of these are what makes baptism effective. Rather, it is the Spirit which uses the vessels established for our recreation who enables them to be the means by which we are born again in the body of Christ. Just as in the myth of the flood, only those who joined in the ark of Noah were said to be saved from the waters which ravaged the earth, so through baptism we join into Christ and find ourselves saved from the floods of sin:
 For Christ also died for sins once for all, the righteous for the unrighteous, that he might bring us to God, being put to death in the flesh but made alive in the spirit; in which he went and preached to the spirits in prison, who formerly did not obey, when God's patience waited in the days of Noah, during the building of the ark, in which a few, that is, eight persons, were saved through water. Baptism, which corresponds to this, now saves you, not as a removal of dirt from the body but as an appeal to God for a clear conscience, through the resurrection of Jesus Christ, who has gone into heaven and is at the right hand of God, with angels, authorities, and powers subject to him (1. Ptr. 3:18-22 RSV).
Christ told us to believe and be baptized, not because baptism is merely a sign of our own belief, but because he set up baptism as a means by which we are graced by the Spirit, find ourselves cleansed from the power of sin and the death which is brings, so that we can be born into the kingdom of God.
The baptism of John, which prefigured the baptism of Christ, was not full of the power of the Holy Spirit and so did not give those who received it the new, spiritual birth they need in order to attain eternal life. What John gave was of water. It opened people up, making them aware of their need for cleansing by the use of water, but John knew, however useful and whatever grace might have been attained from his baptism, there was the need for a greater baptism which received its power from the Spirit of God. What John gave was a means for metanoia, but what Christ gave was greater. Christ wanted those who came to him to start with what John established, so that those who came to him had to accept the need for conversion, for metanoia, but then Jesus would impart upon those who are baptized the grace of the Holy Spirit to make them anew, as St. Ambrose beautifully explained:
You have seen water; not all water cures, but the water which has the grace of Christ cures. One is an element, the other a consecration; one an opus, the other an operation. Opus belongs to water; operation belongs to the Holy Spirit. Water does not cure unless the Holy Spirit descends and consecrates that water, as you have read that, when our Lord Jesus Christ gave the form of baptism, He came to John, and John said to Him: 'I ought to be baptized be thee; and comest thou to me?' Christ replied to him: 'Suffer it now; for so it becometh us to fulfill all justice.' Behold that all justice is established in baptism.[1]
The baptism which Christ has given us brings grace, and that grace opens us up to a new life, bringing us to a state of true justice and not a mere change of heart. Through baptism, we receive the fruit of Christ's labor; we experience the death of sin in his death, so that justice can be established in us. Then we can receive the Spirit of Christ, the Spirit of Truth, the Spirit of Life, and through its grace, we are free to pursue true justice and make it our way of life. This, to be sure, is up to us. The rebirthing process can be interrupted. We can become stillborn if we close ourselves once again from the grace of the Spirit and turn once again to the way of death, grasping after, and holding onto sin. As we continue in temporal existence, we should be growing in grace, preparing ourselves for eternal life in the kingdom of God. We are still immature children, and so can turn away, mortally sin, cutting ourselves off from the blessings of the kingdom of God. We can receive the Spirit, we can be conceived by the Holy Spirit for the heavenly kingdom, but we still can cast God's Spirit from us.  Thus, Paul warns us not to quench the Spirit (cf. 1 Thes. 5:19), and so, not to act immorally, sinning against ourselves by such immorality because we are to be temples of God in which the Spirit dwells:
Shun immorality. Every other sin which a man commits is outside the body; but the immoral man sins against his own body. Do you not know that your body is a temple of the Holy Spirit within you, which you have from God? You are not your own;  you were bought with a price. So glorify God in your body (1 Cor. 5:18-20 RSV).
In baptism, we find souls are washed clean by the Holy Spirit. We find a new sense of power, a new sense of freedom emerging in and through our regeneration, so that we can truly say we are born again, receptors of a new life with a new opportunity to receive all the blessings God intended for us to have. It is God's desire that we take that grace and act upon it, turning ourselves into persons who act justly, that is, out of the law of love, so that we no longer are rebels following the path of hate and destruction. Before our baptism, we were once turned away from God, attached to the ways of the temporal world without the Spirit to enlighten our way; but now we have been regenerated, and no matter what kind of past we might have had before baptism, we have a fresh start. And so, because of our past, because  we were turned away from God before our rebirth, even if we were infants when we were baptized, we can say with Paul:
For we ourselves were once foolish, disobedient, led astray, slaves to various passions and pleasures, passing our days in malice and envy, hated by men and hating one another; but when the goodness and loving kindness of God our Savior appeared, he saved us, not because of deeds done by us in righteousness, but in virtue of his own mercy, by the washing of regeneration and renewal in the Holy Spirit, which he poured out upon us richly through Jesus Christ our Savior, so that we might be justified by his grace and become heirs in hope of eternal life (Tit. 3:3-7 RSV).
We who have been baptized have been regenerated. We have emptied ourselves of our sins so that we can become joint-heirs with Christ, sons and daughters in the Son of God. We have found our place in the body of Christ so that what he is by nature we become by grace. This is what it means to be adopted children of God; we are not begotten of the Father through all ages, but we join in and find ourselves united to the one who is, Jesus Christ, who is the eternal Son of God, the Logos. Through his incarnation, he makes room for us so we can be grafted into his body. But that means, if we do not open up and truly unite with him, if we close ourselves off and hinder the work of that grafting, we can still find ourselves falling away and doomed to perish.   Those who turn once again to sin, attach themselves to it, find out it is like a cancer in the body of Christ which must be excised; the greater the sin, the greater the cancer, and the more which will have to be cut off. This is why, if we let sin reinfect us completely, we might have to be cast away, as Paul warned of Gentiles who found themselves joined to the Israel of God, taking the place of others who had fallen away: "Note then the kindness and the severity of God: severity toward those who have fallen, but God's kindness to you, provided you continue in his kindness; otherwise you too will be cut off" (Rom. 11:22 RSV).
---
[1] St. Ambrose, "The Sacraments," in Theological and Dogmatic Works. trans. Roy  J Deferrari, PhD (Washington, DC: Catholic University of America Press, 1963), 274.
Stay in touch! Like A Little Bit of Nothing on Facebook: