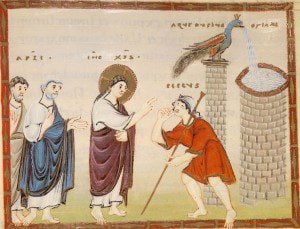 This Sunday, the Byzantine tradition in its ongoing cycle of Paschal Sundays remembers the Man Born Blind. On it, Christ's earthly ministry is once again seen as an allegorical representation of what Christ brings to us as a result of the resurrection. We have the narrative of a man who was born blind, who, it is said, was not blind because of any sin he or his family did, but so that in and through him, the glory of Christ, the light of the world, could be manifest:
As he passed by, he saw a man blind from his birth. And his disciples asked him, "Rabbi, who sinned, this man or his parents, that he was born blind?" Jesus answered, "It was not that this man sinned, or his parents, but that the works of God might be made manifest in him. We must work the works of him who sent me, while it is day; night comes, when no one can work. As long as I am in the world, I am the light of the world."

As he said this, he spat on the ground and made clay of the spittle and anointed the man's eyes with the clay, saying to him, "Go, wash in the pool of Siloam" (which means Sent). So he went and washed and came back seeing.

The neighbors and those who had seen him before as a beggar, said, "Is not this the man who used to sit and beg?" Some said, "It is he"; others said, "No, but he is like him." He said, "I am the man." They said to him, "Then how were your eyes opened?" He answered, "The man called Jesus made clay and anointed my eyes and said to me, `Go to Siloam and wash'; so I went and washed and received my sight." They said to him, "Where is he?" He said, "I do not know" (John 9:1-12 RSV).
This story has always been understood to be both historical, that Jesus did indeed meet such a man and heal him, but also symbolic, that through his encounter with the man, Jesus' glory was to be shown, not just because it shows he could and did heal people from their physical ailments, but that he could heal people from their spiritual blindness as well.
We are all born spiritually blind, thanks to original sin, which is not actual sin, so it is not because of any actual sin of our parents or ourselves which has led to us to be born in such a condition. We are turned away from God, our intellect darkened as a result, because we are closed off from the light which enlightens all, the light of grace, the light of God. The light is there, the world is enlightened by the light of Christ, the light of God the Son since the very beginning, but the darkness which separated creation from God, the darkness of sin (from the fallen angels to that of our ancestors), changed our mode of existence; we are born spiritually blind because the human condition evolved in such a way that material existence dominates our perception; our spiritual senses, our ability to see, hear, encounter the spiritual realm of existence, has been lost. Without an ability to see the spiritual light, we move and act like blind men and women, stumbling around, ignorant and confused, trying to make our way in the world as best we can.