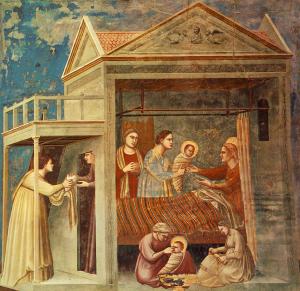 The birth of the Mother of God, Mary, was a special event in human history. In and through her, as St. Pulcheria understood, women have been elevated. Not only are we shown women are to be considered equals to men and not be cast aside as insignificant in the church, we are shown that they can have charisms greater than men – for which man or woman had a greater role in salvation history than Mary?
While her immediate family, such as her parents, rejoiced in the miracle which allowed them to have a child after decades of childlessness, for most everyone else, she would have been seen as an ordinary newborn with nothing special about her.
This should not be surprising, because in many respects, this is exactly what she was: a perfectly natural newborn. But that was what made her extraordinary in human history. Freed from the contagion of sin, she was brought into the world as one of the few men and women in history born without any defect or corruption from sin.[1] After the degeneration of sin, God worked with Israel, directing them and filling the people of Israel with grace so that the history Israel could lead to her birth, Daughter Zion, the perfectly good and wonderful daughter of Israel who was the delight of God. In her birth, humanity had at last been prepared for the coming of the Sun of Righteousness, the Son of God made man, so that heaven and earth could be joined together and made one. Her humble birth was the humble beginning of God's new activity in the world, and so it brought joy to the world, even if it did not yet know the source of that joy. For the timing was ripe; the anointed one, the messiah, was coming and he would reveal himself to be the true light of the world.
The curse of sin had been overcome. This was demonstrated in the way that Anne, Mary's mother, found the curse of childlessness cured. For as God often wrought miracles to demonstrate the greater spiritual miracle taking place, so the curse the holy Anne felt in life was countered to reveal the greater blessing of God:
Joachim and Anna were freed from the reproach of childlessness and Adam and Eve from the corruption of death, O Immaculate One, by thy holy nativity. And thy people, redeemed from the guilt of sin, celebrate thy birth by crying to thee: The barren woman gives birth to the Mother of God and the nurse of our life. (Kontakion of the Mother of God)
Daughter Zion, prepared for by the special history of the people of Israel, was the perfectly human complement for the Son of God who could become man through her. She in her femininity would reveal the fullness of God and live the true life in the Spirit of God, revealing the Spirit through her in a way no man could. Mary, full of grace, was the humble handmaid fit for the great work in store for her. God was to become man, having set up the precondition by which he can assume human flesh and make it his own. He had to empty himself into the form of a man born of a woman, a man who was perfect in his humanity, a humanity which he received from the pure Woman as he assumed her flesh and made it his own. Then he could and would continue with such humility, though still being God, live as a perfect human, full of grace and the Spirit in the flesh, following the dictates of nature and the love he had for God the Father. As man, he would do all that a man full of such love could do, emptying himself of all things through death to show the fullness of his love:
Have this mind among yourselves, which was in Christ Jesus, who, though he was in the form of God, did not count equality with God a thing to be grasped, but emptied himself, taking the form of a servant, being born in the likeness of men. And being found in human form he humbled himself and became obedient unto death, even death on a cross. Therefore God has highly exalted him and bestowed on him the name which is above every name, that at the name of Jesus every knee should bow, in heaven and on earth and under the earth, and every tongue confess that Jesus Christ is Lord, to the glory of God the Father (Php. 2:5-11 RSV).
Perfect man, perfect in obedience of love, he is perfect in his humility, showing that it is only through such humility true humanity could be found. He took this from his mother, the humble handmaid of God, who revealed in her humility the perfection of humanity. Mary represented to Jesus what a mother always represents to their children, leading him by example what it meant to be human. She lived and did all she could as a mother would do, loving him, serving him without end.
Yet, she had free will; her life, like that of her son, was full of temptation which she constantly overcame; her love was constantly tried and proven true. Yet because her life had to be constantly giving itself over to the mission given to her, and she might have doubted or be tempted to do something else, Jesus showed his love for her by also ministering to her and her needs. When he spoke, teaching others, there often was an aspect to them which was for her advantage, to remind her that the good of her past could be lost if she defected from God's intention for her and fell into sin:
As he said this, a woman in the crowd raised her voice and said to him, "Blessed is the womb that bore you, and the breasts that you sucked!" But he said, "Blessed rather are those who hear the word of God and keep it!" (Lk. 11:27-28 RSV).
Instead of being seen as a rebuke or a rejection of her special status, these words must be seen as part of Jesus's reminders to Mary to help her keep true to herself and the greatness God intended for her. As St John Chrysostom said, "And this He said, not as being ashamed of His mother, nor denying her that bare Him; for if He had been ashamed of her, He would not have passed through that womb; but as declaring that she has no advantage from this, unless she do all that is required to be done."[2] Thus, it was not merely what she did at one stage of her life, but her whole life, which had to be kept pure. She did good, and she was blessed, but the blessing could be lost if she did not follow what God had for her to do. So, when he said words which seem to deny her the greatness she had, they must be understood in part as exhortations for her to continue in humility and in grace. The point was to add to her, to help pastor her, so she could continue to grow and add even more to her greatness. "Do you see how on every occasion He denies not the affinity by nature, but adds that by virtue?"[3]
Mary's birth, just like the birth of John the Baptist later, heralded the coming of the God-man, the one who transcends humanity in his divinity and yet would bring God's glory to creation by uniting it together as one in himself. Through Mary, Jesus had a real human nature and could be said to be the seed and heir of Abraham. Through Mary, the incarnation is shown to be real and so the benefits were for the whole of creation, allowing it to find its place in the divine life. The conquest of sin was only the beginning, not the end—the goal for all in creation is participation in the divine life, union with God, which is possible thanks to the God-man. Mary was the foundation and connection between the God-man and humanity; she was the woman, the God-bearer bringing the light and life of the world to bloom; she was the indication that the eschatological fate of humanity, and the rest of creation, was soon to be accomplished.
Thy Nativity, O Mother of God, has brought joy to all the world; for from thee arose the Sun of Righteousness, Christ our God, Who, having dissolved the curse, has given His blessing, and having abolished death, has granted us life eternal (Troparion of the Mother of God).
[IMG=Birth of the Blessed Mother of God by Giotto via WikimediaCommons]
---
[1] Adam and Eve somehow came into the world without such sin, so they represented natural humanity; John the Baptist was born without sin, so he too, represented the perfectly good and natural humanity, showing that the perfection of human nature was possible in history and that it did not make everyone the same in personality even if they were united in human perfection.
[2] St. John Chrysostom, "Homilies on Matthew XLIV" in NPNF1(10): 278-9.
[3] St. John Chrysostom, "Homilies on Matthew XLIV," 280.
Stay in touch! Like A Little Bit of Nothing on Facebook