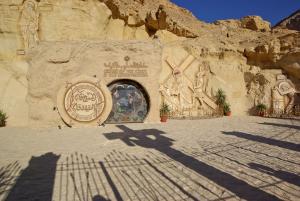 Abba Anthony predicted that this Abba Ammonas would make progress in the fear of God. He led him outside his cell, and showing him a stone, said to him, 'Hurt this stone, and beat it.' He did do. Then Anthony asked him, 'Has the stone said anything?' He replied, 'No.' Then Anthony said, 'You too will be able to do that,' and that is what happened. Abba Ammonas advanced to the point where his goodness was so great, he took no notice of wickedness. Thus, having become a bishop, someone brought a young girl who was pregnant to him, saying, 'See what this unhappy wretch has done; give her penance.' But he, having commanded that six pairs of fine linen sheets should be given to her, saying, 'It is for fear that, when she comes to give birth, she may die, she or the child, and have nothing for the burial.' But her accusers resumed, 'Why did you do that? Give her a punishment.' But he said to them, 'Look, brothers, she is near to death; what am I to do?' Then he sent her away and no old man dared accused anyone any more. [1]
Ammonas was one of Anthony's most important and influential disciples; he is said to have "succeeded" Anthony at the Outer Mountain of Pispir, become a great, spirit-filled ascetic before being elevated to the bishopric. Many monks ran from such a position because they knew they were not ready for it. It was often seen as a position of vainglory and that those who looked for it were those least worthy of the position. When offered orders, many if not most of the desert monks would reject it because they knew they had yet to learn humility and find their proper position with God. Ammonas was one of those rare exceptions. This was because he had been able to take seriously the training given to him by St. Anthony; he lived it out, so that with great humility, he could live out his love for God in a position of authority and show others the mercy which he wanted for himself.
The lesson Anthony gave is the kind of lesson great spiritual directors have been able to give to their disciples throughout the centuries: the kind of attitude one is to have in respect to the way people talk about them. Vainglory seeks a great reputation. A humble person will be able to take criticism, even if it is not entirely just, and find themselves unmoved by it. There are many ways spiritual masters have given this lesson. St. Francis of Assisi, for example, has suggested we should be like a corpse: when it is abused, when it is physically manhandled, it gives no resistance of any kind.[2] While there is a depth to St. Francis' analogy which is not contained in the way St. Anthony directed Ammonas, the spirit is the same: great ascetics who want to overcome all hinderances to perfection will have to learn how to take blows without reaction, for then one who can do so will have overcome undue attachment to the self. They will be able to give love freely to God and otherwise without any concern as to what people think of them. Since this lesson could easily be abused and used to turn someone into a willful tool for abuse, we must keep in mind that its purpose is to perfect us, and that we should follow it in spirit but not the letter lest we allow the goodness which God has given to us to be undermined by evil. Indeed, the point itself is to help someone overcome inordinate attachment to legalistic notions of justice; for when humility is engaged, then the person will be more than ready to show mercy and grace to all who need it.
Thanks to the combination of grace and Anthony's prudence, Ammonas was able to achieve a position of great humility, holding forth as a result of it, a great love for God. He would then be able to proclaim to others the kind of love which he had achieved. "If any man loves the Lord with all his heart," he wrote in a letter, "and with all his soul and with all his might, he will acquire awe, and awe will beget in him weeping, and weeping joy, and joy will beget strength, and in all this the soul will bear fruit. And when God sees its fruit so far, He will accept it as a sweet savour, and in all things He will rejoice with that soul, and with His angels, and will give it a guardian to keep it in all its ways as He prepares it for the place of life, and to prevent Satan from prevailing over it."[3] Likewise, such humility will lead to a great love for one's neighbor, who will be seen as friends that are to be cared for:" I know that the love of God is continually putting a man in the mind of his neighbour. And our neighbour is he who is continually thinking on the perfect heavenly calling, praying for us night and day as for himself. And since I count you my friends, I remember you night and day in my prayers, that increase may be given to your faith and all your virtues, and you may receive greater strength than you already have."[4]
This spirit of charity and concern for his neighbor developed out of his spiritual training under Anthony, which is why the story of St. Ammonas begins with the lesson he received from St. Anthony and then shows how he acted as a bishop. Thanks to the spiritual lesson he learned from Anthony, he would possess the wisdom needed to be a good pastor in the church. He was so full of the love for God that he saw all things in the light of grace, giving mercy to all, preaching mercy to all, overturning, as a result, the judgmental attitude which seeks to destroy instead of heal sinners. Thus, how he was able to help the pregnant woman showed the fruit of Anthony's teaching. He welcomed her, offering her shelter and aid Anthony had taught him well, but he lived the teachings out, fulfilling them in his bishopric as he was able to show love and care for a pregnant woman, welcoming her, offering her aid and shelter instead of the condemnation and abuse others wanted him to give to her. Since her accusers, believing she was scandalous in her life, saw she was given mercy by Ammonas, they thought he was himself promoting scandal, and so offered him a dubium: how could he give her mercy? She did wrong; did she not deserve punishment? Ammonas, knowing how much mercy and grace he had been given, knew that the Christian faith is established so as to condemn sinners, but to save them; sins keep us in a spiritual death, while grace can enliven us and make us whole. Anyone who sins is dying; if Ammonas were to condemn her, should he not condemn all who are themselves close to death as a result of their sins? Like Jesus writing in the sand, Ammonas indicated that all of us are close to death, and so should be shown mercy so we would not die without receiving grace. Let those who are not on their way to death cast the first stone; as with Jesus, so with Ammonas, the accusers realized they had no answer and so backed down from their condemnation. Here, it seems that they learned the lesson and took it to heart; they realized the mercy and healing grace they received was meant to be shared, and if they tried to keep it all for themselves by casting aspersions on others, they would be the first to die and lose all the grace they tried to seize.
Let all who seek to condemn others remember we, too, deserve condemnation; let all those who want mercy learn the lesson of mercy and so walk away when tempted to condemn others. Then, if and when we truly learn humility and fear of God, we will be able to do more than walk away. We will be able to share the grace of God, giving them the help they need. We will realize and see all things in the light of God's love, sharing that love with others, never seeing the sinner but only a person whom God wants to love because they are made in the image and likeness of the God who is love.
[Image=From the Monastery of St. Anthony of Egypt. By Berthold Werner (Antonius_Kloster_BW_15.jpg) [CC BY-SA 3.0 (https://creativecommons.org/licenses/by-sa/3.0), CC BY-SA 3.0 (https://creativecommons.org/licenses/by-sa/3.0) or GFDL (http://www.gnu.org/copyleft/fdl.html)], via Wikimedia Commons]
---
[1] The Sayings of the Desert Fathers. trans. Benedicta Ward (Kalamazoo, MI: Cistercian Publications, 1984), 27.
[2] For example, see: "The Remembrance of the Desire of a Soul by Thomas of Celona" in Francis of Assisi: The Founder. Early Documents Volume II. ed. Regis J. Armstrong, OFM; J.A. Wayne Hellman, OFM. Con., and William J. Short, OFM (New York: New City Press, 2000), 345.
[3] Ammonas, "Letter II" in The Letters of Ammonas. Trans. Derwas J. Chitty. Revised Sebastian Brock (Fairacres, Oxford: SLG Press, 1995), 2.
[4] Ammonas, "Letter V" in The Letters of Ammonas. Trans. Derwas J. Chitty. Revised Sebastian Brock (Fairacres, Oxford: SLG Press, 1995), 7.
Stay in touch! Like A Little Bit of Nothing on Facebook