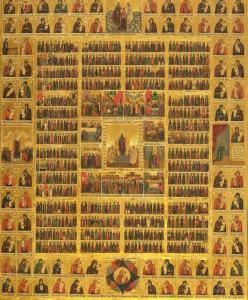 In the Byzantine liturgical tradition, the Sunday after Pentecost is the Feast of All Saints. On it, we celebrate all those who have integrated themselves into the kingdom of God, all those who have fully realized their status as adopted children of God. They are holy and righteous, reflecting the glory of God throughout the world.
Saints are holy because God is a holy God who shares his holiness as a gift to those who open their hearts to him. They do not have to be someone famous, someone whose work was made known to the world. God knows all that are his. Canonization only reveals a small portion of the saints of God.[1] Some of the greatest saints were humble, simple folk who lived and died, leaving little to no marks of their existence upon the world. They lived and died for God. They were taken in by God because of their love for him. It is through a pure and holy love that someone finds themselves welcomed by God as a friend, a saint, worthy of honor and respect. They are forever in God's memory, in his thoughts, and we, who also love God, will find them precious because they are precious to him:
How precious to me are thy thoughts, O God! How vast is the sum of them! (Ps 139:17 RSV).[2]
We should look up to the saints, those known and not known, and find them to be precious to us because they are precious to God. We lift them up and praise them, not because we put them in front of us in place of God, but rather, because of our adoration of God, where we recognize his glory in all his works. The saints have been deified. They have become a part of God's eternal memory. Indeed, they participate in the divine life itself. By grace they have been deified. They have become, as it were, gods by participation in God, and to recognize their holiness is to recognize the graced-filled indwelling of God in them. They have become for us witnesses of the kingdom of God, demonstrating that it is real; all around us, the kingdom of God is present, and so all around us, is the presence of those within the kingdom, the cloud of witnesses who encourage us to follow after them:
Therefore, since we are surrounded by so great a cloud of witnesses, let us also lay aside every weight, and sin which clings so closely, and let us run with perseverance the race that is set before us, looking to Jesus the pioneer and perfecter of our faith, who for the joy that was set before him endured the cross, despising the shame, and is seated at the right hand of the throne of God. (Heb. 12:1-2 RSV).
There are different ways the holy ones, the saints, the friends of God, witness the truth of Jesus Christ. Some do so in an extraordinary fashion, such as martyrs and confessors, while others do so in their efforts to preserve the faith from erroneous opinions, as seen by the productions of many great theological writers throughout the centuries. But, even if we are not to be like them, not called to be martyrs, not called to by great theologians, we are still called to holiness, and through the Holy Spirit, we can become holy, whether or not we are remembered specifically in history. It is important for us to realize fame does not indicate the amount of glory we receive. Indeed, it is possible that those who remain unknown in history are going to be greater than those made known in history. Jesus himself indicated that all who follow him can receive a share of the kingdom of God. But he also told us that those who seek to be first will be last, and those who seek nothing for themselves and so seem to be last will be first:
Then Peter said in reply, "Lo, we have left everything and followed you. What then shall we have?" Jesus said to them, "Truly, I say to you, in the new world, when the Son of man shall sit on his glorious throne, you who have followed me will also sit on twelve thrones, judging the twelve tribes of Israel. And every one who has left houses or brothers or sisters or father or mother or children or lands, for my name's sake, will receive a hundredfold, and inherit eternal life. But many that are first will be last, and the last first" (Matt. 19:27-30 RSV).
We should seek holiness, not personal glory. Many great saints, at least in various times in their life, forgot this; their pursuit for glory led them into the world, to be pivotal figures in world or ecclesiastical history. They did exceptional things. They were filled with grace and so were holy. But yet, despite their greatness, they let many of their own personal faults continue to get the best of them, causing them to be less than they could have been if vainglory did not get in their way. They were holy despite themselves, as all of us can be. The Holy Spirit worked with all that was good and true, all that was founded upon love, within them, perfecting them despite the times they remained caught up in the snares of concupiscence. This is why so many of them, while doing great things, wall radiating holiness, were still capable of grave errors in their judgment which no one should commend let alone imitate. When we glorify them, we glorify the part of them which opened up to God as well as to the grace of God which was evident in their lives. To do this properly, we should not forget their errors, because we can learn from them, both what we should not do, but also that if and when we fail, God can still work with us and make us holy. We do not have to hide ourselves from their faults. We can and should be critical of them. If a saint is shown to be tainted by some sort of bigotry, we can condemn that bigotry and still lift them up. Whatever is unholy, whatever is tainted, has been corrected by God. Now, if we lift up their bigotry, or whatever wrongdoing that they might have done, we fail to embrace them in their sainthood, but rather, we embrace concupiscence, confusing it for holiness, turning an unreformed humanity into a false presentation of the kingdom of God. Idolatry is rooted in such confusion.
All Saints is an important feast. We celebrate what Christ made possible through his death, resurrection, and ascension. We remember holiness is now spread throughout the world, as the Holy Spirit has been sent to the world to enliven it and share with it the full bounty of the kingdom of God. Holiness is possible. The kingdom of God is all around us. Whether or not we are called to a central role in the drama of world history, we all have an important role in the kingdom of God. All of us are called to be saints.
[Image=Icon of Chetyi-Minei (calendar of saints) by anonymous [Public domain], via Wikimedia Commons]
---
[1] Canonization should not be thought to imply all that a saint did was worthy of approval and commendation. Canonized saints were real people with real problems, real sins, and real ignorance. We should not romanticize them, thinking their lives were perfect and without blemish. To do so would be to ignore the whole point of the Christian faith.
[2] The LXX edition of this verse has "friends" instead of thoughts, suggesting a differing tradition than the Masoretic text. "ἐμοὶ δὲ λίαν ἐτιμήθησαν οἱ φίλοι σου ὁ θεός λίαν ἐκραταιώθησαν αἱ ἀρχαὶ αὐτῶν." We should consider that the two traditions are connected, implying a similar theme: the friends of God are preserved in his thoughts, in his eternal memory. In this fashion, both textual traditions serve and demonstrate the one and same truth.
Stay in touch! Like A Little Bit of Nothing on Facebook