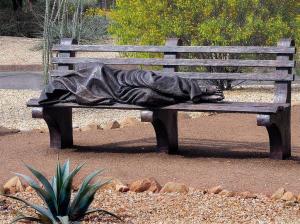 If Jesus was at the border, poor and destitute, on the run from brigands and government officials alike, would you welcome him into your home, giving him food, drink, and shelter?
If Jesus was at your door, speaking to you in a language you did not understand, would you belittle him before telling him to go away?
If Jesus was being questioned by border patrol, being asked to show his papers, of which he had none, would you speak up for him and ask the border patrol to leave him alone?
If a group of people surrounded Jesus, telling him he is not welcome in America, that he should be back to his own homeland, would you join in?
If Jesus was found beaten and abused, would you tell him it is all his fault, that he deserved it for all that he said and done, before leaving him to die from his wounds?
If Jesus was crying before your feet, having been sexually assaulted, would you ask him what he did that made someone treat him like that?
If Jesus was seen begging for food, would you tell him to get a job?
If Jesus, unwashed for days, was seen going into your local coffee shop, seeking a place to rest from the cold, would you complain to the manger, asking him to be kicked out of the store because of his stench?
If Jesus was seen lying overnight on a park bench, would you ask him to get off it so that you can sit down, and if he did not move, would you call the police?
If Jesus was seen being beaten up by police, before being escorted away in a squad car, would you say that the police did no wrong and that he deserved all that he got?
If Jesus was seen in jail, pleading his innocence, would you tell him no one is innocent to justify his incarceration?
If Jesus was being executed before your eyes, either by firing squad, injection, or the electric chair, would you praise his executioners for removing him from the face of the earth, ridding it of a criminal who did not deserve to live?
What would you do? What would you do to Jesus?
That is the question we should all ask ourselves.
The question is not theoretical. It is a question which we are faced with every day, and most of us fail to respond to it in the way which we should. Every day we face Jesus, and every day we risk failing him. Every day we are called to see Jesus in the poor, the dispossessed, the homeless, the migrant, the lowly and abused, and to treat them as we would treat Jesus. Every day, we see Jesus before us, and we ignore him, or worse, join in those who abuse him. Every day, Jesus is before us, and we find all kinds of excuses for our contempt.  For, as Jesus indicated in the parable of the last judgment, how we treat the least of those before us, we treat him: "And the King will answer them, `Truly, I say to you, as you did it to one of the least of these my brethren, you did it to me'" (Matt. 25:40 RSV).
When we are dealing with others, we must remember, we should treat them with love and respect. They are our brothers and sisters in humanity. We are united with them in the image and likeness of God, the image and likeness which is founded upon and established by Jesus as the paradigm (an eternal paradigm, existing outside of time). Jesus is found in them. This might not be easy for us to address, this might not be easy for us to accept, but Jesus is found in them. And the poorer they are, the more outcast they seem to be from society by being among the poor, unwashed, unwanted masses from around the world, the more they are like Jesus who came into humanity as being one among the lowest of the low. He emptied himself of all glory. He was a homeless, jobless preacher who had no place to put his head down to sleep. As a result, many viewed him as being disgraced, instead of being full of grace, showing that such grace transcends all human expectations as to where such grace is to be found: indeed, those who seem to be full of it are the furthest from it, while those who are downtrodden and abused at close to the mystery of Christ.
We love Jesus by loving those who are formed in his image. We might think we would treat Jesus with great reverence and respect if he were there before us, but would we really do so? He has told us already that we can find him before us in the unwelcomed poor. He comes before us in them. He is humble and lowly, as he is filled with love. Why can't we see him? We are we like those who encountered him on the way to Emmaus, ignoring his presence? When we see immigrants mistreated, the homeless kicked around, victims of sexual assault further abused by detractors, we are encountering Jesus and what we do then shows us how we act and react to Jesus. The demand we place on them are the demands we are making for Jesus. If we demand migrants to speak English before they are welcomed, then we will never welcome Jesus, who didn't speak English. If we demand the homeless poor to have jobs before they are fed, then we will deny Jesus the food and drink which he said gives us everlasting reward:
He who receives you receives me, and he who receives me receives him who sent me. He who receives a prophet because he is a prophet shall receive a prophet's reward, and he who receives a righteous man because he is a righteous man shall receive a righteous man's reward. And whoever gives to one of these little ones even a cup of cold water because he is a disciple, truly, I say to you, he shall not lose his reward (Matt. 10: 40-42 RSV).
Yes, Jesus said he would reward people for the way they treated his disciples: but he also said, in the parable of the last judgment, all who do good for the poor and needy did it for him and will get their just reward. The two do not contradict each other, because everyone is a witness of Jesus, everyone is a witness of God by being made in his image and likeness. Their goodness, their glory, even if it is hidden to us, is the glory of God, making everyone by nature a disciple of Jesus. And God will truly reward us when we see Jesus in all people, just as we should see God in all things. There is a just reward for such goodness, which will not be overlooked: "For God is not so unjust as to overlook your work and the love which you showed for his sake in serving the saints, as you still do" (Heb. 6:10 RSV). Those who graciously treat Jesus will therefore receive grace – transcendent grace – in return, but woe to those who would see Jesus before them and treat him with disgrace, for then how will they have any grace themselves?
When we see inhumanity before us, what shall we do? That is our answer. That tells us how we would treat Jesus if he were before us today.
Stay in touch! Like A Little Bit of Nothing on Facebook