The LORD is my shepherd, I shall not want; he makes me lie down in green pastures. He leads me beside still waters; he restores my soul. He leads me in paths of righteousness for his name's sake. Even though I walk through the valley of the shadow of death, I fear no evil; for thou art with me; thy rod and thy staff, they comfort me.  Thou preparest a table before me in the presence of my enemies; thou anointest my head with oil, my cup overflows.  Surely goodness and mercy shall follow me all the days of my life; and I shall dwell in the house of the LORD for ever. (Ps. 23:1-6 RSV).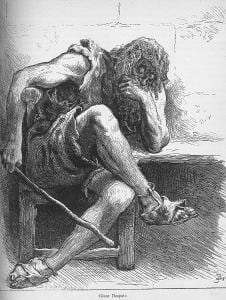 As the Psalmist indicates, God is watching over us. For this reason, we are to live in hope: hope that God's will shall be done on earth as it is in heaven. This hope should motivate us.  "Cast all your anxieties on him, for he cares about you" (1Ptr. 5:7 RSV). God cares for us; indeed, he cares for the whole world, seeking to save it. When we have this hope, we are able go beyond merciless fear, beyond the numbing fear which stops us in our tracks, and believe that not only can we be saved, but we can act and react with God in such a way to help improve the world around us.
When we see injustice, we see the corrupting influence of sin; when injustice is great and has formed terrible, systematic structures over society, it is possible that we will give in to despair and think there is nothing we can do to change things for the better. This, however, is far from the Christian sentiment. We can do good.  Even when we have our own weaknesses, our own inclinations which turn us away from justice, we do not have to despair: God is at work with us and through us. If we give ourselves over to him in love, we can hope for a change, a change for ourselves, and through ourselves, the world around us. That hope is not meant to be expressed through quietest inaction, where we think we will be saved by the fiat of God alone, but through our cooperation with God. We must realize that we are expected to act, to not only do good, but to help transform the world so as to remove the pain and sorrow sin has caused upon it.
Despair can come in two forms: one, in which we think we are so far gone, so much given into sin, that we cannot be saved, and the other is to think the world and all that is around us is too far gone and incapable of being saved. Despair of one kind will lead to the despair of the other. If we doubt our own salvation, we will doubt the saving work of God in the world, and we expect everything will go bad, that all things will be doomed to perish. If we doubt that the world itself is capable of being saved, if we doubt that we can do good in the world and transform it, making God's will on earth be a reflection of his will in heaven, then we will be led to doubt our own salvation because we are a part of that very same world. Whichever form is the foundation for our despair, the problem is the same: we end up thinking evil is more powerful than the good, and that the good has no power to overcome injustice, nor to heal the pain and sorrow which injustice has brought to the world.
Most of us see the influence of concupiscence in our lives; we see our weaknesses, and they do not seem to be getting better. We might fight them, but we do not seem to win. Despite this, we must not despair. If we struggle, if we seek for what is good and right, then even our inordinate passions will slowly be fixed. God is able to work with us and through us. Bad habits are hard for us to break. So long as we do not give in and seek to justify them, as long as we continue to struggle against them, our hope remains. If our habits will not be fixed now, they will be fixed in the future: if not in time, then in the eschaton. Moreover, we must not allow our sins, our bad habits, get the best of us. Many saints tell us that just because we are overwhelmed by some inordinate passion, this does not mean we should remain silent on the good which we know, or the good which we would like to have. Thus, they tell us that we should speak, if the opportunity arises, so that in our speech, we can motivate ourselves, realizing that however difficult it is, we can conquer our bad habits. Remembering what we are after, the good which we want, and speaking of it helps promote that good and is often the first step in achieving it:[1]
Anyone in the grip of previous bad habits and yet still able to give teaching, although only by their words, should do so. (Of course, they should not hold positions of authority.) Shamed by their own words, they may finally begin to practice what they preach. [2]
Indeed, as Julian of Norwich explained, we must focus on that which is good within is, that which gives us hope, our love, and through it we will find ourselves being rewarded by God. Acting in and through love will change us even as it will change those around us, slowly bringing about the change which is needed, and when that happens, we will find our efforts greatly rewarded:
The reward which she will receive will not be small, but it will be great, glorious, and honourable. And so all shame will be turned into hour and joy. For our courteous Lord does not want his servants to despair because they fall often and grievously; for our falling does not hinder him in loving us. Peace and love are always in us, living and working, but we are not always in peace and love; but he wants us so to take heed that he is the foundation of our whole life in love, and furthermore that he is our everlasting protector, and mightily defends us against all our enemies, who are very cruel and very fierce towards us, and so our need is greed, the more so because by our falling we give them occasion. [3]
Despair is a dangerous temptation for us to fall into, but it becomes worse when it is accepted, for then it becomes a sin hindering us on the path to salvation. Despair will lead us away from acting for the good when we think the good cannot be achieved. Despair is deadly; indeed, it is the deadliest of sins as it leads us to reject the grace and love of God; if we hold onto it permanently, it becomes blasphemy of the Holy Spirit, that sin which will never be forgiven because we do not let it be forgiven (cf. Matt. 12:31). For despair is indeed blasphemy; it suggests that God either is not capable of saving us or he is unwilling to do so. When we find this blasphemous thought affecting us, we must struggle against it: we must assure ourselves that God loves the world and desires to save the whole world, including us:
And if the blackest tempests of blasphemy and despair fall on anyone, and he does not consent to them in his heart or his will or any perverted taste but struggles against them in great torment; then if he perseveres in the fight and strongly resists, I will quickly help him. And let him not doubt because he must struggle, for I say he is a strong warrior against the greatest of storms, and I will help him most speedily and hold him as a friend; for, patiently enduring, he has nobly conquered great misfortunes for love of Me.[4]
We need to focus on what is good and true, and in doing so, see the greater power of love over hate, of good over evil. Evil has no power of its own: it takes from the good, but because it takes from the good, it needs the good in order to exist, and where the good is to be found, there we find hope. The good is never wholly corrupted, and what remains can be healed, while evil, because it is but a parasite on the good and has no existence of its own, can be overturned and eliminated. All that which is good, even the smallest portion of the good, remains in contact with God, who is the author and giver of every good, so that in all times and places, the potential for the eradication of evil remains. "Nothing equals the mercy of God or surpasses it. To despair is therefore to inflict death on oneself."[5] Thus, St. Gregory Palamas said, there should be no grounds for despair: at every moment, at every place, the potential for the full restoration of the good, salvation, is possible:
Where, then, are the grounds for despair, since all of us can at all times lay hold of eternal life whenever we want to? Do you not perceive the grandeur of God's compassion? When we are disobedient He does not immediately condemn us, but He is longsuffering and allows us time for conversion. Throughout this period of longsuffering, He gives us power to gain divine sonship if we so wish. Yet why do I say 'gain sonship"? He gives us power to be united with Him and to become one spirit with Him (cf. 1 Cor. 6:17).[6]
Despair, nonetheless, is easy for us to fall into, as we see the state either of the world around us. The good is hid from us, and all we see is the taint of evil. How can it be overturned? Only by recognizing the power of the good over evil, turning away from the dualism which suggests that good can be destroyed by the evil, do we have the potential to finally overcome the temptation to despair itself. It is a great sin, because it can destroy us, but it does this by leading us to destroy ourselves:
It is more serious to lose hope than to sin. The traitor Judas was a defeatist, inexperienced in spiritual warfare; as a result he was reduced to despair by the enemy's onslaught; and he went and hanged himself. Peter, on the other hand, was a firm rock; although brought down by a terrible fall, yet because of his experience in spiritual warfare, he was not broken by despair, but leaping up he shed bitter tears from a contrite and humiliated heart.[7]
In our sins, in our acts of injustice, whatever harm we have done can be fixed. It might not be easy. It might take time. It might take a lot of effort, but what has been harmed can be made whole. Despair tells us otherwise, and suggests we give up, allowing ourselves to turn towards nihilism, accepting both the destruction of ourselves and the world around us. Despair is based upon the greatest lie, the lie that the good will not attain its proper and just end. We must remember that the world was made good. Likewise, we were made good. That goodness can prevail. God is able to save us, and the world around us. There is no reason to despair; we must hope, and with that hope, draw near to God, doing what God would have us to do, so that not only will we be saved, but the world around us will be too. The lie of despair must be denounced, and it is able to be denounced when we realize the great love of God, a love more powerful than death, more powerful than the nihilistic power of evil itself.
---
[1] This is also true in regards any systematic evil which has infected society. We should not be silent about them, thinking they cannot be overturned. Even if we do not have the power to personally do what is necessary to fix them, our words can reach out to those who can, and then they, upon realizing the need, can establish effective changes.
[2] St. John Climacus, The Ladder of Divine Ascent. Trans. Colm Luibheid (New York: Paulist Press, 1982), 231.
[3] Julian of Norwich, Showings Trans. Edmund Colledge, OSA and James Walsh, SJ (New York: Paulist Press, 1978), 245 [Long text].
[4] St. Hildegard of Bingen, Scivias. Trans. Columba Hart and Jane Bishop (New York: Paulist Press, 1990). 233.
[5] St. John Climacus, The Ladder of Divine Ascent, 130.
[6] St. Gregory Palamas, "To the Most Reverend Nun Xenia," in The Philokalia: The Complete Text. Volume Four. Trans. G.E.H. Palmer, Philip Sherrard, Kallistos Ware et. al. (London: Faber and Faber, 1995), 299.
[7] St. John of Karpathos, "Text for the Monks in India, " in The Philokalia: The Complete Text. Volume One. Trans. G.E.H. Palmer, Philip Sherrard, Kallistos Ware et. al. (London: Faber and Faber, 1983), 318.
Stay in touch! Like A Little Bit of Nothing on Facebook