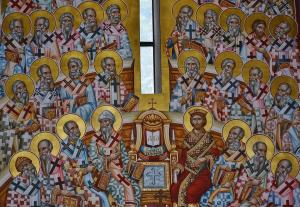 In its present form, the church is said to come into being as Pentecost with the descent of the Holy Spirit. It is through its reception of the Holy Spirit that the church itself is holy, for through the Holy Spirit it is granted a share of the holiness of God.
This holiness of the church is granted not only to the church as a whole, but to its members. Holiness is first something which comes from God. In this sense, holiness comes not from the merits of those who receive it from God, but from God himself. Nonetheless, with the freedom God has given us, the holiness which is given over to us can either be strangled, or it can be increased. The more someone opens themselves up to the guidance of the Holy Spirit, the more the Spirit radiates in their lives, the holier they become.
In this manner, the descent of the Holy Spirit upon the church, and upon members of the church, grants them not only an initial form of holiness which comes from beyond them, but also the potential for greater holiness, for the holiness which God wants from them. The descent of the Holy Spirit upon the church is what gives everyone the potential to be a saint. It works for the glorification of Christ because it shares the holiness and grace members of the church need to become saints.
The potential, the potency of holiness, is to become actuality through our activity, through our full realization of the potential given to us by the removal of all barriers to that holiness. Anything which would distance ourselves from holiness, any attachment which we have which could keep us away from the holiness which we are intended to have, even if it is an attachment to some particular good, must be overcome if we want to find our proper end and receive our share of the beatitude experienced by the saints.
The holiness of the saints, of all the saints, and not just those known and recognized by official declarations of the church, demonstrates the glorification of Christ ends not with him but with those he has raised with him in his ascent into heaven. The saints, those who are holy, those who have opened themselves up to God with a pure heart, might not all be the same; they might not have all lived completely exemplary lives; they might not all have done remarkable things in the sight of others, but they have all somehow opened themselves up to grace and have found a way to let God's love overwhelm them and transform them into men and women who not only dwell with God, but who see God in and through the purity of the hearts made possible by the gift of the Holy Spirit.
Holiness is found in love, and especially in a deep love for God. Those who let that love take over them shall find themselves seeing God because of that love, as Isaac of Stella beautifully stated in a sermon for All Saints:
'Happy are the pure in heart, they shall see God.' Once love is present there too is longing to see what is loved. And so the next beatitude fittingly follows: 'Happy are the pure in heart, they shall see God.' Those alone who have purified their hearts shall see him, because it is solely by a pure heart that God can be seen.[1]
Such purity of hearts is possible for all of us. The saints, all the saints, demonstrate the truth of this to us. They are the cloud of witnesses who not only surround God, but also surround us in a mysterious way.  They show us through their lives that, despite our past, despite our failings, thanks to the grace of God, it is possible for us to put aside all that would stand in our way, all that would cut off our right relationship with God, so that we can persevere and receive the beatitude which we all seek. This is what makes them a great cloud of witnesses which not only surround God, but ourselves us well:
Therefore, since we are surrounded by so great a cloud of witnesses, let us also lay aside every weight, and sin which clings so closely, and let us run with perseverance the race that is set before us, looking to Jesus the pioneer and perfecter of our faith, who for the joy that was set before him endured the cross, despising the shame, and is seated at the right hand of the throne of God  (Heb. 12:1-2 RSV).
We do not know the full number of the saints, but we do know that all of them together share God in common with each other. All that cut them off from God and the holiness he desired from them, including any lack of love which cut them off from solidarity with each other, was overtaken by his grace. They attainted the potential for holiness planted in them by the Holy Spirit, and so they have come together not only to love God but to share with each other that love, rejoicing with each other in the glory they find in each other, as the Dialogue of St. Catherine of Siena indicated:
Forever they rejoice in love at the sight of me, sharing in that goodness which I have in myself and which I measure out to them according to the measure of love with which they have come to me. They are established in love for me and for their neighbors. And they are all united in general and special love, both of which come from one and the same charity. They rejoice and exult, sharing each other's goodness and loving affection, beside that universal good which they all possess together. They rejoice and exult with the angels, and they find their places among the saints according to the different virtues in which they excelled in the world.[2]
Even before we have attained our potential, we must realize that potential is within us.  It is, as it were, a seed planted in us by Christ and the Holy Spirit. We are united with the saints because we share with them the same holiness, the same grace, the same light of the world. We have the saints around us, we share in their holiness, indeed, as Scripture shows, we can in a way be called saints, because of that potential within us: though, so long as we have yet to actualize that potential and become pure at heart, it is premature to assume our eschatological fate will be with the rest of the saints and to assume our final sanctity and sainthood. It is there for us to receive, it is there for us to actualize, but until our eschatological judgment, we can cut ourselves off from our potential, we can halt our spiritual growth, and destroy the seed of sanctify placed within us. We must not put something in the way of following Christ and the path of love which he set up as the way to follow him. The law which we need to follow is the law of love; the dictates of Christ are to be read and understood as explanations of what love expects of us. This is why St. Paul could say love of our neighbor fulfills the law (cf. Gal. 5:14). If we fulfill this love, if we truly open ourselves to the purity of love, we shall become pure at heart and see God.
Sometimes love expects us to do difficult things, such as leaving our family or our homeland: they are relative goods which should be respected according to the measure of goodness found in them, but when they try to get in our way and be treated as something greater than that measure of goodness, they become idols which must be overturned. It can be hard, but if we do it for the sake of love, following the way love tells us to do so, we shall find we did not really give anything up but rather, we shall receive the glory God intended us to have:
Then Peter said in reply, "Lo, we have left everything and followed you. What then shall we have?" Jesus said to them, "Truly, I say to you, in the new world, when the Son of man shall sit on his glorious throne, you who have followed me will also sit on twelve thrones, judging the twelve tribes of Israel.  And every one who has left houses or brothers or sisters or father or mother or children or lands, for my name's sake, will receive a hundredfold, and inherit eternal life.  But many that are first will be last, and the last first" (Matt. 19:27 – 30 RSV).
If we leave our home, our family, our homeland, we do so because we see them demanding something from us which would hinder our walk with God, that is, when we see them holding us back from the love and respect we should have for all:
To speak plainly, brothers, no man can be fully and perfectly spiritual nor can he be ready to go out with tranquil mind from his tent in the leisure of contemplation, unless he first ride his home of vice, that is, of all perverted and disordered love, and has furnished and decorated it with good habits, and left it fortified with a strong guard of virtues. [3]
If our family, our nation, our homeland wants to be treated with preference over those who are in need of our love and respect, indeed, if they want us to denigrate those who are outside of such relationships for being different, this is when we need to leave those toxic relationships and follow after the greater path of love. We shall not lose anything but rather gain what they would have us lose.
We are all called to share in the divine love of God, to be enlightened by it. The glory of God is revealed to us in the economy of salvation.  The saints show us the fruit of Christ's work. Just as God is glorified in the death, resurrection and ascension of Christ, God is also glorified in the establishment of his saints. Let us celebrate with them, dwell with them, and hope to be with them for all eternity.
---
[1] Isaac of Stella, "Sermon Four: A Fourth Sermon for the Feast of All Saints" in Sermons on the Christian Year. Volume One. Trans. Hugh Mccaffery (Kalamazoo, MI: Cistercian Publications, 1979), 29.
[2] St. Catherine of Siena, The Dialogue. Trans. Suzanne Noffke, OP (New York: Paulist Press, 1980), 83.
[3] Isaac of Stella, "Sermon Four: A Fourth Sermon for the Feast of All Saint," 33.
Stay in touch! Like A Little Bit of Nothing on Facebook.
If you have liked what you read, please consider sharing it with your friends and family!