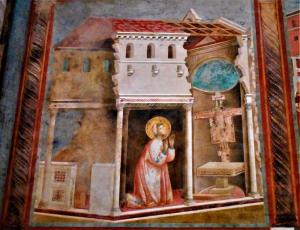 When St. Francis of Assisi heard Christ speak to him from a crucifix in a dilapidated Italo-Greek church, saying, "Build up my church," he believed he was meant to repair the church he was in. At that moment, Francis did not consider that he was being given a greater mission, to help the universal church, which, like the parish he was in, was crumbling apart from within. And yet, the two ways of interpreting the message were related. To build up his own local community, indeed, to rebuild it from all the neglect and sins of recent times, was to help build up the universal church. For the universal church is found within each local church; the wounds found in each local church are wounds of the universal church. To help the local community is a major way in which all of us are called to work for the restoration of the universal church. This can be seen in the way St. Francis transformed those who were near him as he repaired the church of San Damiano: they saw him, filled with such joy and grace, that they wanted to share in his work and ministry, and they became a part of the movement around him and the mission he was given to help the universal church recover from its failures to live out Christ's expectations for it.
In medieval Europe, the church was riddled with scandals. The general populace saw the difference between the ideals preached in the churches and the people who claimed to represent Christ. The rich and powerful had turned the church into a tool of their using; many sought positions of ecclesial authority for what they believed they could gain from it instead of a desire to follow Christ and care for the people under their jurisdiction. The reason why so many heretical groups like the Cathars gained a considerable following was that they, at least in appearances, seemed to follow a purer way of life which was expected of the followers of Christ. The poor, the needy, the oppressed, indeed, the general masses, were looking for people who truly cared for them, and they would go to those who seemed to do so. The church, alas, looked as if it took the side of the oppressors. Even if the various heretical sects often ended up being just as corrupt as those who led the church, the fact that the church did not take as active an interest in the needs of the poor, the very ones which Christ lifted up in his ministry, gave room for confusion, leading to the church crumbling apart due to the infidelity of its leaders.
St. Francis was not the only one who sought after the poor and needy and lifted them up; he was not the only one who desired the leadership of the church to be reformed, being humble, but loving, servants of Christ who took Christ's call for holiness seriously. St. Norbert of Xanten, St. Dominic show us other examples of saints, like St. Francis, who helped renew the church. St. Francis could not do it alone; indeed, he did not do it alone, as he built around him a wide range of companions, especially St. Clare, who followed him in his vision and helped radically transform the Christian landscape so that the common people, the poor and dispossessed, could once again be lifted up and ministered to by the church.
It was in great part due to its abandonment of the lowest among us, the abandonment of the poor, the wounded, the abused, the rejected of the world, which caused the church to slowly crumble apart, and it is this rejection which has caused the church to crumble apart around us today. The lesson of St. Francis of Assisi has often been ignored, if not outright rejected, as St. Francis and his message, like the message of Christ itself, has been radically reduced to accommodate the rich and powerful. The preferential option for the poor is but the newest way this teaching has been expressed; if we want to rebuild the church today, to follow the example of St. Francis, we must once again, like him, embrace those in the margins of society, those who have been left wanting and rejected, the poor and homeless, the refugee and the wandering migrant, indeed, the sexual abuse survivor and those suffering from racism, sexism, or any other form of bigotry which denigrates human dignity. Pope Francis has demonstrated his understanding of this, which is why he, like Francis before, has found himself being criticized and unjustly accused by those who find his call to true Christian conversion hurts their power and authority.
We must be willing to embrace those Christ embraced, to go where the need for Christ's love and grace is greatest; by building up those who are in need, we will be able to build up our local community, and from there, we will begin to see the church itself being transformed, to be rebuilt so that it can truly take on the mantle of Christ and be like Christ in the world. St. Francis understood all of this; he was believed to be one of the greatest imitators of Christ in Christian history because he was willingly to radically follow the example of Christ's love, embracing those the so-called religious ignored or despised. St. Francis radically gave himself over to God, to trust in God, turning away from all worldly glory. He embraced the poor in such a way he became one with them; indeed, he cast away all he had in order to join himself in solidarity with the people, as Pope Benedict XVI expressed:
When his father Bernardone reproached him for being too generous to the poor, Francis, standing before the Bishop of Assisi, in a symbolic gesture, stripped off his clothes, thus showing he renounced his paternal inheritance. Just as at the moment of creation, Francis had nothing, only the life that God gave him, into whose hands he delivered himself.[1]
His love for God, his radical love for Christ, could be seen in the joy he had, a joy which can be seen in the songs which have been recorded under his name. His love led him to love like Christ had loved, to love the poor and needy, but it also led Francis to love the whole of God's creation. The two, as Pope Francis explained, go together:
In my Encyclical Letter Laudato Si', I emphasized that, today more than ever, everything is deeply connected and that the safeguarding of the environment cannot be divorced from ensuring justice for the poor and finding answers to the structural problems of the global economy. We need to correct models of growth incapable of guaranteeing respect for the environment, openness to life, concern for the family, social equality, the dignity of workers and the rights of future generations. Sadly, few have heard the appeal to acknowledge the gravity of the problems and, even more, to set in place a new economic model, the fruit of a culture of communion based on fraternity and equality.[2]
But it is much more than this. The more we follow through with our stewardship with creation, the more we respect creation for the inherent good given to it by God, the more we can actually come to an awareness from God through it. God is known through his works. God's presence is everywhere. In this way, Pope Benedict XVI suggested that Francis was inspired by his work with creation because through it he was given a new, greater awareness of God, something which we can share with Francis if we are willing to fulfill our call to mediate God's grace with the rest of God's creation:
Caritas in Veritate, development is sustainable only when it respects Creation and does not damage the environment (cf. nn. 48-52), and in the Message for the World Day of Peace this year, I also underscored that even building stable peace is linked to respect for Creation. Francis reminds us that the wisdom and benevolence of the Creator is expressed through Creation. He understood nature as a language in which God speaks to us, in which reality becomes clear, and we can speak of God and with God. [3]
From love for Christ stems love for others and also for all God's creatures. This is yet another characteristic trait of Francis' spirituality: the sense of universal brotherhood and love for Creation, which inspired the famous Canticle of Creatures. This too is an extremely timely message. As I recalled in my recent Encyclical
St. Francis's famous love for animals is one with his love for the poor and his love for God. He joined himself in solidarity with the poor while taking care of God's creation around him. The beauty of the earth, the beauty of all God's creatures were all loved by him. Willful destruction of any of them is a great sin, and the more the church ignored such sin, the more it would crumble apart, causing confusion to those looking for God's direction in their lives. St. Francis was like St. John the Baptist, calling the church to reform, but also like Christ, because he was able to eat and rejoice with his neighbor, to share in the glory of human companionship. In doing so, however, he found his own little paradise on earth; by rebuilding the church he was able to rebuild human relationship with God's creation, and so, as Ubertino da Casale wrote, this is one of the many reasons why animals were drawn to him:
Piety, which according to the Apostle gives power to all things was so deep-rooted in Francis that he was moved by the deepest piety not merely towards those who shared his own nature but with everything created. And spiritually it linked him with the souls Christ Jesus redeemed with His precious blood. Whenever he came to know they were defiled with any stain of sin, he would be overcome by such pity and tenderness and would sheen so many tears, that he seemed like a mother who was for ever giving birth to them in Christ. Even the animals were closely drawn to him as though they sensed his kindly attitude towards them; hence he miraculously tamed wild beasts, domesticated creatures of the forest, taught things to the mild ones, and had brute beasts, that were by nature intractable to fallen man, bow down and obey him. [4]
He saw God's little creatures as fellow companions with him, as brothers and sisters in Christ, who in their own way were able to praise God with him:
When he was climbing the mountain with his blessed companions and was resting a little while at the foot of an oak tree, a great number of different kinds of birds flew to the blessed Francis with joy and song and a sportive flapping of their wings. Some of the birds settled on his head, some on his shoulders, some on his knees and some on his hands. Seeing this remarkable and unusual thing, blessed Francis said to his companions: "I believe, my very dear brothers, that our Lord Jesus Christ is pleased that we have accepted a place on this solitary mountain where our sisters, the birds, show such pleasure at our coming."[5]
He was known to heal animals, or, if he came across a trapped animal (or was given one by someone), to set them free, so that they can continue their lives, lives which he saw were worthy of themselves instead of being meant solely for human benefit. By his solidarity with the poor, he learned to resist the objectification and instrumental use of the others for his own benefit, and this spirit was what allowed Francis to be a great bearer of grace to the world. This is how he truly was able to build up the church, to help repair it from the destruction which had been going on from within. St. John Paul II, recognizing this, found it important not only to proclaim St. Francis of Assisi as a patron for ecology, but to indicate we should follow his example today, helping to heal the earth from the various ways we have harmed it from our abuse. In this way, we can imitate Francis and help build up the church and reestablish the peace which has been lost due to selfish ambition and greed in the world today:
In 1979, I proclaimed Saint Francis of Assisi as the heavenly Patron of those who promote ecology (cf. Apostolic Letter Inter Sanctos: AAS 71 [1979], 1509f.). He offers Christians an example of genuine and deep respect for the integrity of creation. As a friend of the poor who was loved by God's creatures, Saint Francis invited all of creation – animals, plants, natural forces, even Brother Sun and Sister Moon – to give honour and praise to the Lord. The poor man of Assisi gives us striking witness that when we are at peace with God we are better able to devote ourselves to building up that peace with all creation which is inseparable from peace among all peoples.

It is my hope that the inspiration of Saint Francis will help us to keep ever alive a sense of "fraternity" with all those good and beautiful things which Almighty God has created. And may he remind us of our serious obligation to respect and watch over them with care, in light of that greater and higher fraternity that exists within the human family.[6]
St. Francis should serve as a model for Christians today. The church is crumbling apart from within. The church needs to be built up. The spirit of St. Francis is the spirit of true reform, the type which can truly rebuild the church. It is gracious. It is loving. It is not legalistic while it recognizes the need for an authentic, Christian moral life. It is the spirit of solidarity with the poor. It is the spirit of care for creation. It is radical love for God that does not ignore the world but lifts it up. It is the realization that the church must always be the church of the poor and needy, going to the peripheries, where Christ's hope is most needed, because once that hope is spread, people will once again be drawn in to Christ and realize the true Christian life of radical love.
---
[1] Pope Benedict XVI, "General Audience January 27, 2010." Vatican translation (Jan. 27, 2010).
[2] Pope Francis, "Message for the Event 'Economy of Francesco.'' Vatican Translation. (May 1, 2019).
[3] Pope Benedict XVI, "General Audience January 27, 2010."
[4] Ubertino da Casale, "The Tree of the Crucified Life of Jesus. Book Five (Excerpts)," in Francis of Assisi: The Prophet. Ed. Regis J. Armstrong, OFM Cap., J. A. Wayne Hellmann, OFM Conv., and William J. Short, OFM (New York: New City Press, 2001), 175.
[5] Ugolino Boniscambi Montegiorgio, "The Deeds of Blessed Francis and His Companions," in Francis of Assisi: The Prophet. Ed. Regis J. Armstrong, OFM Cap., J. A. Wayne Hellmann, OFM Conv., and William J. Short, OFM (New York: New City Press, 2001), 454.
[6] St. John Paul II, "Message for World Day of Peace." Vatican Translation (Jan 1, 1990). ¶16.
Stay in touch! Like A Little Bit of Nothing on Facebook.


If you liked what you read, please consider sharing it with your friends and family!