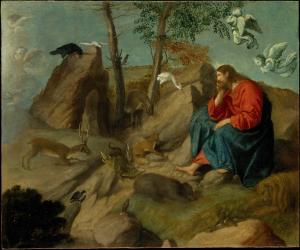 Sometimes people say that because God became man, and not some other animal like a dog or a cat, that God cares only for the salvation of humanity.
There are many things which can be said about this. First and foremost, this argument presumes that there are no other incarnations, that God only became man. Theologically, it is possible to consider whether or not God could and would have incarnated himself by assuming other natures.
Nonetheless, it is not necessary for God to become something other than man for him to incorporate the whole cosmos in him. By becoming human, God bridges the gap between the Creator with creation, and so through that incarnation, all of creation is capable of sharing in the kingdom of God. God did not just become man, but he became one of creation itself. For just as humanity is assumed, so creation itself is assumed, because humanity is a part of creation itself: creation is assumed through the assumption of humanity. For all that is created share the nature of being created together, trying them together as one in relation to God.
It is possible to say that because Christ assumes a created nature through humanity, humanity has a special position in relationship to the spreading of God's saving grace to his creation. This is what Paul implies in the Book of Romans:
For the creation waits with eager longing for the revealing of the sons of God;  for the creation was subjected to futility, not of its own will but by the will of him who subjected it in hope;  because the creation itself will be set free from its bondage to decay and obtain the glorious liberty of the children of God  (Rom. 8:19-21 RSV).
Creation, Paul tells us, waits for God's grace to be manifest in the children of God, in those who God heals and elevates and allows to participate in the divine nature. Their coming to be is the result of the incarnation, and so through them, the incarnation then is shown to save not just humanity but the whole of creation itself. Creation will be liberated, and like humanity, made new. Just as the "New Adam" in Christ creates a new humanity which will enter into eternity, a new humanity which comes from the old, fallen humanity, instead of something which is created ex nihilo, so there will be a New Heaven and a New Earth which will be the restored Heaven and Earth taken into eternity. The end of the world must not be seen as being the annihilation of the world: it is rather the eschatological point in which time flows into eternity. At that point it will meet with the purifying fire of God's love, the fire which does not destroy (as the Burning Bush demonstrates), but rather tempers creation so that it can freely share in the divine life. The New Heaven and the New Earth will contain all that was in the Old Heaven and Earth, but now no longer contaminated by the effects of sin.
Likewise, though we often fail to notice it (because we do not look for it), Scripture does show us that Jesus had a relationship with animals.  To be sure, this was not focused upon in Scripture, and so we only get hints of it, but if we are careful and not gloss over them, we see Jesus interacted with the whole world around him, giving himself to all and not just to humanity.
Perhaps nothing highlights this better than the fact that after Jesus was born, he was placed in a manger:
And she gave birth to her first-born son and wrapped him in swaddling cloths, and laid him in a manger, because there was no place for them in the inn (Lk. 1:7 RSV).
Symbolically, it is often understood that this event is eucharistic: Jesus, the bread of life, is put into a manger, showing that he has given himself to all of us so that we can feed on him and share in eternal life. "Truly, truly, I say to you, it was not Moses who gave you the bread from heaven; my Father gives you the true bread from heaven" (Jn. 6:32b RSV). He is the heavenly feed who was put into a manger. "And it was on account of the preeminent sacrament that, when he was born, he chose a resting-place for himself in a manger, where animals are accustomed to come to take food."[1] But because of this, we must consider, is not Jesus telling us he is giving himself over to all who should come unto him and feed upon him to have eternal life? He shows himself as the bread of life first within the manger, first within the place where animals feed: and as traditional images of the nativity indicates, the animals came to him, even before the Magi, showing that they had a natural affinity with him. How could we deny Jesus to them when Jesus was first welcomed by them?
Next, we read that Jesus, when he went into the wilderness, he stayed with wild beasts and angels:
The Spirit immediately drove him out into the wilderness. And he was in the wilderness forty days, tempted by Satan; and he was with the wild beasts; and the angels ministered to him (Mk. 1:12-13 RSV)
What exactly was Jesus doing with the wild beasts? Perhaps it could be said he went to be with them because they would give him comfort and companionship.  But if that is so, how is it so? How can he associate with them and not do as he always does, and give of himself to all who would come to him? In this way, though he was befriended by the beasts, he likewise ministered to them, giving them a share of his glory, welcoming them to the kingdom of God. For it must be said, wherever Jesus went, the kingdom of God was to be found. The eschaton had become immanent in him. This is why angels were with him, ministering to him, for though he was man, he was also God. The kingdom of God was found in the wilderness, and within it, then, were angels and wild beasts. But that should not have been surprising, for this is what the prophets indicated Jesus would bring about: the peaceable kingdom in which animals would find themselves at peace (cf. Isa. 11:6-9). Thus, after being filled with the Spirit, Jesus went into the wilderness and inaugurated the kingdom of God, not among humanity, but among the beasts. In this fashion, Jesus shows us that the incarnation does not neglect the rest of creation, and so even if he did not become a beast, he could and did give the beasts a special place in the kingdom of God.[2]
Finally, then, when Jesus entered into Jerusalem, with a demonstration of his glory, he has with him an ass and a colt:
The disciples went and did as Jesus had directed them; they brought the ass and the colt, and put their garments on them, and he sat thereon.  Most of the crowd spread their garments on the road, and others cut branches from the trees and spread them on the road (Matt. 21:6-8 RSV).
We do not know exactly how Jesus was seated: some think the passage tries to indicate he was seated on both the ass and the colt at the same time, but how would that actually work? The passage is vague. [3]He could easily have sat on one and had the other come with him as he entered Jerusalem. That is the most likely way to read the event, in a literal fashion, but the vague nature of the text perhaps indicates something else, that Jesus was with both the ass and the colt by sharing himself with both of them so that he was said to be with them even as he is said to be with us, indicating that his presence was upon both and both of them as he revealed the kingdom of God in Jerusalem. Indeed, they shared in the procession into Jerusalem in a way no human could, and therefore, are to be seen as given a special glory all their own, a glory which will be remembered throughout eternity.
God certainly became man. Whether or not he only became man, or whether he assumed many other natures, we have not been told; nonetheless, the general assumption throughout Christian history is that he incarnated only once. But that is all it took. He didn't have to assume other natures to be the Cosmic Savior. By becoming man, he assumed not just humanity, but the whole of creation into himself as humanity is one with the rest of creation. We might not yet know the ways in which the incarnation brought grace to all creatures great and small. And yet, Scripture consistently suggests that Jesus' work incorporated the whole created order and all that is within it. Likewise, as history is about the working out of that grace, so humanity now needs to work with the grace given to it so that those filled with grace can become the children of God who sets creation free. This is because we are called to share in Christ's work in history. We must not neglect it.
---
[1] Bede, Homilies on the Gospels. Volume I. trans. Lawrence T. Martin and David Hurst, OSB (Kalamazoo, MI: Cistercian Publications, 1991), 58.
[2] It should not be surprising, therefore, that when we read the lives of many of the saints who go into the wilderness to live the life of a hermit, they befriend the animals and have a special grace-bearing relationship with them.
[3] Scripture is often vague, and this is done on purpose, to make sure we contemplate and think much more deeply about the meaning implied in the passage. The more we have to work through Scripture to understand its meaning, the less likely we will neglect what we learn.
Stay in touch! Like A Little Bit of Nothing on Facebook.
If you liked what you read, please consider sharing it with your friends and family!