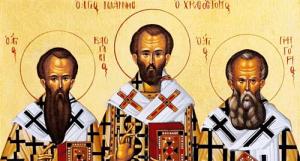 Once, there was a debate in Constantinople concerning who among St. Basil the Great, St. Gregory the Theologian, and St. John Chrysostom was the greatest. Each of them had supporters promoting their preferred saint above the other two. For some, St. Basil's asceticism, his work for the poor and needy, and his theological contributions on the Trinity, all indicated his superiority. For others, St. Gregory the Theologian's profound mystical insight demonstrated he was above the rest. For those who supported St. John Chrysostom, his great eloquence in speech, his ability to change lives through his sermons, helping many sinners renounce their former ways, was all the proof they needed to promote him as the greatest. In many respects, the debate was similar to the way Jesus' disciples argued amongst themselves as to who among them was the greatest, and who should sit at the right hand of Jesus. For like what happened with the apostles, the people who were involved with this debate did not understand true greatness.
It is said that Saint John Mauropus, the Metropolitan of Euchaïta, saw Basil, Gregory and John in a dream, both individually, and together, where it was revealed to him that they were equals. There was no competition amongst them as to who was greatest, nor should Christians try to elevate one above the others. Each of them did what was needed in their own particular circumstances of life, fulfilling God's desire for them, allowing them to be filled with holiness and be glorified by God. To honor one honors them all, because it is ultimately about honoring God and his great work with humanity. To try to honor one apart from the rest, therefore, was to dishonor them all, because it indicates a lack of understanding of holiness, God's glory, and the kingdom of God.
As a result, the three have become honored together, received as the three Great Hierarchs, with a feast commemorating this revelation celebrated on the 30th of January of every year, to remember not only the fight which took place, but also the revelation of how God's glory is spread throughout his saints.
The lesson of the feast is that we should not be pitting one form of holiness against another, one form of greatness against another. Holiness calls us all into its spectrum, to let it penetrate us, and share what we have gained with the rest of the world.
We can be like those who came before us. But to do so, we must first renounce all attempts of making ourselves superior to others. That is, we must allow Jesus to radically direct us away from all pretense of glory, of all earthly honor, emptying ourselves of all that keeps us at a distance from God, so that then we can rise up and receive the glory of God ourselves. Indeed, the lives of the three Great Hierarchs helps demonstrate this to us. St. Basil was an ascetic who embraced the way of poverty as well as the promotion of the impoverished in the world. St. Gregory the Theologian was called into ecclesial politics against his better wishes and desires, found it to be a diabolical mess, and willingly resigned from his position of authority even though he knew many would look upon him with shame for doing so. St. John Chrysostom found himself constantly battling the rich elite of his day, and in doing so, was criticized, attacked, and sent into exile. Each of them understood the call to holiness meant that they should not look for social honors, but rather, to abandon it, to see such honors as a trap, and so to radically follow God, even when others questioned or criticized them for their actions.
The power and glory of holiness is found in those who empty themselves of all pretense of honor and glory so that they can then receive the grace of Christ and through it receive the true power of the kingdom of God within them. St. Paul had to learn this lesson; he had to learn how to be weak and unassuming in order to manifest the power of Christ:
Three times I besought the Lord about this, that it should leave me; but he said to me, "My grace is sufficient for you, for my power is made perfect in weakness." I will all the more gladly boast of my weaknesses, that the power of Christ may rest upon me. For the sake of Christ, then, I am content with weaknesses, insults, hardships, persecutions, and calamities; for when I am weak, then I am strong (2Cor. 12: 8-10 RSV).
Likewise, in and through their self-kenosis, following the kenosis of the incarnation, the three Great Hierarchs realized that a part of their mission was to help those who were otherwise rejected or ignored, those who lived in the margins of society. Indeed, they came to know and understand the marginalized in a special way thanks to their own willingness to walk in the margins of society themselves. St. Basil and St. John Chrysostom are especially known for their promotion of social justice, for the relief they wanted society to give to the outcasts of society, and for their stark words used against the rich. But St. Gregory the Theologian also understood this point, and even if he did speak of it as often as he did with other concerns in his orations, he did not ignore preaching about social concerns to his congregation:
We must, then, open our hearts to all the poor and to all those who are victims of disasters from whatever cause, for the commandment enjoins us to rejoice with those who rejoice and weep with those who weep. Kindness is the gift we must, as human beings, proffer our fellow humans whatever the cause of their plight: widowhood, orphanhood, exile from homeland, savagery of tyrants, callousness of magistrates, ruthlessness of tax-collectors, brutality of bandits, rapacity of thieves, confiscation or shipwreck. All alike deserve our pity and look to our hands just as we look to the hands of God whenever we are in need of something.[1]
Gregory understood that many times, the poor are looked upon as lazy and worthless; but, he pointed out, many of them are forced into poverty and have no relief given to them; far from being able to work, they are kept away from such labor, such as those who suffer grievous diseases:
The pitiful plight of other people is due to one thing alone, a lack of material resources, a condition that might perhaps be corrected by time, or hard work, or a friend, or a relative, or a change of circumstances. But for these people, what is no less pitiful, indeed, even more so, is that, in addition, they are deprived of the opportunity to work and help themselves acquire the necessities of life; and the fear of their illness ever outweighs any hope in their minds for well-being. [2]
All those sufferings in the margins of society deserve pity. They all deserve help. Instead of ruthlessly ignoring the plight of those in need, making excuse after excuse to justify indifference, or worse, open hostility to the needy, Gregory understood we must open our hearts to them, realizing that we must find ourselves in solidarity with them, rejoicing when they rejoice, and weeping when they weep.
This is exactly what is expected of us if we are to be light of the worlds. Jesus especially told us not to hide which he has given to us, but to share it with others:
You are the light of the world. A city set on a hill cannot be hid. Nor do men light a lamp and put it under a bushel, but on a stand, and it gives light to all in the house. Let your light so shine before men, that they may see your good works and give glory to your Father who is in heaven (Matt. 5:14-16 RSV).
Those who have the means to help others, but hide under the bushel of selfishness, finding excuse after excuse to explain why they think they should not be expected to use their gift for the good of all, will have to explain to Jesus why they have ignored his request and ignored those very ones which he himself said he came to help and free (cf. Lk. 4:18-21 RSV).
St. Basil understood a part of the problem is the way money influences the world around it. Those who have it can and do use it to exploit others. Thus, the wealthy, he saw, used their resources, not as stewards who share what they have with others, but as resources which they could use to further harm the poor whom they have otherwise defrauded:
Nothing withstands the influence of wealth. Everything submits to its tyranny, everything cowers at its dominion. Those who have already been exploited would rather avoid suffering some further injury than seek reparations for past injustices. Leading yokes of oxen, the wicked plow, sow, and harvest what is not their own. If you dispute them, they come to blows with you; if you complain, they accuse you of assaulting them. You will be arrested and put in prison; the false accusers are ever ready, willing to place your very life at risk.[3]
But of course, it is not wealth itself, but the love of money, which is the root of all this evil. And what people unjustly use and abuse will one day be taken away from them. The poor will inherit the earth because the kingdom of God is going to restore the justice which has been lost to the world. The earth is to be held in common by all. Those who exploit others through their riches will find they have had more than their fair share of the goods of the earth, and they will find that they had will be taken away – with interest. The rich will weep and mourn as they face the consequences of their injustices. They will mourn, not just because they were rich, but because of what they did with their wealth, and the abuse they leveled on those they consider to be their inferiors. What they have acquired is impermanent; when it is gone, and they have found they have not truly acquired the spiritual garment of justice, they will weep and howl, as James said, because they will find all they have accumulated is the injustices they tried to heap on others:
Come now, you rich, weep and howl for the miseries that are coming upon you. Your riches have rotted and your garments are moth-eaten. Your gold and silver have rusted, and their rust will be evidence against you and will eat your flesh like fire. You have laid up treasure for the last days. Behold, the wages of the laborers who mowed your fields, which you kept back by fraud, cry out; and the cries of the harvesters have reached the ears of the Lord of hosts. You have lived on the earth in luxury and in pleasure; you have fattened your hearts in a day of slaughter. You have condemned, you have killed the righteous man; he does not resist you (Jas. 5:1-6 RSV).
St. John Chrysostom, therefore, preached not only against the faults of the avaricious, but also told the rich what they should do with their wealth. He reminded them that it is always good to give to those in need: "We must always make sermons about almsgiving, because we, too, have much need of this mercy issuing from the Master who created us, but especially during the present season when the frost is severe."[4] And so, he said, when confronted with those in need, we should do what we can to help them. "And when it is the opportune time for almsgiving and philanthropy, correct the poverty, do away with the hunger, deliver yourself from the affliction, do not busy yourself any further."[5] Those who put love of money over love of neighbor will face the consequences of their unlove. What will they do when they come face to face with Jesus, the Lord over all, who said he himself is to be found amongst the needy and poor they have not loved?
The greatness in the hierarchs is a greatness which we can have for ourselves, but only if we follow their example in giving up all pretense of earthly glory. We must take up our cross, die to the self, and follow Christ. It is a journey which can be long and hard, and full of earthly disappointments, but if we do not hold out for earthly hopes, those disappointments will not detour us but show us we are on the right path. We are with Christ who also suffered earthly disappointment as he was abandoned by his disciples when he took on the cross. We can only follow Jesus, taking the radical path of self-denial and love, and await the response of God. If we truly follow Jesus all the way to the end, if we truly give up all earthly pretense and live out a life of love, our imperfections can be forgiven and we can be glorified, even as the many imperfections in the lives of the hierarchs are cast aside in their glorification. Thus, James told us:
Submit yourselves therefore to God. Resist the devil and he will flee from you. Draw near to God and he will draw near to you. Cleanse your hands, you sinners, and purify your hearts, you men of double mind. Be wretched and mourn and weep. Let your laughter be turned to mourning and your joy to dejection. Humble yourselves before the Lord and he will exalt you (Jas. 4:7-10 RSV).
The exaltation of the three hierarchs is the exaltation of the Christian life. And with it, we are reminded that we must never see the spiritual life as being a competition. It is, instead, the realization of the kingdom God through love, where we come together as one, no longer trying to selfishly place ourselves above others.
---
[1] St. Gregory of Nazianzus, "Oration 14, On Love for the Poor" in St. Gregory of Nazianzus: Select Orations. Trans. Martha Vinson (Washington, DC: CUA Press, 2003), 42-3.
[2] St. Gregory of Nazianzus, "Oration 14, On Love for the Poor," 44.
[3] St. Basil, "To the Rich" in On Social Justice. Trans. C. Paul Schroeder (Crestwood, NY: St Vladimir's Seminary Press, 2009), 51.
[4] St. John Chrysostom, "A Sermon on Almsgiving" in On Repentance and Almsgiving. Trans. Gus George Christo (Washington, DC: CUA Press, 1998), 131.
[5] St. John Chrysostom, "A Sermon on Almsgiving," 149.
Stay in touch! Like A Little Bit of Nothing on Facebook.
If you liked what you read, please consider sharing it with your friends and family!