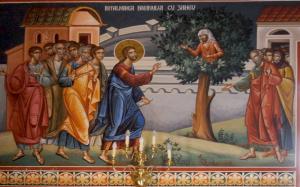 On five Sundays preceding the Great Fast, the Byzantine tradition prepares its people with themes which should help them contemplate their own spiritual journey. It gives them spiritual reflections to prepare them for the penitential season. The first of these Sundays is that of the Sunday of Zacchaeus (even if it is not in the Lenten Triodion which begins with the Sunday of the Publican and the Pharisee).
The story is well-known. When Zacchaeus, a tax collector, heard that Jesus was traveling through Jericho, he wanted to see Jesus:
And there was a man named Zacchaeus; he was a chief tax collector, and rich. And he sought to see who Jesus was, but could not, on account of the crowd, because he was small of stature. So he ran on ahead and climbed up into a sycamore tree to see him, for he was to pass that way. And when Jesus came to the place, he looked up and said to him, "Zacchaeus, make haste and come down; for I must stay at your house today." So he made haste and came down, and received him joyfully. And when they saw it they all murmured, "He has gone in to be the guest of a man who is a sinner." And Zacchaeus stood and said to the Lord, "Behold, Lord, the half of my goods I give to the poor; and if I have defrauded any one of anything, I restore it fourfold."  And Jesus said to him, "Today salvation has come to this house, since he also is a son of Abraham.  For the Son of man came to seek and to save the lost" (Lk. 19: 2-10 RSV).
The way many view this story is that Zacchaeus was a good-natured man who happened to be a tax collector. He might have done some wrong in the past, but it was insignificant and easily corrected. There is an aspect of truth to this. Zacchaeus did change his ways after he met with Jesus. But there is much more to the story, much more to his past. Zacchaeus was not simply a man who happened to be a tax-collector. Rather, he was a chief tax collector. He made it rich as a result of his profession. Tax collectors were hated, not because people believed that there should be no taxation, but because those who collected taxes were underhanded in their collection practices, cheating and abusing people so they could accumulate their own wealth.
Zacchaeus was not some petty tax collector who was beginning his career. He was a long-established tax collector. Before meeting Jesus, he was greedy. He found the way to make it rich was by confiscating the money of others, especially the poor and vulnerable who could not refuse him without suffering a harsher penalty.  Thus, St. Peter Chysologus preached, Zacchaeus had been the cause of ruin for many in Jericho:
In Jericho Zacchaeus was the chief tax collector: in a city that was ruined it is written that Zacchaeus held the first place in a work of ruin. From the place, the person, and the deed the enormity of guilt is made manifest, so that from the magnitude of the sin the magnitude of the Forgiver might shine brightly. [1]
Spiritually, we should ponder if we have any similarity to Zacchaeus. Do we prosper at the hands of the vulnerable? Do we support a system which makes us rich at the expense of the livelihood of others? Do we find ourselves focused on money above everything else? Are we like Zacchaeus before his conversion? If so, we must take note of how he changed once Jesus entered his life and do likewise. We must show the fruit of our encounter with Christ if we want the blessings which Zacchaeus received. St. Maximos, understanding this, said:
Zaccahaius, the tax collector, is the one who taxes God's creation for his own enjoyment. But he hears the Logos passing by and climbs up into the sycamore tree whenever the logos of repentance [comes to] exist in him. For it persuades him to go above "the mind of flesh." And this is the fig tree. From up there he will easily look upon the Logos and may hear him say, "make haste and come down," that is, "if you desire to receive all of me, into your house, do not consider it enough to surpass carnal thoughts alone, but also make the journey through the virtues with me."[2]
Those who come face to face with the Logos, with Jesus, like Zacchaeus, must change their ways if they want to receive his blessings. They must take the word of the Logos into their hearts. They must cast aside all selfish attachments which would get in the way of following that word.  Zacchaeus shows us this is possible, which is why his conversion is an important reminder for us as we prepare for Lent. We need hope for our own conversion. We need to know it is possible, truly possibly, to climb up the tree of salvation, to see Jesus, and follow after him, no matter what we have done before. It also tells us, however, that true repentance comes at a price. We must desire and do what we can to overcome the harm we have done to others in the past. Grace isn't cheap. And how do we know this? Through the message of this story in the Gospel. Jesus affirmed the victims of Zacchaeus, not by denying or attacking Zacchaeus, but by converting him so that he would compensate and help those whom he had previously abused.
Something else which should be noted with the story is how it undermines any denigration of the human person by saying sinners have nothing good left within them. Even though Zacchaeus was a tax-collector, filled with avarice, he was not entirely lost. He still had some good in him. Jesus was able to appeal to him thanks to that good, and Zacchaeus, listening to it, was able to cast aside his way of life, his injustice, and become instead a promoter of justice. No one, no sinner, is without some good in them; there is no one who is irredeemable. "When God seeks the sinner, he seeks, not the sins, but the person, so as to despise the sin, which is the work of the human being, but so as not to lose his own work, which is the human being." [3] There remained in Zacchaeus, as there remains in everyone who sins, a desire for that which is good, a desire which Jesus could engage and used to call Zacchaeus to himself:
[4]
For that reason, He who knows the hearts of men also sees the desire in Zacchaeus's heart, looks up, speaks to him and calls him by name, although He has never set eyes on him before, in order charitably to show His face, to make Himself known out of kindness to the man who longed for Him, and to make it clear that Zacchaeus not only loved but was beloved.
Though he had abused others, though he was of low moral stature so he could not see the justice which Jesus promoted before coming face to face with Jesus himself, Zacchaeus was still created in the image and likeness of God. He still possessed the good of God's image in him, however covered up it was by his sin. It was this goodness which had him desire to see Jesus, to see the justice of God, and to follow it.  This is why he sought Jesus out, and climbed a tree in order to do so; he needed help to compensate for how little he made himself to be because of his sins. And because he took that help, the good which was with him was able to be seen by Jesus, so that when Jesus came passing by, Jesus could call him and work for his salvation. That good which was hidden, even to himself, came out, so that he repented of his ways and gave back – with interest — all that he had unjustly taken from others:
Zacchaeus, then, although he was a publican and by the deceit of usury sought great wealth by loaning out money, was suddenly converted to such an extent upon seeing Christ that he sought spiritual grace with a greater desire than he had sought worldly money. [5]
It was that good which remained in him which Jesus saw and loved and used to call Zacchaeus. And it was that good which Jesus uses to make sure Zacchaeus could convert and change his ways. It is that good which was manifested in what he promised to do, and it is that good which even made his decisions valid. Without it, giving back to others what he had taken from them would not have been enough:
If Zacchaeus had not possessed good will, he would have given nothing even in the half of his possessions. For good will is also called charity. And what does the Apostle say? 'If I distribute all my goods to the poor, yet do not have charity, it profits me nothing.' Therefore, the man who possesses good will has everything. This alone can be sufficient if there are no other things, but if it alone is lacking, whatever a man possesses profits nothing. If it is present, it alone suffices, but everything else avails nothing if charity alone is lacking. [6]
It was more than giving back what he took that showed his conversion, but the way he abandoned his past and put himself entirely with the cause of Jesus, and Jesus' cause to help the victims of sin, that showed he truly had repented and had changed his ways. And this conversion is possible in all of us. No matter what sins, no matter what sinful inclinations we have, there remains some good in us. It is this good which God sees and desires and loves, the good which can be freed from sin and used to turn us around once we meet with Jesus and join him in his desire to liberate creation from the terrible discord of sin.
Jesus, the liberator, frees us from sin. He shows us that even those who abuse others are also victims, for they have allowed themselves to become enslaved by their unjust desires. Zacchaeus was just as much a victim of the system as those he abused, but he was a victim in a different way than others, so how Jesus worked with him differed in the way Jesus worked with those who had been suffered great loss because of the system. Through Zacchaeus, Jesus showed us what those who are unjustly rich and exploit others must do if they truly want out of the slavery of sin, that is, to truly give back, in abundance, what was unjustly taken:
If anyone is a tax-collector or a chief tax-collector and has grown rich by evil means as a result, gathering money unjustly, let him imitate this chief tax-collector's road to salvation, and let him repay and scatter to good purpose what he has evilly hoarded. [7]
But this is true for anyone who collects a great number of sins of their own. Everyone must compensate those they have unjustly harmed. Everyone must cast aside their hoard of sin.  And so we learn from this story, if we truly want to follow Jesus, we must detach ourselves from all injustice so that we can then promote the justice of Christ to all we encounter.
---
[1] St. Peter Chrysologus, Selected Sermons. Volume 2. Trans. William B. Palardy (Washington, DC: CUA Press, 2004), 206 [Serm. 54).
[2]  St. Maximus the Confessor, Questions and Doubts. Trans. Despina D. Prassas (DeKalb, IL: Northern Illinois University Press, 2010), 69.
[3] St. Peter Chrysologus, Selected Sermons. Volume 2, 209 [Serm. 54).
[4] St. Gregory Palamas, "On the Reform and Salvation of Zacchaeus" in Saint Gregory Palamas: The Homilies. trans. Christopher Veniamin and the Monastery of St. John the Baptist Essex, England (Waymart, PA: Mount Thabor Publishing, 2009), 513.
[5] St. Maximus of Turin, The Sermons of St. Maximus of Turin. Trans. Boniface Ramsey, OP (New York: Newman Press, 1989), 220 [Serm. 96].
[6] St. Caesarius of Arles, Sermons 81-186. Trans. Mary Magdeleine Mueller, OSF (Washington, DC: CUA Press, 1963), 470 (Serm. 182, taken from Augustine).
[7] St. Gregory Palamas, "On the Reform and Salvation of Zacchaeus," 514.
Stay in touch! Like A Little Bit of Nothing on Facebook.
If you liked what you read, please consider sharing it with your friends and family!