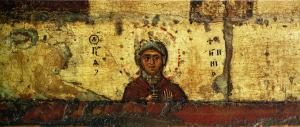 One of the more interesting events presented in the Gospels is when Jesus met with the Samaritan woman at Jacob's Well. Tradition records her name as St. Photina. She, likewise, is remembered as being a great martyr (executed with various companions by Nero) and as being an Equal to the Apostles.
It is her role as Equal of the Apostles which is rather interesting. Not only was she a woman known for her evangelism, she was also a Samaritan, making her rise in the early Christian movement rather spectacular. For both as a woman, and as a Samaritan, she experienced various prejudices in her day, prejudices which Jesus overcame as he lifted her up and made her one of his disciples. Being accustomed to various abuses which denigrated her human dignity, we should not be surprised to learn that she was shocked when Jesus approached her asking her for water:
There came a woman of Samaria to draw water. Jesus said to her, "Give me a drink." For his disciples had gone away into the city to buy food. The Samaritan woman said to him, "How is it that you, a Jew, ask a drink of me, a woman of Samaria?" For Jews have no dealings with Samaritans (Jn. 4:7 – 9 RSV).
Jesus was not concerned with her social status, neither as a woman, nor as a Samaritan. While he often worked within them, he also transcended the structural distinctions of his day. He did not look down upon Samaritans. Indeed, as the parable of the Good Samaritan indicated, he knew they were unjustly criticized and abused, being treated as being ritually unclean. Women, likewise, were often treated with suspicion because they, too, could be viewed as ritually unclean (such as when menstruating). Many took ritual impurity further and saw it as indicating moral and social impurity, justifying abusive attitudes towards Samaritans and women alike. Jesus would have none of this. Thus, with the express purpose to raise her up and offer her the gift of the Spirit, he approached her asking her for water. When she asked him why she came up to her, a Samaritan woman, and asked her for water, he responded in a way to show his true desire:
Jesus answered her, "If you knew the gift of God, and who it is that is saying to you, `Give me a drink,' you would have asked him, and he would have given you living water." (Jn. 4:10 RSV).
When he was with her, Jesus found himself welcomed by and respected by Photina. She was willing to listen to him, to learn from him. He revealed an intimate knowledge and understanding of her which shocked her, but in that shock, she came to realize who it was she had met: the messiah expected by the Samaritans and Jews alike. She was transformed from her encounter with Jesus. Once she came to believe he was the messiah, she dropped her jar so she could rush to the city and tell them who she had met:
So the woman left her water jar, and went away into the city, and said to the people, "Come, see a man who told me all that I ever did. Can this be the Christ? (Jn. 4:28-29 RSV).
She left what she was doing behind to become an evangelist and preach about Christ: she was, as it were, an apostle sent to the Samaritans. Thus, Origen, commenting upon this event, writes:
He also uses this woman as an apostle, as it were, to those in the city. His words inflamed the woman to such an extent that she left her water jar and went into the city and said to me, "Come, see a man who has told me everything that I have done. Could this not be the Christ?"[1]
St. John Chrysostom, likewise, indicates that Photina did what the Apostles did, bringing a large number of people to faith in Christ:
Observe her zeal and wisdom. She came to draw water, and when she had lighted upon the true Well, she after that despised the material one; teaching us even by this trifling instance when we are listening to spiritual matters to overlook the things of this life, and make no account of them. For what the Apostles did, that, after her ability, did this woman also. They when they were called, left their nets; she of her own accord, without the command of any, leaves her water pot, and winged by joy performs the office of Evangelists. And she calls not one or two, as did Andrew and Philip, but having aroused a whole city and people, so brought them to Him.[2]
According to tradition, she was so moved by her encounter with Christ, her whole life became one of constant evangelism. What we have in the Gospels is the foundation for her life of Christian discipleship. Photina preached with much success from Carthage to Rome itself (where, bound and locked up, she is said to have converted members of Nero's household to the faith).
Jesus's encounter with St. Photina, and her response to Jesus, should be an indication of the place women can and should have in the church. She was sent out and became like the Apostles, evangelizing and converting many to the faith. Jesus' response to her was to make it clear that she was just as welcomed as everyone else to be with him and share in the gift of the Spirit. The distance people make between each other due to culture, race, or gender, was a distance Jesus himself overcame, and anyone who came to him could be given the gift which he had to offer, if they only asked. Truly, more than many other recorded events in his life, this story explains what it means for there to be neither male nor female, Jew or Gentile, in Christ Jesus, for Jesus truly transcended all such distinctions to open himself up to her. He called her to him. She came and accepted, finding all the so-called objective distinctions relativized by him. This is exactly the point Jesus made with her:
Woman, believe me, the hour is coming when neither on this mountain nor in Jerusalem will you worship the Father. You worship what you do not know; we worship what we know, for salvation is from the Jews. But the hour is coming, and now is, when the true worshipers will worship the Father in spirit and truth, for such the Father seeks to worship him. God is spirit, and those who worship him must worship in spirit and truth" (Jn. 4:21b – 24 RSV)?
For, as Evagrius pointed out, "One who prays 'in spirit and in truth' (John 4:23-4) honours the Creator no longer on the basis of creatures, but praises him for himself."[3] If we want to honor God, we must look beyond creation and the distinctions which we make in creation to limit its contact with God. Racism, sexism, and cultural elitism within religion tries to limit God and so those who follow such ideologies have yet to entirely come to worship in spirit and in truth; they are rather carnal in their ways and in their thinking. Jesus, by coming to Photina, shows us how God can and will come to all, and can and will elevate all. We are all called to spread of the kingdom of God on earth.
---
[1] Origen, Commentary on the Gospel of John Books 13-32. Trans. Ronald Heine (Washington, DC: CUA Press, 1993), 104.
[2] St. John Chrysostom, "Homilies on John" in NPNF1(14):118 [Homily XXXIV].
[3] Evagrius of Pontus, "Prayer" in The Greek Ascetic Corpus. Trans. Robert E. Sinkewicz (Oxford: Oxford University Press, 2003), 199 [#59].
Stay in touch! Like A Little Bit of Nothing on Facebook.
If you liked what you read, please consider sharing it with your friends and family!