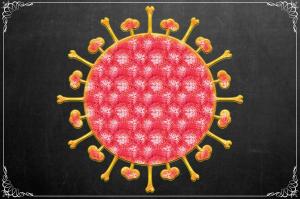 The coronavirus presents a significant threat. While we do not know exactly how dangerous it is, we know enough to not take it lightly. Currently, it seems to have a death rate greater than the flu, at 2%. Even if it remains at 2% or lowers down to 1%, due its infectious nature, we risk a significant loss of life around the world. This is especially true if people can be reinfected by it, which now appears to be the case (as a Japanese woman has tested positive for it for a second time).
This is why containment of the virus is vital. Such containment might require short term changes to the way we live. We are already seeing this happen. Schools are being closed. Worship services are being cancelled. For this reason, it is recommended that people prepare for such a possibility. If they are able to, they should stock enough food to last several weeks at their home. They should look into and help the elderly and poor who might not be able to otherwise prepare. Likewise, employers should look into ways their employees can work at home, in case there is a widespread quarantine which limits travel while the coronavirus continues to spread.
While we can and should do as much as we can to prepare for it, the fact of the matter is, the longer the coronavirus is not contained, the more we will find our lives affected. Economically, the coronavirus threatens the stability of world markets. Businesses can be closed down. Workers risk losing their job if they get infected and have to be quarantined. It will especially hit the poor hard, as they will likely not have the health care needed nor the work security needed to deal with the coronavirus in their families.
Some people seem unconcerned because they feel that everyone will eventually die, so it doesn't matter. While it is true that we will all die, this does not mean we should hasten our death by being unconcerned with our health. Jesus cured the sick. When he sent out the seventy (or seventy-two), he also had them cure the sick (cf. Lk. 10:9). John, writing to his friend Gaius, wished him to be in good health (cf. 3Jn 1:2). We should not take a carefree attitude towards the sick. And so, when we face the possibility of a dangerous pandemic before us, we must take care of ourselves, and others, doing what we can to stop its spread. Pope Francis, for this reason, showed his concern for those suffering and dealing with the coronavirus on Ash Wednesday, saying:
I want to again express my closeness to those suffering from the coronavirus and the health care workers who are treating them, as well as the civil authorities and all those who are working to help patients and stop the contagion.[1]
In the United States, Bishop David J. Malloy, chairman of the USCCB Committee on International Justice and Peace, Sean Callahan, president of Catholic Relief Services, and Sr. Mary Haddad, RSM, president of the Catholic Health Association of the United States, indicated the concern of the Catholic Church has with the coronavirus and its willingness to do what it can to help deal with the problem it presents:
As communities and public health officials respond to the outbreak of novel coronavirus (COVID-19) in China and closely monitor its presence and progression in other parts of the world, we join in solidarity and prayer for those impacted or working to treat those infected by the disease. The U.S. Conference of Catholic Bishops, Catholic Relief Services, and the Catholic Health Association of the United States hope that governments will work together in partnership to improve all nations' capacity to prevent, detect, and respond to this virus.

The Catholic Church in the United States stands in solidarity with those affected by the coronavirus and their families, health workers who are valiantly trying to diagnose and treat patients, and those under quarantine awaiting results of their screening for the virus. We offer our prayers for healing and support those organizations, both domestic and international, working to provide medical supplies and assistance to address this serious risk to public health.[2]
Currently, the coronavirus is only beginning its transmission within the United States. We now have people who have not been abroad, or known to be in contact with those who have, being infected by it. While we should not panic, we must be prudential in our actions. We must take care of ourselves by doing what we can to prevent its spread; even little things, such as basic acts of good hygiene such as washing our hands, will help.
We must deal with the threat of the coronavirus through an ethical and dignified manner. We must find a way to help those who have it already not spread it to others, and that includes, offering the health care and financial stability they need in order to persevere. For, even though most who find themselves to be infected by it will not die by it, this does not mean it will not create hardships for them. Instead of taking away even more necessities from the vulnerable, such as funding to help people with low-incomes pay for heat, which would only make them even more vulnerable to the coronavirus and help its spread because their immunity would be compromised, the United States needs to use money from many of its terrible projects, like Trump's border wall, money which instead of being wasted, would be put to good use.
Sadly, it seems the United States has not taken the coronavirus seriously. Donald Trump has been downplaying its threat. And, it seems, he does not want experts within the administration to have the freedom to speak about the threat and warn the public of what they know. Such censorship will only add further confusion to the situation. Putting Mike Pence in charge of the official response to the coronavirus, likewise, indicates Trump's poor understanding of the situation. Pence's record in dealing with contagious diseases is terrible. Having everything which comes out filtered through Pence instead of allowing experts to reveal what they have learned will likely do as much good for the United States it did for Indiana, which is, of course, to make things worse. Is there any surprise that the DOW had its worst day after Trump's failed press conference?
While we should not panic, the coronavirus is no joke. It poses a serious threat to the world. We must take it seriously. We must not act irrationally, either in fear, or in denial of its risks. We need the best medical officials to take charge, explaining what we can and should do to protect ourselves while also reassuring us that we can survive. Even if it reaches pandemic status, we can survive. This requires us to work together, with a willingness to help those who are most adversely affected by the virus. Otherwise, even if we survive the virus, our society might not outlast what comes in its wake.
---
[1] Nicole Winfield and Joe Gomez, "Pope Observes Usual Ash Wednesday Customs in Time of Virus," in AP News (Jan 26, 2020).
[2] USCCB, "Catholic Response to Outbreak of Coronavirus" (Feb. 18, 2020).
Stay in touch! Like A Little Bit of Nothing on Facebook.
If you liked what you read, please consider sharing it with your friends and family!