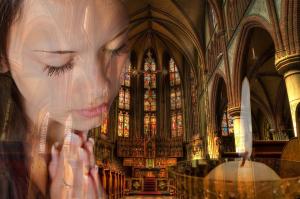 Prayer is a vital part of the Christian life. We need communion with God. We need to be able to share all our thoughts and feelings, all our hopes and dreams with God. This is not to say God does not know them. He knows them. But, by our nature as persons, we are relational creatures, and a part of the way we interact with others is to tell them about ourselves, including, and especially those things which are most dear to us. We feel better when others listen, even if they cannot offer us much help. We, likewise, feel better when we know God listens to us, that in his love he has made room for us to interact with him. When we are suffering, we want someone to listen to us; God is there for us. With purity of love, he is there, willing to listen. He doesn't force himself upon us. Rather, he makes the space for us so that we can come to him if we wish, and then, if we are willing and ready, he will give us his response. When we give ourselves over to him in loving trust, we find ourselves lifted up and made better, no matter what other results follow from our prayer.
But prayer can be and, is meant to be, more than simply sharing our hopes and dreams with God. That is simply the way many, if not most, of us start our relationship with him. Prayer can and should transcend words. It can and should become a state of communion with God which can and often becomes wordless. It is because the way we interact with others goes beyond words. When we are close to them, they will know us and we will know them, so that we will be able to communicate without speech, and we will be able to know how to help each other, and show each other ways in which we care for each other in ways words cannot do, such as a simple hug. Similarly, the fullness of prayer is found in how we act and react with God with our whole being. Revealing our hopes and dreams is a part of it; but acting upon our desires, acting and reacting upon God's responses to us, allows us to make more of ourselves and to make our prayer effective. In this way, through the actions which come out of our prayer, our prayer continues; indeed, it is in this way we can begin to learn how to pray without ceasing by making sure we live in the righteousness which God desires for us:
For the substance of prayer and supplication is quite clearly its fulfillment through the virtues, according to which the righteous man's prayer is strong and able to do all things, being rendered effective by the keeping of the commandments. The second way is when the one who needs the prayer of the righteous man undertakes and performs the works of prayer, that is, when he corrects his former way of life and thereby gives strength to the supplication of the righteous man, fortifying it through his own upright manner of life.[1]
As we grow closer to God, the more we experience that love, and the more we find ourselves reacting to God with love of our own. This love is what leads us to fulfil the commandments of God (commandments, which likewise, are given out of God's love and reflect the path of love), so that as we follow them, we show ourselves growing in communion with God and his love. We will find ourselves truly praying without ceasing. And so, Origen says:
And he prays "constantly" (deeds of virtue or fulfilling the commandments are included as part of prayer) who unites prayer with the deeds required and right deeds with prayer. For the only way we can accept the command to "pray constantly" (1 Thess. 5:17) as referring to a real possibility is by saying that the entire life of the saint taken as a whole is a single great prayer.[2]
When we give ourselves over to God in a life of prayer, when we are sincere with our prayer, we will find ourselves being transformed by our contact with God. Prayer done out of love will produce the effects of love in us, which can then be designated as the fruits of prayer:
The fruits of sincere prayer are simplicity, love, humility, fortitude, innocence, and other things similar to these. Such fruits which precede the heavenly fruit are developed in this life by a man eager for prayer through hard labor. Prayer is adorned with such fruit. [3]
Yes, when we relate to God specific hopes and dreams, and they are fulfilled, such fulfillment can also be seen as a fruit of our prayer, but it is also easy to misconstrue the acquisition of worldly desires as being answers to our prayer when they are not. If we do not see with them any of the other fruits of prayer, we should be weary as to whether or not we have received them from God. We can become so attached to them we leave behind our relationship with God. We need to keep in mind that the point of prayer is to bring us over to God, to unite with him, and to receive the blessings found in communion with God, and not the material goods which may or may not follow. We need to remember, such simple, secondary goods will never satisfy in the long run. Indeed, we might find out we do not really need them. If we find ourselves gaining spiritually, while not attaining the material goods which we might have asked for, we should not despair; God is working with us, and helping us in our prayer and the prayer is indeed effective. Because of this, it is important not only give ourselves over to God in our prayer, but to prepare ourselves properly for his response, to accept what he offers us when we come into communion with him knowing it will ultimately be greater than anything else we could wish to ask of him.
To truly receive the most important fruits of prayer, we must learn how to silence ourselves from all distractions so then we can center our focus on God. We should go in without expectation, willing to receive the blessings which God decides to impart upon us. Thus, in that silence, we should silence ourselves, all our thoughts, all our ideas, all our expectations, and be ready to receive what God shares with us:
Then, it seems to me that the person who is about to come to prayer should withdraw for a little and prepare himself, and so become more attentive and active for the whole of his prayer. He should cast away all temptation and troubling thoughts and remind himself so far as he is able of the Majesty whom he approaches, and that it Is impious to approach Him carelessly, sluggishly, and disdainfully; and he should put away all extraneous things. [4]
The more we practice such silence before particular periods of prayer, the more we can take what we learn in that silence and use it throughout our life. We can and should learn how to live and act in the spirit of silence, so that even if things are not so silent around us, we can still focus and find peace wherever we are at. Hopefully, we will slowly gain a way to be constantly aware of God's presence, so that everything we do will be done in the spirit of prayer. This is how we live out our prayer instead of merely thinking it out. We will be able to act and react through our communion with God. What is important is for us to set up the proper foundation by which we can make this so; we need to find the peace of silence so that we can always be at peace and share that peace with others. "The true foundation of prayer is this: to be very vigilant over thoughts and to pray in much tranquility and peace in order not to be a source of offense to others." [5]
And so, we are told, "Have no anxiety about anything, but in everything by prayer and supplication with thanksgiving let your requests be made known to God. And the peace of God, which passes all understanding, will keep your hearts and your minds in Christ Jesus" (Philip. 4:6-7 RSV). We are to find peace in our life, overcoming all anxiety as we engage the simplicity and peace of love. When we do so, we will find that we will gain the peace which transcends all understanding, united with God in and through Jesus Christ, as St. Edith Stein explains:
All praise of God is through, with, and in Christ. Through him, because only through Christ does humanity have access to the Father and because his existence as God-man and his work of salvation are the fullest glorification of the Father; with him, because all authentic prayer is the fruit of union with Christ and at the same time buttresses this union, and because in honoring the Son one ones the Father and vice versa; in him, because the praying church is Christ himself, with every individual praying member as a part of the Mystical Body, and because the Father is in the Son and the Son, the reflection of the Father, who makes his majesty visible. [6]
The incarnation, the God-man, connects us to God. Through Jesus, we receive the fullness of God's communication with us. Indeed, the incarnation is God's ultimate self-revelation; through the incarnation we are shown that God's love allows him to communicate himself with us. Indeed, he is in constant communication with us, as the assumed humanity remains with him, even after the ascension. By the cross, he has made room for us, indeed, for all creation, so that those who sincerely come to him can be taken in by him and partake of the kingdom of God.
Without prayer, without opening ourselves to God, and without God opening himself to us, we would find ourselves to be without hope. True prayer lifts up the spirit. It brings us peace and joy. That is what we should seek: the simplicity of peace and the joy of God's love. How it manifests itself to us might differ from person to person, according to each person's capacity and need. We should not, for example, think our communion with God will necessarily make us have experiences like those we have read various mystics have received. We should not specifically pursue such experiences, thinking we are worthy of them, for in doing so, we would risk cutting ourselves from true prayer through vainglory:
If God considers it advantageous to offer spiritual graces, all well and good. But if not, we must continue to do our work, which is this return of the mind to the heart, this vigilance and this most spiritual prayer. We must be careful not to be overcome by a desire for spiritual gifts and allow deception to enter instead of truth. [7]
We must let God be God and find the fruit of prayer, the elevation of ourselves in faith, hope, love, and peace, be enough. We need to pray and pray without ceasing in our actions. We must promote justice and go beyond justice in charity. Then, living out our life in such a fashion, we shall indeed be able to discern God's work in, with, and through us. We will find our prayer without ceasing in such a fashion will be greater than many of the charismatic gifts given to the mystics, because their gifts often are temporary while our prayer, our communion, will be without end, and so all that would otherwise confront us will find itself overcome by our communion with God: "Continual prayer destroys captivity; to grow careless little by little is the mother of forgetfulness."[8] When we thrive in this fashion, finding ourselves always manifesting a spirit of prayer in all that we shall do, then we shall find the Spirit dwells us and guide us, making sure our prayer is good and true: "Likewise the Spirit helps us in our weakness; for we do not know how to pray as we ought, but the Spirit himself intercedes for us with sighs too deep for words" (Rom. 8:26 RSV). This is what we should seek. This is what we should want. This is the entrance to the kingdom of God, as we find ourselves lifted up by and blessed by the Spirit. This will grant us a foreshadowing of the eschaton, in the joy of prayer which knows no end.
---
[1] St. Maximos the Confessor, On Difficulties in Sacred Scripture: The Responses to Thalassios. Trans. Maximos Constas (Washington, DC: CUA Press, 2018), 399-400.
[2] Origen, "On Prayer" in Origen: An Exhortation to Martyrdom, Prayer, and Selected Works. Trans. Rowan A. Greer (New York: Paulist Press, 1979), 104.
[3] Pseudo-Macarius, "The Great Letter" in Pseudo-Macarius: Fifty Spiritual Homilies and the Great Letters. Trans. George A. Maloney, SJ (New York: Paulist Press, 1992), 268.
[4] Origen, "On Prayer," 164.
[5] Pseudo-Macarius, "Fifty Spiritual Homilies," in Pseudo-Macarius: Fifty Spiritual Homilies and the Great Letters. Trans. George A. Maloney, SJ (New York: Paulist Press, 1992), 76 [Homily 6].
[6] St. Edith Stein, "The Prayer of the Church" in The Hidden Life: Essays, Meditations, Spiritual Texts. Trans. Waltraut Stein, PhD (Washington, DC: ICS Publications, 1992), 7.
[7] St Nicodemus of the Holy Mountain, A Handbook of Spiritual Counsel. Trans. Peter A. Chamberas (New York: Paulist Press, 1989), 159.
[8] Bernadette McNary-Zak, Useful Servanthood: A Study of Spiritual Formation in the Writings of Abba Ammonas. (Collegeville, MN: Cistercian Publications, 2010), 147 [St. Ammonas, "About the Joy of the Soul of One Beginning to Serve God (To Novices)" Trans. Nada Comte, Lawrence More, and Richard Upsher Smith, Jr.].
Stay in touch! Like A Little Bit of Nothing on Facebook.
If you liked what you read, please consider sharing it with your friends and family!