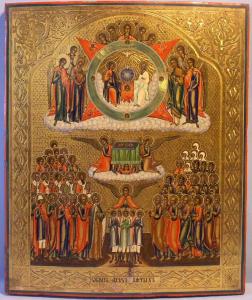 We read in the Psalms of God's greatness. He is to be understood as being above and beyond all. There really is no comparison between him and those believed to be gods by the Gentiles. He is surrounded by the assembly of the saints, the children of Israel, who, despite their relationship with him, understand how great and uncontrollable his glory is:
Let the heavens praise thy wonders, O LORD, thy faithfulness in the assembly of the holy ones! For who in the skies can be compared to the LORD? Who among the heavenly beings is like the LORD, a God feared in the council of the holy ones, great and terrible above all that are round about him? (Ps. 89:5-7 RSV).
God is great and mighty, and he is found in the middle of his chosen ones, the saints. They are the cloud of witnesses who at once reflect his glory upon the earth but also cover it up, protecting people from the unrestrained holiness of God.
God's glory transcends us. To be touched by it is at once great and troubling. It is the glory of God's unending fiery love. It burns through all the impurities of those who come in contact with it even as it tempers them, transforming them into something greater as it penetrates their being. Everyone it touches is called to be holy, for God is holy. But such holiness is not for themselves alone. Those who are touched by his glory share it with others, and it is in that sharing, their holiness is revealed.
Those touched by holiness, the great saints of God, often are, like God, uncontrollable terrors; their greatness, their holiness, creates within them a divine frenzy which lifts them up to do unimaginable actions, not just for their own sake, not for their own selfish ends, but for the good of all. Thus, the writer of the Book of Hebrews, recounting the great deeds of those who felt God's holiness upon their lives, explained at how nothing on the earth would hold them back from doing what they were called to do:
And what more shall I say? For time would fail me to tell of Gideon, Barak, Samson, Jephthah, of David and Samuel and the prophets — who through faith conquered kingdoms, enforced justice, received promises, stopped the mouths of lions, quenched raging fire, escaped the edge of the sword, won strength out of weakness, became mighty in war, put foreign armies to flight. Women received their dead by resurrection. Some were tortured, refusing to accept release, that they might rise again to a better life. Others suffered mocking and scourging, and even chains and imprisonment. They were stoned, they were sawn in two, they were killed with the sword; they went about in skins of sheep and goats, destitute, afflicted, ill-treated — of whom the world was not worthy — wandering over deserts and mountains, and in dens and caves of the earth (Heb. 11:32-38RSV).
Jesus, the God-man, in his humanity, demonstrated the awesome nature of this holy madness, for he was a prophet who held nothing of himself back from his mission to take all that was good and true in humanity and lift it up to God. This allowed him to fulfill the intentions of the saints, perfecting them through his glorious self-sacrificial act of love on the cross:
Therefore, since we are surrounded by so great a cloud of witnesses, let us also lay aside every weight, and sin which clings so closely, and let us run with perseverance the race that is set before us, looking to Jesus the pioneer and perfecter of our faith, who for the joy that was set before him endured the cross, despising the shame, and is seated at the right hand of the throne of God (Heb. 12:1-2 RSV).
We are all called to be saints. We are all called to be holy, to join in with the great cloud of witnesses, letting Jesus and his teachings direct us throughout our lives. We are called to partake of his fiery love, letting it purify us and direct us so that we, like him, can take up our cross in the world and follow after him, giving ourselves over to the dictates of love. We are to love our neighbors, to care for them, like ourselves. Of course, this means that if we are to take care of others, we should take care of ourselves so long as in doing so, we do not undermine the common good. For we should realize that just as we are better when others are better, they likewise, can be better only when we are better. We are in this together and we should rise up and be made better together.
We should view the world and all that is in it under the light of God's love. Just as light in the world is reflected upon various objects, revealing their glory, so seeing all things through the light of God's love will allow us to see the goodness and beauty of all that God has created. The light which shines on the objects which we see reflects back from them in various ways, so that the objects which we see, in their own way, demonstrate the light which we see. Likewise, when we see all things in the light of God's love, we see how all things reflect some aspect of God in themselves. This is how and why we should be able to see God reflected in everyone that we meet. What we see in the holiness of the saints is that reflection untainted by the defilement of sin. This is not because they did not sin, but rather, because their sins have been cleansed away, something which can therefore happen to us as we hope to find ourselves perfectly united with God.
Even when people do not yet let the image of God shine within, we, as Christians, should be able to recognize it is there, and act in accordance to that holiness; thus, as Kallistos Ware explains, we should be looking for God's presence in all the people we meet:
Natural contemplation signifies finding God not only in all things but equally in all persons. When reverencing the holy ikons in church or at home, we are to reflect that each man and woman is a living ikon of God. "Inasmuch as you did it to one of the least of my brethren, you did it to me" (Matt. 25:40). In order to find God, we do not have to leave the world, to isolate ourselves from our fellow humans, and to plunge into some kind of mystical void. On the contrary, Christ is looking at us through the eyes of all those whom we meet. Once we recognize his universal presence, all our acts of practical service to others become acts of prayer.[1]
Lifting up and praising the saints is lifting up and glorifying God, because the glory of the saints comes from God. When we understand all people are made in the image and likeness of God, we should realize all people are potential saints. All people should be lifted up and respected because of the holiness of God which is in them, no matter how covered up it is by sin. But, because so many have defiled that image, to show it proper respect, we must help them manifest that inherent holiness. We must help them actualize it in their lives. This is a part of the process by which our own holiness will be revealed. For by acting for others, doing what we can to help them realize their potential, we take up the cross of Christ, overcoming the self-centeredness which tries to cover up the holiness of God within us, and so find ourselves actualizing our potential as well.
There are those, who, through their lives, have demonstrated that they have actualized, at least to some extent, the image and likeness of God within, so that we easily recognize God's holiness in them. These are the saints which have been made manifest in the world, but when we praise God for all his saints, we go beyond those who are known, and praise God for all those he has transformed and deified by his grace. In each and every person God transform this way, he reveals a little of his own glory, a glory which we must acknowledge and not cast aside. This is why we venerate all the saints, and not just those we know, for God is glorified in the recognition of his saints.
---
[1] Kallistos Ware, The Orthodox Way. Revised Edition (Crestwood, NY: St. Vladimir's Seminary Press, 2002), 120.
Stay in touch! Like A Little Bit of Nothing on Facebook.
If you liked what you read, please consider sharing it with your friends and family!