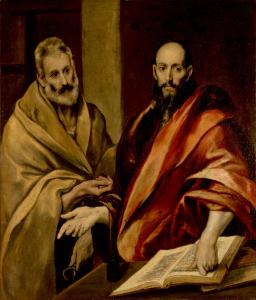 Sts. Peter and Paul, two great Apostles, were both men who, over the course of their lives, found themselves being transformed by Christ. By the time of their martyrdom, they were ready for it; they had truly died to themselves, to their selfish desires, and so had cut themselves off from all external attachments which could get in the way of their love for Christ. At the end, they were truly ready to die for Christ, for they knew, they would not really die. To live or die would be the same thing: both would be ways for them to be with and experience the glory of Christ.
To be sure, Peter and Paul were human. Both of them were men with the interest and desires of men which could and did get in the way of their walk with Christ. We must not look at them only at the end of their temporal lives, for to do so would be to misunderstand them, and so misunderstand what the examples of their lives could mean for us
Peter had a wife and a career as a fisherman before he was called by Christ to be not only one of Christ's disciples, not only one of Christ's apostles, but to first among the apostles, the one who was to lead the church. He did not find it easy to fulfill his calling. As the Gospels indicate, he often faltered (such as when Peter started to walk on water, but quickly fell in, or when he denied his association with Christ after Christ's arrest). Even after Christ's resurrection, Peter struggled against his own basic foibles, but because his heart was with Christ, because he loved Christ, he was open to correction and would fight to do what was right when he learned what he should do, even if his own inclinations, his own habits, tempted him to act otherwise. Thus, Peter, the man, had to learn by revelation to think beyond human conventions, beyond human distinctions, so that he could truly appreciate the eschatological significance of the incarnation:
The leader of the apostles, the all-holy Peter, had great need of a divine revelation concerning the nations, since he did not realize that, with respect to the faith, there is no distinction to be made between circumcision and non-circumcision. [1]
Even with his time with Christ, even after Pentecost, Peter still was attached to human conventions and used them in his understanding of the church. It was only after he was given divine revelation, when he was shown that the distinctions humanity made for itself are to be cast aside, did he begin his final journey, the one which would allow him to overcome himself and truly be the leader the church needed. He could, and did, sometimes go back to his bad habits, which is why he needed Paul to correct him, Paul the other Apostle who had learned, like Peter, the great eschatological significance of Christ:
And whereas Saint Paul says that it was through a revelation that he grasped the divine goal concerning the good things of the future age, he does not say that he knows the manner of divinization in relation to the divine goal. [2]
Peter and Paul both were accorded a great revelation concerning the unity of humanity in Christ. They saw the truth of it. But they also understood, as St. Maximos pointed out above, that there remained a great mystery involved. They might know what was to be achieved, but the way it was to be achieved transcends human understanding. We get a sense of this in the way Paul writes; as Pavel Florensky indicates, there are great antinomies in Paul's writings, showing us that the transcendent nature of truth cannot be fully captured by the human intellect or the words which we use to try to explain it:
Consider the Apostle Paul. His brilliant religious dialectic consists of a series of discontinuities; it jumps from one affirmation to another, where each successive affirmation is antinomic with respect to the proceeding one. Sometimes an antinomy is even embodied in a stylistic discontinuity of exposition, in an external asyndeton. Rationally contradictory and mutually exclusive judgments have their sharp edges directed against each other.[3]
To truly understand Paul and his writings, to understand revelation, we must look at what is said beyond a rationalistic approach. We can, of course, apprehend elements of truth from revelation, and we can do so using logical or rationalistic analysis, but in doing so, we must remember we only acquire a partial representation of the truth. We should not limit the truth to what can be discerned in such a manner. This is why we should move beyond mere intellectual exercises, trying to look wise based upon what we can discern through our own endeavors, to true wisdom, which can and often look like foolishness to those who can only appreciate such rationalistic arguments.
Paul, of course, first pursued the truth apart from Christ. He was a religious scholar. His devotion was true, but he leaned too much on his own understanding, making rash judgments because of it. He had to transcend himself, to be taken beyond his own basic comprehension, in order to activate the potential within his heart, and that is exactly what happened to him on the road to Damascus. But even then, he wanted to hold on to his greatness, and he had to learn to accept his weakness. Finally, once he finally stopped his pursuit of such glory, he could truly die to himself and find himself ready to receive God's grace; then, and only then, was he ready to do all that God would have him do:
I must boast; there is nothing to be gained by it, but I will go on to visions and revelations of the Lord. I know a man in Christ who fourteen years ago was caught up to the third heaven — whether in the body or out of the body I do not know, God knows. And I know that this man was caught up into Paradise — whether in the body or out of the body I do not know, God knows — and he heard things that cannot be told, which man may not utter. On behalf of this man I will boast, but on my own behalf I will not boast, except of my weaknesses. Though if I wish to boast, I shall not be a fool, for I shall be speaking the truth. But I refrain from it, so that no one may think more of me than he sees in me or hears from me. And to keep me from being too elated by the abundance of revelations, a thorn was given me in the flesh, a messenger of Satan, to harass me, to keep me from being too elated. Three times I besought the Lord about this, that it should leave me; but he said to me, "My grace is sufficient for you, for my power is made perfect in weakness." I will all the more gladly boast of my weaknesses, that the power of Christ may rest upon me (2 Cor. 12:1-9 RSV).
Peter, likewise, was called to the truth beyond himself; his recognition of who Jesus was came from beyond himself (cf. Matt. 16: 17). When he realized this, he then could lean on the Spirit of God and follow it wherever it should lead, even when it went against his own expectations and biases.
The process by which we open ourselves up to Christ, the process by which we die to the self, allows us to encounter the transcendent reality of Christ. But to truly die to the self, we must do all that we can to put to flame all the seeds of the selfish ego, all the habits and inclinations which would propel us to once again become attached to ourselves and our lowly way of thinking. This is a part of what the spiritual life is all about. Once we have put to the fire all the impulses and habits of the fallen self, we, like Peter and Paul, can truly die to the world and experience the glory of eternal life, so that whatever we experience, we will never find ourselves cut off from the glory of Christ.
---
[1] St. Maximos the Confessor, On Difficulties in Scripture: The Responses to Thalassios. Trans. Maximos Constas (Washington, DC: CUA Press, 2018), 182.
[2] St. Maximos the Confessor, On Difficulties in Scripture: The Responses to Thalassios, 114.
[3] Pavel Florensky, The Pillar and Ground of the Truth. Trans. Boris Jakim (Princeton: Princeton University Press, 1997), 120.
Stay in touch! Like A Little Bit of Nothing on Facebook.
If you liked what you read, please consider sharing it with your friends and family!