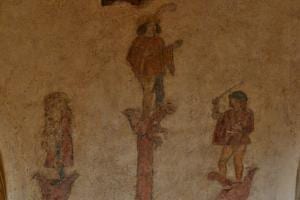 When we overcome some temptation, when we are victorious against sin, we must be careful. We must not let our victory in that battle be the foundation for our spiritual defeat. We must not become proud of what we have done. We must be humble. Pride is one of the root spiritual poisons; it turn us away from the good by becoming too attached to what we have already made of ourselves instead of allowing us to cast it all aside and to be made better. With pride, we become draw in to ourselves, and so, having been taken in by ourselves, we find end up turning away from God.
When we lift ourselves up in pride, we will find whatever spiritual accomplishment we make will turn out to be empty and worthless in the end. Pride is great and powerful vice, and when it is found alongside some particular virtue, it overcomes that virtue and uses it to increase its own itself in the midst of many virtues. And it corrupts the soul of the one who accepts it, taking the power of those virtue and tuning it against virtue itself, so that the prideful soul only makes itself worse by having a pretense of holiness.
Another insidious element of pride is that when we think we have become victorious against it, it easily sneaks back in as we take pride in that victory. And since we thought ourselves to be victorious, we will likely let the new form of pride gain ground in our lives, not only keeping us from further spiritual progression but rather taking us further away from God. For pride encourages us to hold onto and attach ourselves to ourselves instead of looking beyond ourselves, which we need to do if we are to attain true happiness and peace. Thus, the danger of pride is so much greater than many vices other since as, an anonymous desert monk suggested, it is better for us to stumble in our fight against the vices and retain humility than it is to gain some sort of victory and with it increase our pride: "An elder said, 'I prefer defeat with humility to victory with pride.'"[1]
Victory against some sort of temptation which lead us to have pride therefore is not a true victory for us. It only appears to be such. Real victory requires us to crucify the self, which pride does not allow us to do. Whatever props up that self, whatever reassures it, must be cast aside, if we want to experience true spiritual glory. Those who fight against various temptations, those who are weakened by habits of sin and find themselves giving in to their desires, so long as they remain humble and acknowledge their weakness, are closer to the truth, closer to true victory, than those who think they have mastered themselves and take pride in their accomplishments. For pride, avarice, and hate are the root poisons from which all other temptations flow, and if some victory against temptation strengthens the intensity of those poisons, it will turn out to be only a pyrrhic victory.
"When pride comes, then comes disgrace; but with the humble is wisdom" (Prov. 11:2 RSV). Satan, of course, is the great representation of this in the Christian tradition. He is said to have been made great, the first among angels, and finding himself with such greatness, he took pride in himself. With that pride, he became so attached to himself, he turned away from God, and in the process, destroyed his own greatness. The disgrace of the fall turned him into a contemptuous, hateful, creature, seeking to destroy what God has created, so that everything can feel the pain and sorrow he made for himself.
We must learn the lesson suggested by the story of Satan. We must not seek our own self-made glory and glorify ourselves at the expense of our relationship with God (or others). Such foolishness will reify the false, egotistical self and turn it into a prison of despair. We must constantly humble ourselves, emptying ourselves of all pretense of self-made glory. If we fight the good fight against sin in order to glorify ourselves, we have not yet properly understood the fight, and we will foolishly go around in circles with sin. For the pride which we establish will be the precondition for the establishment of new vices in our life, vices which we will then likewise fight, maybe have victory against, and use to lift ourselves up with even more pride, and so separating ourselves even more from God. On the other hand, if we die to the self, if we cut off the pride, then the temptations themselves will go away, for we will find ourselves open to the grace of God which we need in order to find true victory against sin.
This is why love is such a great force. Love turns us towards others instead of ourselves. It lifts us up beyond ourselves in its intoxicating glory. For, through it, we die to the self, not through some force of will, not through some discipline which we follow, but simply by making us forget ourselves. Then, we will find that the solution is not in some sort of struggle against ourselves, nor in some sort of works which we do which finally puts the self to rest, but in the grace we receive from God thanks to the bond of love which we have formed with him.
Paul tells us that we will reap what we sow:
Do not be deceived; God is not mocked, for whatever a man sows, that he will also reap. For he who sows to his own flesh will from the flesh reap corruption; but he who sows to the Spirit will from the Spirit reap eternal life. And let us not grow weary in well-doing, for in due season we shall reap, if we do not lose heart. So then, as we have opportunity, let us do good to all men, and especially to those who are of the household of faith (Gal. 6:7-10 RSV).
When we sow the self with pride, we will reap the self, and find ourselves trapped within its confines. So long as we place our focus upon ourselves and the glory we want to achieve for ourselves, we will reap the self through the seed of pride. But if we are humble, if we know our faults and foibles, we will know how far off we are from the glory of God, but we will focus on God, not ourselves, in answer to those foibles. We will turn to God in love and let love sow in grace, so that through such grace, the false self will wither away and all that will be left is what is found and established in union with God.
---
[1] John Wortley, trans., The Book of the Elders: Sayings of the Desert Fathers (Collegeville, MN: Cistercian Publications, 2012), 270 [N316].
Stay in touch! Like A Little Bit of Nothing on Facebook.
If you liked what you read, please consider sharing it with your friends and family!