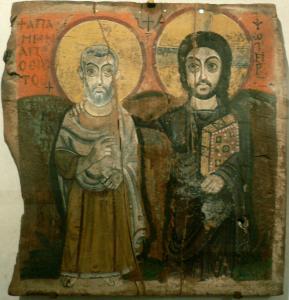 God gives us freedom, and with that freedom, we can (and should) choose to work with God in building up the world, making it better. Where injustice resides, we should work for justice. Where charity is lacking, we must strive for charity. When we do this, we follow after Jesus, who, in the incarnation, gave himself completely to us in his love so that he could build up the world with that love, restoring to it the justice it had lost due to sin.
What we do to build up justice and charity, we do as stewards of God, that is, as fellow workers of God. To be sure, we are not just builders with God, we are also ourselves being built upon and established, by God and by others working with God. We must realize how we are both that which is being built up but also those who build with God. This is how the body of Christ develops. We build up one another. We do so, not on our own, but with the grace of God. We must always remember we cannot do it all by ourselves. God is always at work, but he has made room for us, allowing us to work with him, participating with his uncreated energy to be co-creators with him in the world.
Thus, not only does St. Paul explains how he and all of us are called to build up the church as God's fellow workers, but how we are to build up the temple of God, not just in its external form as it is found in the world, but also within ourselves:
For we are God's fellow workers; you are God's field, God's building. According to the grace of God given to me, like a skilled master builder I laid a foundation, and another man is building upon it. Let each man take care how he builds upon it (1 Cor. 3:9-10 RSV).
We can be God's co-workers, building up each other, only if we accept that God is a part of the equation. That is, we can be co-workers with God only if God is at work with us and for us. The foundation which is laid in all of us is the foundation of Jesus. "For no other foundation can any one lay than that which is laid, which is Jesus Christ" (1 Cor. 3:11 RSV). Once we put on Christ through the help of others (that is, through baptism), we are called to build upon that foundation, to be co-workers with Christ in establishing ourselves in the world.
We exist in the world, and so are called to build up and establish justice in it. If we do not do so, we will not be building ourselves up. The two are interconnected, and this is why it is impossible to ignore the world if we want to be saved; this is why we cannot say works of justice, works of charity, are side-issues to the Christian faith and the message of the Gospel. Anyone who reads the Gospels should note that Jesus tells his disciples what they should do; he does not tell them to just sit down with a quietest faith, doing nothing else. Rather, he warns them if they try to hide their talent and let it grow without work on their part, they are likely to lose it (cf. Matt. 25:14-30).
And so, Paul tells us that what we do to build up the temple of God within ourselves is connected with what we do in the world at large. Our actions establish the quality and character of what we establish. Will it last? Will it stand the test of time? Or will it crumble down or by burned away by the presence of the Holy God?
For no other foundation can any one lay than that which is laid, which is Jesus Christ. Now if any one builds on the foundation with gold, silver, precious stones, wood, hay, straw — each man's work will become manifest; for the Day will disclose it, because it will be revealed with fire, and the fire will test what sort of work each one has done. If the work which any man has built on the foundation survives, he will receive a reward. If any man's work is burned up, he will suffer loss, though he himself will be saved, but only as through fire (1 Cor. 3:11-15 RSV).
Paul uses poetic diction to describe the kinds of works which we do, using gold, silver, jewels, wood, and straw as representations of those works. Some are more glorious than others and will allow the holiness of God, the glory of God, to be better experienced than others — while others will catch fire and be leveled by the presence of God. Those who build up the temple with such stubble are complicit in the destruction of that temple. Thus, they are warned: "If any one destroys God's temple, God will destroy him. For God's temple is holy, and that temple you" (1 Cor. 3:17 RSV). If we do not build up a quality temple for God within through works of justice and charity, then in our sloth, we risk losing all. For when God comes to us to discern the quality of the temple which we have built up for him within, if it does not last, if it is consumed by the presence of God, we will suffer great loss indeed.
We are God's co-workers. He lets us decide for ourselves how we will build ourselves up. He tells us what he wants from us, the justice and charity, the love, which, when followed, will allow us to build up a beautiful temple for him. But we often falter. We find excuses. We want him to do everything, and sometimes, we even try to fool ourselves into thinking that is what he desires (which can be seen in the various deterministic theologies which Christians have produced throughout the centuries). But that is not how he acts. He loves us and so he wants us to love him back. Love makes room for the other, and so he makes room for us. He wants us to be co-workers with him, and that means, he wants us to work with him, joining together with him in his love for the world so that he can build up the world, and in doing so, we can truly become glorious temples of God where his presence can shine not just in the world but throughout eternity.
Stay in touch! Like A Little Bit of Nothing on Facebook.
If you liked what you read, please consider sharing it with your friends and family!