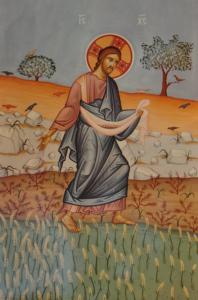 After the Resurrection, after the Ascension, after Pentecost, the church continues Christ's work in history. It continues to announce the kingdom of God to all. And, just like Jesus announced the kingdom of God because he brought it with him in his person, making its presence found wherever he was at, so the church continues to bring the presence of the kingdom of God to the world. Jesus told the church that it would do the things which he had done, indeed, it would do even greater things. It could do this because it is the body of Christ, and Jesus is its head. This does not make the church greater than Jesus, because the church does what it does through Jesus, who works in and through it. The graces which flow from the church and into the world do not come from the people of the church itself, but from Christ; Christians can sin, Christians can and do much evil, but God continues to be at work through the church, overcoming even the harm that Christians have done in his name.
The Acts of the Apostles should serve as a foundation for our understanding of the church. And, we find that even in the earliest stages of church history. Christians were fighting against each other. Christians sinned, fighting against Christ's expectations for them and the church. We also see, however, that despite such conflicts, God's grace continued to be shared to the world. Even though Christians often fail God, God does not fail them – or the world. The presence of the kingdom of God continued to be found in the world, despite the way Christians acted. And so, we are shown in the Acts of the Apostles many glorious events which represented the way God's grace continued to be at work in the world, working great, indeed, marvelous deeds, such as when we read of St. Tabitha (Dorcas), a holy widow who, after dying, was brought back to life:
Now there was at Joppa a disciple named Tabitha, which means Dorcas. She was full of good works and acts of charity. In those days she fell sick and died; and when they had washed her, they laid her in an upper room. Since Lydda was near Joppa, the disciples, hearing that Peter was there, sent two men to him entreating him, "Please come to us without delay." So Peter rose and went with them. And when he had come, they took him to the upper room. All the widows stood beside him weeping, and showing tunics and other garments which Dorcas made while she was with them. But Peter put them all outside and knelt down and prayed; then turning to the body he said, "Tabitha, rise." And she opened her eyes, and when she saw Peter she sat up. And he gave her his hand and lifted her up. Then calling the saints and widows he presented her alive. (Acts 9:36-41).
The kingdom of God transforms things in its presence, healing spiritual and physical wounds; this is one of its signs. The kingdom of God liberates people from the darkness of sin. It is Christ, and his grace which makes this possible — it not something the church can do by itself. Whereas the kingdom of God seeks after, indeed, establishes justice and truth, so sin, when it is found, is not of Christ. Sin can turn those within the body of Christ back into transgressors, whereby through grave sin, they end up fighting against the kingdom of God itself. We must let the presence of the kingdom come to us, let it transform us, so that we overcome the structures of sin within our own selves, the structures of sin which create, as it were, a false self; it is this false self which must die so that we can find ourselves one with Christ. Then, we can say like Paul, Christ lives in us:
But if, in our endeavor to be justified in Christ, we ourselves were found to be sinners, is Christ then an agent of sin? Certainly not! But if I build up again those things which I tore down, then I prove myself a transgressor. For I through the law died to the law, that I might live to God. I have been crucified with Christ; it is no longer I who live, but Christ who lives in me; and the life I now live in the flesh I live by faith in the Son of God, who loved me and gave himself for me (Gal. 2:17-20 RSV).
We must find Christ within, and when we do so, we will find the kingdom of God is within us. Sin mutilates us and covers up the beautiful image of God. In order for that image to be found, in order for us to experience the kingdom from within, we must truly die to the self, to the self-made-of-sin. We must let that false self be crucified with Christ, so then Christ can cast it into the fires of hell, never to be remade.
Christ told us that he has sowed into his creation the seed of the kingdom of God in all of us:
"A sower went out to sow his seed; and as he sowed, some fell along the path, and was trodden under foot, and the birds of the air devoured it. And some fell on the rock; and as it grew up, it withered away, because it had no moisture. And some fell among thorns; and the thorns grew with it and choked it. And some fell into good soil and grew, and yielded a hundredfold." As he said this, he called out, "He who has ears to hear, let him hear" (Lk. 8:5-8 RSV).
The kingdom of God is within us because it has been sown in us, indeed, sown in all humanity. It is like a seed; if we properly water it and give it the light of truth and justice, if we take in the nourishment of grace, it will grow and overtake us, and our lives will then reflect that presence by all that we shall do. On the other hand, we must be weary; while that seed grows, we can cut it off from all it needs; we can diminish it and cover it up with the filth of sin, and when we do so, we will no longer feel the presence of the kingdom of God.
Nonetheless, even if we strangle the seed of the word, even if we strangle the presence of the kingdom of God within us, the kingdom of God remains. It is never utterly destroyed. It is sown deep, its roots come from the goodness of existence itself. Even if we have abandoned it, and let the weeds of sin take over, we can repent, change our ways, and once again water that seed with righteousness and let grace come in and nature it so that it can take hold of us and reveal to us the fullness of its glory.
Just as Tabitha came back from the dead, thanks to the presence of the kingdom of God in history, so sinners can come back from spiritual death. The seed, the kingdom of God, is always within, and it cannot be destroyed. It brings us hope. When we see it at work, it brings us joy. And truly, when we have let it flourish, it will affect not just us, but the lives of those we touch. Its presence will bring liberation, destroying the structures of sin wherever they are found.
Stay in touch! Like A Little Bit of Nothing on Facebook.
If you liked what you read, please consider sharing it with your friends and family!