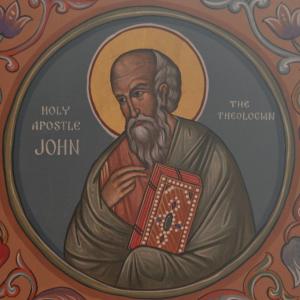 The Apostle John was known as the "theologian," not because he was a master of systematic theology, not because he was capable of employing subtle theological distinctions in debate, but because he had a great, loving relationship with God. Certainly, his knowledge of doctrine was second to none. Certainly, some of the greatest texts in Scripture bear his name, and in them, we can sense some of the insight which he possessed. But this is not what made him the theologian; rather, it was his sustained inner dialogue with God, his logoi (words) with theos (God) which lifted him up and made him the theologian. He spoke with God, he gave voice of his thoughts and desires to God, but he also did more than that, he opened himself up to God, listening to and following what he received; the texts which come to us in his name, whether or not they were written directly by him or through intermediaries giving us communal memories of what he had taught, was but one of the fruits of his talk with God. Through them, we learn, in part, how to be like him, to become theologians; to lift ourselves up and have a true, loving dialogue with God. What he points to as central, we must embrace if we want to be true theologians, and this is love:
Beloved, let us love one another; for love is of God, and he who loves is born of God and knows God. He who does not love does not know God; for God is love. In this the love of God was made manifest among us, that God sent his only Son into the world, so that we might live through him. In this is love, not that we loved God but that he loved us and sent his Son to be the expiation for our sins. Beloved, if God so loved us, we also ought to love one another. No man has ever seen God; if we love one another, God abides in us and his love is perfected in us. By this we know that we abide in him and he in us, because he has given us of his own Spirit (1 Jn. 4:7-13 RSV).
John reportedly was the last of the apostles to die; he was the youngest among them when he was with Jesus, and when he died, he was over a hundred years old. Throughout his life, he set up many Christian communities, and through them, he taught many people the ways of God, the ways of love. He was, of course, one who had to learn that himself, for in his youth he was known as a Son of Thunder, and he often let his worst instincts get the best of him, such as when he wanted to call down fire from heaven and destroy the Samaritans who did not welcome Jesus (cf. Lk. 9:54). Throughout his life, he would have to find a way to control his wrath; he was, like the rest of us, human, with human feelings and fears; thus, according to tradition, he once was in a bathhouse and saw Cerinthus, a Gnostic heretic, whereupon it is said that John fled the scene saying he was afraid that the bathhouse might soon be destroyed thanks to Cerinthus' presence.
John, therefore, though a great disciple, though a great apostle, a great man of love who opened himself up to God so as to become a true theologian, was still a man throughout all his life. He was not perfect. Not everything he said or did manifested the love. Because he did love, because, for the most part, he did open himself up to love, he was able to attain great spiritual heights. He learned much from his relationship with God, and through what he learned, he could and did present to us what we need to do to follow after him and become theologians like himself. He shows us that we must sow the love of God in our lives, embrace it, water it with our actions, so that we can reap all the benefits it can and will give to us.
This was a lesson which is not exclusive to John, but to many spiritual greats, like Paul, who said:
The point is this: he who sows sparingly will also reap sparingly, and he who sows bountifully will also reap bountifully. Each one must do as he has made up his mind, not reluctantly or under compulsion, for God loves a cheerful giver. And God is able to provide you with every blessing in abundance, so that you may always have enough of everything and may provide in abundance for every good work. As it is written, "He scatters abroad, he gives to the poor; his righteousness endures for ever." He who supplies seed to the sower and bread for food will supply and multiply your resources and increase the harvest of your righteousness. You will be enriched in every way for great generosity, which through us will produce thanksgiving to God (2 Cor. 9:6-11 RSV).
We are to sow the seed of the kingdom, to sow love, into our lives. We are to do this by doing the works of love. The more we sow such love in our lives, the more we will reap of the harvest of the kingdom of God. The more we open ourselves up to love, the more we will be able to be like John, to be transformed into true theologians, that is, people who are lifted up and experience dialogue with God. Through such dialogue, we should find ourselves sowing more and more seeds of the kingdom, and in doing so, we can and will become holy. To be holy, of course, is to do what is holy. The two cannot be distant from each other. This is why it is important for us to be doers of the word, to sow constantly, not just with words, but with deeds, to be people who not only claim to love others, but to actually love them and show forth that love in works of love. For, if we follow John and act in love, we will not only sow righteousness in ourselves, we will attract others by the holiness which is manifested in us, and in this way we will bring others to the kingdom of God with us, becoming, once again, like John, who was known to fish for and find people to take with him as he journeyed towards beatitude (cf. Lk. 5:1-11).
Stay in touch! Like A Little Bit of Nothing on Facebook.
If you liked what you read, please consider sharing it with your friends and family!