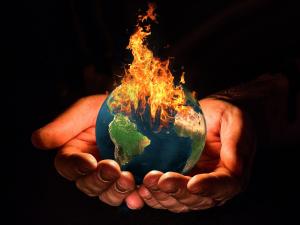 What before was abnormal is becoming normal. What was once unusual, such as having warm temperatures, thunderstorms, and even tornadoes, in the midst of winter, is becoming a common occurrence. But, in the future, it not only will become more common, but much more dramatic in effect, as should be expected with the raising of the overall temperature of the Earth. Not only do we have scientists warning us of what is to come, they show us the changes which have already been established, documenting the reality of climate change. Everything is changing and it is not changing for the better. This can be seen in the rapid transformation of the Artic. Rachel Ramirez, telling us what a recent report concerning the effects of climate change in the Artic, says:
A report published on Tuesday, which serves as an annual physical for the Arctic, found this vast and significant biome is changing profoundly. It continues to warm twice as fast as the rest of the Earth and is rapidly losing ice cover, transforming from a reliably-frozen landscape to a greener and browner one than it was just around a decade ago. [1]
Changes are not only happening in the Artic, but around the world. The  environment is not stable. And with its instability, wild animals are on the move, coming into more and more contact with humanity, as can be seen in the way coyotes are becoming much more readily seen in urban environments:
It's a sign of a growing climate-driven conflict. Drought and heat waves are not only fueling catastrophic wildfires in California's wildland-urban interface, they're also driving coyotes and other wildlife into the streets in search of food and water, according to scientists. That's triggering clashes among residents over an influx of four-footed climate refugees into the Berkeley hills and adjoining neighborhoods wedged between a vast regional park and San Francisco Bay.[2]
In the future, it won't just be wild animals who will be on the move; large populations of humanity will have to move around to save themselves from the effects of climate change. This will likely cause great conflicts, as those who live in those regions least affected by climate change will have to deal with the influx of migrants, an influx which many of them will not accept and will do all they can to repel them from their land. Kate Yoder suggests that in the United States, that will be in the Midwest: "Forget the palm trees and warm ocean breeze. The upper Midwest could soon be the most sought-after living destination in the United States."[3] But, Yoder continues, we must not think this means the Midwest will be free from the effects of climate change:
There is no escape from the effects of an overheating planet, even in a so-called haven. The Great Lakes region is witnessing heavy flooding: 11,000 people in central Michigan evacuated last year as severe rains overwhelmed dams. This summer, wildfire smoke from Canada blew into Minnesota, bringing an unprecedented haze and making it hazardous to breathe. [4]
Climate change its real. Its effects are real. And our responsibility for it is real. And as it changes, instead of trying to fix the harm which it causes, humans are making things worse, as can be seen in the way the Artic region is on the receiving end of human indifference:
The report also describes an increase in commercial activities and ships that are venturing further into the Arctic on sea routes opened up by melting ice. They bring more garbage and noise to the region, changing its soundscape and interfering with the ability of marine mammals to communicate. [5]
What is most disturbing is not the indifference of humanity to the plight of the Earth, but the indifference, sometimes contempt, shown to the Earth by Christians. They act as if there is nothing they can do to it to harm it, or if they do harm it, it doesn't matter because the Earth is meant to perish. They do not understand the abuse they do to the Earth is sinful. Humanity has been called to be stewards of the Earth. If they think the state of the Earth doesn't matter because the Lord is going to come back and the world will end, all they need to do is reflect upon the  Parable of the Talents and see how that faulty reasoning has already been denounced by Christ (cf. Matt. 25:14-30). They have been given grace to help take care of the Earth, to protect it and keep it for the coming of the Lord. It will come to and end, even as our lives will come to an end, but that end relates only to history; just as we will exit history and enter eternal life, so all creation will come with us to the new creation in eternity. We don't say that in light of the resurrection, where Christ will heal all things, it is fine to harm others and murder them. If we listen to the Gospels, it is clear we are called to follow Christ's example and make things the best we can, to take the talent given to us and multiply it, so that then, in its better state, it can be hand back to God as a gift, showing how much we appreciated what God first gave to us. In a way, the Earth is sacred, because God has made it and given it is glory; if we do not appreciate this, then we risk repeating the mistake of the fall, as Patriarch Bartholomew warns us:
If the earth is sacred, then our relationship with the natural environment is mystical or sacramental; that is to say, it contains the seed and trace of God. In many ways, the "sin of Adam" is precisely his refusal to receive the world as a gift of encounter and communion with God and with the rest of creation. [6]
Indeed, those who would deny humanity can harm the Earth seem to ignore the message of Scripture which says otherwise; human choice, human action, affects creation, both negatively in the way sin damages the Earth, but also positively, in that our acceptance of grace can and should manifest itself in sharing grace to the Earth:
It seems strange that anyone from the Christian tradition should doubt in principle that human action could affect even something so vast in scale as the global climate. The scale of human environmental impact should remind us of something so basic to the story of salvation: the momentous effect of a human decision. [7]
Our salvation can and should have a positive effect on the Earth. Our transformation should include a desire to help take care of and purify the Earth, freeing it from the harm which we caused it due to our sin. This is why the work of Christ is not just for humanity but for all creation (cf. Eph. 1:7-10). It is also why Paul said all creation has awaited the coming of the children of God:
For the creation waits with eager longing for the revealing of the sons of God;  for the creation was subjected to futility, not of its own will but by the will of him who subjected it in hope;  because the creation itself will be set free from its bondage to decay and obtain the glorious liberty of the children of God.  We know that the whole creation has been groaning in travail together until now;  and not only the creation, but we ourselves, who have the first fruits of the Spirit, groan inwardly as we wait for adoption as sons, the redemption of our bodies.  For in this hope we were saved. Now hope that is seen is not hope. For who hopes for what he sees?  But if we hope for what we do not see, we wait for it with patience (Rom. 8:19-25 RSV).
The Christian message has always been one which saw that human activity could and would affect the Earth. All creation is interconnected. The evil that we do not only affects us, but all creation. And this is exactly what has been proven with climate change. We have abandoned our role as protectors of the Earth, and instead, have become its abusers. We cannot avoid our responsibility to the Earth. We also have a responsibility to those generations which come after us, so that we should realize, even if the Earth did not have a place in eternity (it does), what happens to it would still matter. "Many of our overwhelming problems, such as environmental pollution, pollution of the seas, contaminated food supplies, and the squandering of energy resources, among others, are issues that concern the human rights of future generations."[8] The rights of those living in the future must also be protected and defended by us today. We cannot ignore our responsibility to them, nor to the Earth itself.  If we do, we risk having the gifts given to us by God, the talent given to us, taken away, and then what shall we have left?
---
[1] Rachel Ramirez, "The Arctic Fails Its Annual Health Check As Global Warming Brings More Ills To The Region," in CNN  (12-14-2021).
[2] Todd Woody, "Meet the New Climate Refugee in Town: Coyotes," in Bloomberg Green (12-6-2021).
[3] Kate Yoder, "Fleeing Global Warming? 'Climate Havens' Aren't Ready For You Yet,"  in Grist (12-07-2021).
[4] Kate Yoder, "Fleeing Global Warming? 'Climate Havens' Aren't Ready For You Yet."
[5] Rachel Ramirez, "The Arctic Fails Its Annual Health Check As Global Warming Brings More Ills To The Region."
[6] Patriarch Bartholomew I, Encountering the Mystery: Understanding Orthodox Christianity Today (New York: Doubleday, 2008), 92.
[7] Elizabeth Theokritoff, Living in God's Creation: Orthodox Perspectives On Ecology (Crestwood, NY: St. Vladimir's Seminary Press, 2009), 264.
[8] Archbishop Anatasios Yannoulatos, Facing the World: Orthodox  Christian Essays On Global Concerns (Crestwood, NY: St. Vladimir's  Seminary Press, 2003), 75.
Stay in touch! Like A Little Bit of Nothing on Facebook.
If you liked what you read, please consider sharing it with your friends and family!