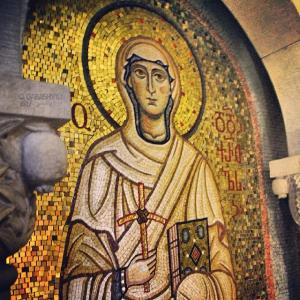 People of faith can do remarkable things. They will often do things others think are foolish if not impossible, when they obey the calling which they have been given, as can be seen in the examples of Abraham and Sarah. "By faith Abraham obeyed when he was called to go out to a place which he was to receive as an inheritance; and he went out, not knowing where he was to go […]. By faith Sarah herself received power to conceive, even when she was past the age, since she considered him faithful who had promised. Therefore from one man, and him as good as dead, were born descendants as many as the stars of heaven and as the innumerable grains of sand by the seashore" (Heb. 11:8; 11-12 RSV).
Abraham knew God called him to be on the move; he did not know where he was going, or what his life was going to be like. He accepted the call and lived it out the best he could. But Abraham was not alone. Sarah was with him. She, too, went on the same journey. She, too, had to rely upon God, trusting that God would make things right. It was not easy for her, indeed, it was probably much harder for her than for Abraham, for she had to trust not only in God, but in Abraham as well. It was a trust which often got her in trouble, as Abraham was not always wise in his interactions with others, such as when he told people Sarah was his sister, making them think she was available for marriage. Nonetheless, Sarah's trust, Sarah's faith, even if it was not always properly validated by Abraham, was vindicated by God. This is not to say she was perfect, for she too could show her own lack of wisdom, such as when she doubted she would ever have a child of her own, which led her to encourage Abraham to have a son with another woman. Yet, like Abraham, she lived her life with enough faith that God rewarded her for her fidelity. Even though, for many reasons, many of which are not so good, Abraham is remembered more than Sarah, we must remember they were united together in their fidelity and trust, and Abraham would not have had the strength and integrity he needed if he did not have Sarah by his side. Sarah helped him perhaps even more than he helped her, which is why it is sad Abraham is remembered more than she. We should not forget Sarah, but rather, we should remember her more than we do, and recognize her role in salvation history was at least equal to Abraham's.
What has happened to Sarah, the way we tend to forget about her and think only of Abraham, shows how easy it is for us to ignore the role women have played in salvation history. We must not think this is a problem only for those women born before Christ, for if we look at Christian history, it is clear that the role Christian women have played in history has been marginalized or forgotten, just like it was for their pre-Christian counterparts. They can be turned into symbols of piety, such as is done with virgin martyrs, but they rarely are recognized for the part they took in the evangelization and building up of the church.  How many Christians remember the way St. Mary Magdalene preached the Gospel, or St. Thekla worked with St. Paul? How many remember the way St. Pulcheria embraced the Theotokos, and through that embrace, promoted the Christological reflections which would come out of Ephesus and Chalcdeon? How many know of the way St. Nina (Nino) spread the faith in Iberia (Georgia), actively taking part not only in preaching the Gospel, but baptizing converts as well? St Nina, like Abraham and Sarah before her, lived out her life with such deep faith, she did what could only be seen as miraculous: the blind were led to see (physically as well as spiritually), and though she was a consecrated virgin, she gave birth to many in Christ, baptizing them, helping convert a whole kingdom thanks to her evangelical work.
Women have often had their role in the church undermined. It's been a long time since they were allowed to engage many of the ministries which they used to perform, such as that of being a deaconess, making people not only forget what they have done in the past, but accept casting them aside and not allowing them to engage such ministries today. When someone asks why this is so, they are told it is tradition, and yet it is only a small part of a greater tradition, a greater tradition which did not have them so cut off from the church's ministries. Indeed, it is a lesser tradition which seems to have actively worked against the greater one, and so should be questioned. Thus, when we look to history, when we examine the earliest eras of church history, we see women doing things which they were later denied; we can and should ask why this is so, and what we can do to change things back so as to allow women to have their proper place in the church once again. Thus, when we see there were women deacons, we can ask, where are such deacons today? Why has that charism been suppressed? Obviously, they played an important role in the early church, a role which goes beyond the legalistic definitions many try to place on their ministry. They helped support the church and the work of the church, that is, the work of the church to go out to the people and help those in need, and it was that kind of work which brought in many converts to the faith. Without their voices, without their ministry, it is not surprising that the church lost itself and ignored its mission to the people, a mission which includes making temporal life better for all; the nurturing compassion of the church seems to have been lost after women found their role in the church diminished if not outright undermined.
Many charisms which are meant for the church have been denied by the church because of the way the church has treated women. The church is suppressing many of the gifts Christ and the Spirit desires for her, gifts which could and would help the church perform her better if she embraced them. We need modern to embrace women and their role in the church today, so that they can take their place beside Sarah, Pulcheria, Nina, and other such holy women of the past. They should not be seen only as passive members of the church. Women are called to have an active place in salvation history. We need to be open to the full range of charisms, full range of gifts, that Christ and the Spirit desires the church to have. Without them, the church, though still capable of providing grace to the world, though still acting as a sacrament and sign of salvation in the world, is not acting as full a sign as it could and should. Instead of doing what is right, sadly we have religious authorities who seem to liken themselves like Judas, looking after themselves and their own power and authority rather than the good of the church and the world; they might not sell themselves out for thirty pieces of silver, but they do sell out Christ and the church as they undermine the charisms given to the church. They betray Christ by the way they treat charisms other than their own. They might, of course, be like Abraham, having a valid mission of their own, indeed, be holy, despite their failures, but those failures are key, and just as Sarah had to have her rights salvaged by God when Abraham would not do so, we should not be surprised if God will work a way to salvage the charisms of those who have been neglected by ecclesiastical authorities, so that in the future, those rights will not only be restored, those who undermined them will be feel shame, just as Abraham felt shame when he saw how his foolishness hurt his wife.
Stay in touch! Like A Little Bit of Nothing on Facebook.
If you liked what you read, please consider sharing it with your friends and family!