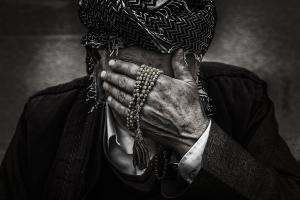 We can hope that we everyone will be saved because our God is a living God, one who has come into the world to save all humanity (and, indeed, all creation). And yet, while Scripture is clear that God works for the salvation of all, this does not mean we to do nothing ourselves. We know that our work, however imperfect it is, can be taken in by God and used by God as a means by which God's grace comes to us, heals us of all infirmities, and save us. Thus, because we hope for our salvation, as well as for the salvation of the whole world,  we do our part, knowing that however bad things can and will often appear, that the living God gives us hope that we can and will attain that which we seek. Indeed, we believe that, so long as we seek after God and embrace grace, even our failures in life can be taken up by God and used to bring us to glory:  "For to this end we toil and strive, because we have our hope set on the living God, who is the Savior of all men, especially of those who believe" (1 Tim. 4:10 RSV).
Our faith gives us  hope, the hope which we need that will encourage us when we find ourselves in the midst of great struggles. It can sustain us when it feels everything we are doing in life is leading us from failure to failure. Our faith encourages us to look to Jesus, to see how Jesus first appeared in the world as if he were a failed messiah by his death on the cross, and use that to understand why we must not judge things by mere appearances. Just because our life appears to be riddled with failures does not mean we are a failure. Thus, we find in the resurrection of Christ that God provides to the world the eschatological grace needed to turn failures into victories. Jesus takes all our honest failures upon himself, and so in and through them, we find ourselves being united to Jesus.
Not only did Jesus come to be in solidarity with us, he came to find a way to engage us when we are at our lowest, when we feel the weight of failure upon our shoulders, and to use those moments as a way to engage us, unite with us, and help us turn things around. Hopefully, when we look back at our life as a whole, we will find, paradoxically, some of the worst moments of our lives will become some of its best moments as well. For we will find it is in those moments God broke through in our lives. Therefore, we should not allow ourselves to despair, to feel as if all we have made out of ourselves is a life of failure. In and through our failures, in and through our low points in life, we find ourselves vulnerable and wounded, but we also find ourselves ready for healing and grace. When we do so, we can begin to make true progress, one which allows us to continue to act and react with Jesus, but also one which allows us to accept the grace we need to reinforce all the good in our lives and make it better. And then, as Timothy was told, we will find we not only will be working out our own salvation, but we will become a means by which others might also be saved. "Take heed to yourself and to your teaching; hold to that, for by so doing you will save both yourself and your hearers" (1 Tim. 4:16 RSV).
It doesn't matter who we are. It doesn't matter what our place in society is. Jesus can and will see us and love us. He is willing to bring us salvation and deifying grace to us. Certainly, we should recognize where, in the past, we have gone astray, and try to make amends. Grace does not eliminate our role in the pursuit of our salvation, rather, it makes sure the pursuit does not end up in a dead end as it supplements what we cannot do for ourselves. Thus, when we encounter Jesus, we will find and experience his love for us, and the glory which can and will be had in union with him, but we will also find ourselves transformed, so that like Zacchaeus the tax collector, we will also want to make sure we do all we can to fix the harm we have caused to ourselves and those around us:
And when Jesus came to the place, he looked up and said to him, "Zacchaeus, make haste and come down; for I must stay at your house today." So he made haste and came down, and received him joyfully. And when they saw it they all murmured, "He has gone in to be the guest of a man who is a sinner."  And Zacchaeus stood and said to the Lord, "Behold, Lord, the half of my goods I give to the poor; and if I have defrauded any one of anything, I restore it fourfold." And Jesus said to him, "Today salvation has come to this house, since he also is a son of Abraham.  For the Son of man came to seek and to save the lost" (Lk. 9:5-10 RSV).
What is important for all  of us is to keep our faith in the living God, the God who is of the living, not the dead; we have a place in and with God, a place which God has made for us, a place in which we are called to share in the true life of the kingdom of God. God is at work with all creation. This means we have reason to hope that no matter how bad things are, no matter how many mistakes we might make in our spiritual journey, if we are open to God, open to grace, Jesus not only will make sure we will not be lost forever, but that we will find ourselves attaining a glory which we can not yet comprehend.
Stay in touch! Like A Little Bit of Nothing on Facebook.
If you liked what you read, please consider sharing it with your friends and family!
N.B.:  While I read comments to moderate them, I rarely respond to them. If I don't respond to your comment directly, don't assume I am unthankful for it. I appreciate it. But I want readers to feel free to ask questions, and hopefully, dialogue with each other. I have shared what I wanted to say, though some responses will get a brief reply by me, or, if I find it interesting and something I can engage fully, as the foundation for another post. I have had many posts inspired or improved upon thanks to my readers.