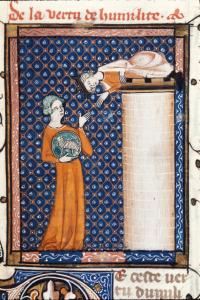 Humility should play an important part in how we act. We should not be prideful, exalting ourselves at the expense of others. We should not look at ourselves as number one, superior to all others. We certainly should not place our extravagant wants and desires above the needs of others. Humility has us avoid all such arrogance.
Scripture tells us to "Do nothing from selfishness or conceit, but in humility count others better than yourselves.  Let each of you look not only to his own interests, but also to the interests of others" (Philip. 2:3-4 RSV).  Contrary to the way many have been led to believe, being humble does not mean we cannot and should not be concerned about ourselves. We should look after our interests, but we should do so with a balance, making sure that we do not disproportionately look after ourselves while neglecting and ignoring the needs of others. Similarly, we should not look to their interests while ignoring our own  needs.
We should not think of ourselves as being worthless, using such a line of thought to say we deserve nothing and use that to justify ignoring our own concerns. Such a line of thought runs contrary to the love Jesus showed us, a love that shows us we are worthy of being loved. This is why Pope St. Leo the Great preached: "Imitate what he did. Love what he loved. Since you have discovered the grace of God in yourselves, respond by loving your own nature in him."[1] Being humble, therefore, should not lead to us hate ourselves, nor, especially, to hurt ourselves because of such hate. Being humble means we come to accept ourselves, and so love ourselves, not with an arrogant love or pride, but with the same kind of love which we show others, that is, taking care of ourselves, making sure  our basic needs are met (when possible).
This is a message which so often gets neglected or even misunderstood. Humility is important, but humility requires us to be honest about ourselves. We must see and accept the good within ourselves so that we can appreciate and even promote it. Humility would have us avoid an extreme attachment to ourselves, but it also would have us avoid a nihilistic self-hatred which ignores the good within us, the good of our personage. We are persons who exist in relation to others. We should desire our good and the good of all others, loving all that good, recognizing the value of that good can be seen in the way God loves it. As persons, we are also interdependent, that is, we rely upon each other. The more we engage the good which is found in anyone, including ourselves, while also supporting the good found in others, the more the common good will be built up, having us all benefit from it. On the other hand, the more we deny that good, the more we hinder it, the more we will suffer. This is why pride, which exaggerates our own good at the expense of others, is harmful, and why humility is to be embraced, so long as we understand embracing humility does not mean we should neglect ourselves and our own good. This is why false humility must be called out, because false humility not only undermines the good within, until it becomes so habitual, we end up not allowing any of our good to survive unhindered by self-criticism.
True humility will be loving, and expresses itself in self-giving love. For that gift to be valuable, there must be some good which is being given when it is given out. That good must be affirmed. This is why it is important we take care of ourselves and do, in as moral a fashion as possible, what it takes to provide for our own necessities. We must not ignore our own good. We must show ourselves the same mercy we would show others. Indeed, when we do, prove ourselves to be no respecter of persons, which St. Isaac the Syrian says demonstrates our "limpid purity":
This will for you a clear sign of your soul's limpid purity: when, after thoroughly examining yourself, you find that you are full of mercy for all mankind, and that your heart is afflicted by the intensity of your pity for men and burns as with fire, without making distinctions between persons. By this, when it is continuously present, the image of the heavenly Father will be seen in you. [2]
Paul suggested we consider others as better than ourselves as a temporary discipline, that is, as a way to overcome our selfish, prideful foundation. It is the antidote, so to speak, to thinking we are better than others. But once we have overcome that poison, the antidote, not only unnecessary, can be dangerous, just as any medicine when it is taken without proper need can harm the one who needlessly takes it. Eventually, if we properly embrace humility, the antidote will cure us of our pride and arrogance. Once we have acknowledged the good of others is equal to our own good, and that their needs should be treated with equal concern to our own, we have found the middle path which leads us to treat everyone, including ourselves, without unjust distinction.  To get there, instead of constantly denigrating ourselves, leading us to disregard ourselves and our needs, we should consider ourselves as if looking upon ourselves from outside ourselves, treating ourselves as if we were another person. How we learn to treat others, looking after them, caring for them, is how we should look upon ourselves, which again, means, just as we look to others in love, we should look to ourselves with love. We should give ourselves the same mercy which we know is expected to be given to others. Marsilio Ficino, understanding all of this, said it is true, we should take care of others, knowing that, in doing so, we are doing so also for our own good, "As you know, you should often live for others if you wish to live for yourself. But do both for the sake of God." [3]  We should love for others, and in doing so, also love ourselves as another, doing so, not for our own sake, that is not out of a selfish, prideful regard for ourselves, but out of love for God. For, if we love God, we would also love those whom God loves. If God loves us, who are we to do otherwise?
---
[1] St Leo the Great, Sermons. Trans. Jane Patricia Freeland CSJB and Agnes Josephine Conway SSJ (Washington, DC: CUA Press, 1996), 319 [Sermon 72].
[2] Saint Isaac the Syrian, The Ascetical Homilies of Saint Isaac the Syrian. Trans. Monks of the Holy Transfiguration Monastery. Rev. 2nd ed (Boston, MA: Holy Transfiguration Monastery, 2011), 552 [Appendix A Homily I].
[3] Marsilio Ficino, The Letters of Marsilio Ficino. Volume 1.  trans. by members of the Language Department of the School of Economic Science, London (London: Shepheard-Walwyn, 1975; repr. 1988), 131 [Letter  82 to Lorenzo de' Medici].
Stay in touch! Like A Little Bit of Nothing on Facebook.
If you liked what you read, please consider sharing it with your friends and family!
N.B.:  While I read comments to moderate them, I rarely respond to them. If I don't respond to your comment directly, don't assume I am unthankful for it. I appreciate it. But I want readers to feel free to ask questions, and hopefully, dialogue with each other. I have shared what I wanted to say, though some responses will get a brief reply by me, or, if I find it interesting and something I can engage fully, as the foundation for another post. I have had many posts inspired or improved upon thanks to my readers.