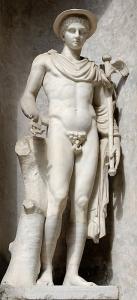 So-called "Hermes Ingenui" after the inscription on the pedestal indicating the name of the sculptor or of the donator. Hermes wears some of his usual attributes: kerykeion (or herald's staff), petasus (round hat), traveller's cloak. Marble, Roman copy of the 2nd century BCE after a Greek original of the 5th century BCE.
Brief History of the United States Postal Service
During early colonial times in the 1600s, few American colonists needed to send mail to each other; it was more likely that their correspondence was with letter writers in Britain. Mail deliveries from across the Atlantic were sporadic and could take many months to arrive. There were no post offices in the colonies, so mail was typically left at inns and taverns.
"The United States Postal Service (USPS) … traces its roots to 1775 during the Second Continental Congress, when Benjamin Franklin was appointed the first postmaster general. The Post Office Department was created in 1792 with the passage of the Postal Service Act. It was elevated to a cabinet-level department in 1872, and was transformed by the Postal Reorganization Act of 1970 into the United States Postal Service as an independent agency. … "
"Today, the United States has over 40,000 post offices and the postal service delivers 212 billion pieces of mail each year to over 144 million homes and businesses in the United States, Puerto Rico, Guam, the American Virgin Islands and American Samoa. The postal service is the nation's largest civilian employer, with roughly 500,000 career workers. The postal service is a not-for-profit, self-supporting agency that covers its expenses through postage (stamp use in the United States started in 1847) and related products. The postal service gets the mail delivered, rain or shine, using everything from planes to mules."
While not perfect, USPS provided a good mail service for Americans until mid-July 2020.
Sabotaging of the United States Postal Service
On July 15, 2020 Associated Press reported:
"Mail deliveries could be delayed by a day or more under cost-cutting efforts being imposed by the new postmaster general. The plan eliminates overtime for hundreds of thousands of postal workers and says employees must adopt a 'different mindset' to ensure the Postal Service's survival during the coronavirus pandemic.
Late trips will no longer be authorized. If postal distribution centers are running late, 'they will keep the mail for the next day,' Postal Service leaders say in a document obtained by The Associated Press. 'One aspect of these changes that may be difficult for employees is that — temporarily — we may see mail left behind or mail on the workroom floor or docks,' another document says.
The changes come a month after Postmaster General Louis DeJoy, a major donor to President Donald Trump, took over the sprawling mail service. … "
This was just the beginning of the sabotaging of the USPS, and it all seemed to stem from an unsubstantiated fear of voting fraud.
On August 13, 2020, Business Insider reported that:
"President Donald Trump told Fox Business on Thursday morning that he would block additional funding and election assistance for the US Postal Service to sabotage mail-in voting.
On Wednesday and Thursday, Trump said he would not sign off on any relief bill that includes emergency federal funds for the USPS and more money to process election-related mail.
'They want $25 billion — billion — for the post office. Now they need that money in order to have the post office work so it can take all of these millions and millions of ballots … But if they don't get those two items, that means you can't have universal mail-in voting.'
Under Postmaster General Louis DeJoy, the cash-strapped USPS has implemented cost-cutting measures that experts say could harm the delivery of election-related mail."
"The US Postal Service has emerged as a focal point during the coronavirus pandemic and ahead of the presidential election. Trump has claimed, without evidence, that voting by mail will lead to extensive voter fraud and has suggested withholding funding from the Postal Service, sparking concerns that he is stoking fears about voting systems that have been free of widespread fraud."
In an op-ed article in The Washington Post published August 16, 20202, Retired US Navy Adm. William McRaven, who had a distinguished military career as a Navy SEAL and oversaw the raid that killed Osama bin Laden in 2011, accused President Donald Trump of undermining not only the United States Postal Service but every major US institution. He wrote:
"As Trump seeks to undermine the US Postal Service and stop mail-in voting, he is taking away our voice to decide who will lead America. It is not hyperbole to say that the future of the country could depend on those remarkable men and women who brave the elements to bring us our mail and deliver our vote."
The previously good service provided by USPS was now woefully inadequate. On August 20, 2020, Yahoo News quoted LA Times which reported:
"And inside a massive mail-sorting facility in South Los Angeles, workers fell so far behind processing packages that by early August, gnats and rodents were swarming around containers of rotted fruit and meat, and baby chicks were dead inside their boxes.
Accounts of conditions from employees at California mail facilities provide a glimpse of what some say are the consequences of widespread cutbacks in staffing and equipment recently imposed by the postal service.
Postmaster General Louis DeJoy, responding to a national outcry over service disruptions and fears of voter disenfranchisement, said this week he would suspend many planned changes until after the election. But postal workers say significant damage has already been done, including the removal of mail-sorting machines, which may not be replaced. …
Inside one sprawling facility at Florence and Central avenues in Los Angeles, which serves 92 L.A.-area post offices … Packages piled up, blocking the aisles and the heavy sorting machinery. Boxes of steaks, fruit and other perishables rotted. Rats dashed across the floor. At one point, Scantlebury said, the 'whole building was filled with gnats.'
The delays were particularly tragic for live animals, including baby chickens and crickets, that are transported through the U.S. Postal Service. Usually, mail handlers say, they can hear the birds peeping and rustling around in their boxes.
This month, one worker said, she found a box with air holes in a pile of packages. Instead of hearing the gentle sounds of baby chicks, she heard nothing.
Workers sometimes see shipments of crickets jumping around inside their packaging, said Eddie Cowan, a mail handler and the president of a local chapter of the National Postal Mail Handlers Union. Now, he said, 'you can see in the packages those crickets are dead.'"
On August 20, 2020, PBS reported:
"At least 4,800 chicks shipped to Maine farmers through the U.S. Postal Service have arrived dead in recent weeks after rapid cuts hit the federal mail carrier's operations, U.S. Rep. Chellie Pingree said.
Pingree, a Maine Democrat, is raising the issue of the dead chicks and the losses farms are facing in a letter to Postmaster General Louis DeJoy and U.S. Department of Agriculture Commissioner Sonny Perdue, The Portland Press Herald reported."
On August 30, 2020 CNET reported that:
"This fall, with concerns around COVID-19 still high, more than 80 million voters are expected to vote by mail to avoid polling places and the risk of infection.
Instead of boosting its capacity to take on what could be double the number of mail-in ballots cast compared with the last presidential election, the US Postal Service has taken a series of steps this summer that could dramatically cut back its ability to handle the unprecedented number of ballots it will receive. And while Postmaster General Louis DeJoy told Congress he intends to pause planned changes to the service, which include closures of mail processing machines, until after the Nov. 3 election, some cities report the USPS continues to cut back on services. …
The reductions initially planned by DeJoy, who was appointed in June, includes taking offline 671 of its high-capacity letter sorting machines, removing collection boxes in Western states, limiting overtime and cutting back post office hours.
The Postal Service has advised states it can't guarantee ballots will reach voters before the election. In letters sent to 46 states and the District of Columbia, the Postal Service warned 'there is a significant risk that the voter will not have sufficient time to complete and mail the completed ballot … in time for it to arrive by the state's return deadline'."
The Postal Service Role in the Digital Age
"The Internet and the digital revolution are fundamentally changing the worlds of communications and commerce. The digital economy continues to grow at a rapid rate. Electronic substitution of traditional mail is accelerating as both consumers and businesses adopt electronic processes across multiple domains. Mail users are shifting from traditional hard copy distribution models to a variety of new ways to digitally communicate, advertise, or transact. They are attracted to greater convenience, faster service, and lower cost."
While there is increasing digital communication, and USPS has been morphing to keep pace there will always be a need for a traditional service – legal documents, packages and votes – need to be physically transported.
Activism
On August 17, 2020, Forbes reported that:
"MoveOn, the NAACP, Working Families Party and other national organizations are organizing '#SaveThePostOffice Saturday,' which asks Americans nationwide to show up at post offices across the country at 11:00 AM on Saturday, August 22, 'to save the post office from Trump and declare that Postmaster General Louis DeJoy must resign.'
The announcement came as hundreds of protesters picketed outside DeJoy's Greensboro, North Carolina, home Sunday, after gathering Saturday outside his apartment building in Washington, D.C."
Apart from demonstrations there are numerous petitions online.
Greek Deities to Assist in Activism
Hermês, as a god of merchants and travel would have to be the one most closely associated with postal services. Dikaiosynê, Dikaiosynê and Themis would be very appropriate to call on to address the injustice of sabotaging the USPS.
In ancient Greece, the most widespread offering was a simple granule of frankincense strewn in the flames. Unless I'm using a hymn that specifies a particular fragrance or incense, I always default to frankincense. If you feel motivated to make an offering as well, by all means do so.
In this case, every the recommended incense for every deity called is actually frankincense.
[Mierzwicki,
Hellenismos
, 28]
Hermês
"Hermes [Hermês]: the son of Zeus and Maia (Maia was the eldest of the seven Pleiades, who were mountain nymphs); the god of communication (messenger of the gods), and hence roads and travel; commerce, thievery, animal husbandry, hospitality, heralds, diplomacy, language, writing, persuasion, quick wit and cunning wiles, athletic contests, gymnasiums, astronomy, and astrology. He was the personal agent and herald of Zeus, as well as a psychopomp (guide bringing the dead to the underworld). … Hermes was depicted as either a handsome and athletic beardless youth, or in earlier art as a mature bearded man. He would normally have winged sandals or a winged hat. His symbols included the herald's wand [kerykeion] (Latin caduceus—a staff entwined with two snakes), winged boots or sandals, sometimes a winged traveler's cap and chlamys cloak, stork and tortoise (whose shell he used to invent the lyre)."
[Mierzwicki,
Hellenismos
, 43-44]
Orphic Hymn 28. For Hermes
Incense: frankincense
"Hear me, Hermes, herald of Zeus and son of Maia, having an all-mighty heart.
The lord of contests and guide of mortals,
kind and clever messenger of the gods and slayer of Argos.
With your winged feet, you are a friend to humans, and you are a prophet of the word to mortals.
You delight in exercise, in deceit and trickery, and you wear the sacred band.
Interpreter of all, you preside over the profits of business,
driving off all our cares, you who hold in your hands the blameless weapon of peace.
Blessed god of Korykos, bringer of good luck,
with many stories, helper in business and friend to mortals in need,
you possess the venerable and dreadful weapon of language.
Hear me in my prayers and bring a noble end to life in deeds,
and graceful remembrances of reputation."
Note: The term used for "word" above ( , logos) can also mean reason, logic, ratio, story, and account, among other things. In Stoic philosophy, it describes the underlying order of the universe. It is unclear what the "sacred band" refers to; perhaps a ritual blindfold.
[Translation from Dunn,
The Orphic Hymns
]
Dikê
"Dikê was the goddess of justice, fair judgements and the rights established by custom and law. She was one of the three Horai (Horae), goddesses of the seasons, and keepers of the gates of heaven. Her sisters were Eunomia (Good Order) and Eirene (Peace). Like her siblings, she probably also represented an aspect of springtime growth.
Dikê was identified with Dikaiosyne (RIghteousness) and Astraia (Astraea) (the Contellation Virgo). Her opposite number was Adikia (Adicia) (Injustice)."
Orphic Hymn 62. For Dikê
Incense: frankincense
"I celebrate in song the all-seeing eye of splendid Dikê,
who also seats herself on the holy throne of Lord Zeus,
and looks down from the heavens on the lives of the many different kinds of mortals,
an avenging, heavy judgement against the unjust.
Out of equality, she corrects imbalance by means of the truth.
For everything that wicked mortal minds hold in obscurity,
in greedy plans and unjust desires, you alone step forth and wake up justice against the unjust.
The enemy of the unjust, you join yourself kindly with the just.
But, come, fair goddess, to noble minds when the day that was ever destined for life arrives."
Note: The word used for "life" in the last line is (biotēs) which more commonly means "livelihood" or "means of living."
[Translation from Dunn,
The Orphic Hymns
]
Dikaiosynê
"Dikaiosynê (righteousness) was the personified spirit (daimona) of righteousness and justice. She was closely related to Dikê (Justice)."
Orphic Hymn 63. For Dikaiosynê (Justice)
Incense: frankincense
"O utmost Justice, blessed and desired by mortals, rejoicing always in just people equally,
honored by all, the greatly shining Dikaiosynê of blessed portion:
always unbroken in knowledge,
you determine what is right for pure minds;
for you always shatter every one who does not come under your yoke
but struggles to take control over it for themselves,
who greedily try to tip the balance of your stout scales.
Taking no sides, a friend to all, charming one who loves festivals,
you joy in peace, eager for a steady life, for you always hate excess, but you rejoice in fairness.
For virtue's wisdom within you hits its noble end.
Listen, goddess, and shatter human evil with justice,
so a noble life might always travel amid equanimity for mortal humans,
who eat of the fruit of the tilled fields,
and for all the living things whom the divine mother Gaia nurses at her breast,
and Zeus of the salty sea. "
Note: "Zeus of the salty sea" is a reference to Poseidon. Both Poseidon and Hades are sometimes called the "Zeus" of their respective realms.
[Translation from Dunn,
The Orphic Hymns
]
Themis
Themis was the Titan goddess of divine law and order–the traditional rules of conduct first established by the gods. She was also a prophetic goddess who presided over the most ancient oracles, including Delphoi (Delphi). In this role, she was the divine voice (themistes) who first instructed mankind in the primal laws of justice and morality, such as the precepts of piety, the rules of hospitality, good governance, conduct of assembly, and pious offerings to the gods. In Greek, the word themis referred to divine law, those rules of conduct long established by custom. …
Themis was an early bride of Zeus and his first counsellor. She was often represented seated beside his throne advising him on the precepts of divine law and the rules of fate. Themis was closely identified with Demeter Thesmophoros ("Bringer of Law")."
Orphic Hymn 79. For Themis
Incense: frankincense
"I call on Themis, the holy daughter of her noble father, Ouranos, and offspring of Gaia,
the maiden whose face is like a budding flower, who first showed mortals the holy oracle,
giving prophesies to the gods from the abyss in Delphi on the Pythian plain where King Python ruled.
She taught the lord Phoibos the oracles.
All honored, lovely-shaped, revered, roaming the night,
you brought holy rites to light for mortals for the first time,
shouting to the lord throughout the Bacchic nights.
For the honors of the blessed ones and the holy mysteries come from you.
But, blessed maiden, kindly come, welcomed to holy rites of your solemnity."
[Translation from Dunn,
The Orphic Hymns
]
The primary reference texts for this article are:
Patrick Dunn, The Orphic Hymns: A New Translation for the Occult Practitioner
Tony Mierzwicki, Hellenismos: Practicing Greek Polytheism Today
Tony Mierzwicki
Author of Hellenismos: Practicing Greek Polytheism Today and Graeco-Egyptian Magick: Everyday Empowerment.