Lizzo and Cardi B have transformed into Grecian Goddesses for their collaboration, "Rumors."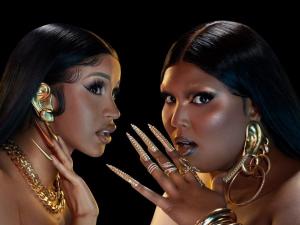 On August 13, 2021, Vogue had this to say about Lizzo's first new single in two years, "Rumors", which is a collaboration with Cardi B:
"… the pair dropped a spectacular, cinematic video to accompany the track featuring themselves as Grecian goddesses stalking the sunny heights of Mount Olympus. …
Working with her stylist Brett Alan Nelson, Lizzo appears first in a draped golden gown and dripping in enough chunky gold jewelry to dazzle even the most decadent of Greek rulers. She then switches into a diamanté-studded, flesh-colored bodysuit covered in motifs inspired by ancient vases, with two carefully-placed Greek key scrolls on the chest. Cardi, meanwhile, sports a custom golden breastplate designed by Misha Japanwala—the artist behind the piece Cardi was styled in by Kollin Carter for her pregnancy announcement back in June—with Schiaparelli earrings and a custom golden chain across her belly by Laurel DeWitt. She wraps it all up with a dance with Lizzo wearing a gloriously OTT headpiece featuring a sparkling column capital."
Vogue focuses on the spectacular visuals, but it's the underlying message that is important, and for that, we turn to Toofab:
"Lizzo and Cardi B took on all their haters with a powerful anthem addressing their respective careers and all the 'Rumors' they've had to deal with as powerful Black women in the spotlight.
Decked out in gold looks clearly inspired by ancient Greek and Roman cultures, the artists not only lifted themselves up with their messages of self-confidence, but one another as well. It's clear these women have a tremendous amount of respect for what each does with their platform.
Certainly in the past several years, they have been at the forefront of women taking absolutely no s— from anyone in or outside of the industry. They've stood tall for body positivity, sex positivity, female empowerment and against discrimination."
The message which comes across to me is that Lizzo and Cardi B are turning to ancient Greek goddesses for empowerment in the face of years of discrimination.
Here's the "Rumors" video on YouTube:
Lizzo – Rumors feat. Cardi B [Official Video] – YouTube
Los Angeles Times sees the same message of empowerment:
"Fame in the age of social media kind of sucks — but not even the troll-iest troll can get Lizzo down for long.
That's the message of the singer's new single, 'Rumors,' which dropped Thursday night accompanied by a Greco-Roman fantasia of a music video starring Lizzo and her guest on the track, Cardi B.
'Last year, I thought I would lose it / Read s— on the internet,' Lizzo admits, 'My smoothie cleanse and my diet / No, I ain't f— Drake yet.'"
For background information, AllHipHop delivers:
"Lizzo and Cardi B took part in a 13-minute YouTube livestream premiere to promote the video. They talk about ASMR, masturbation, and different 'rumors' associated with their respective careers."
I have previously blogged about Celebrity Witches, and wrote:
"I personally think that celebrities identifying as witches is a good thing.
People fear that which they don't understand, and historically witches have been persecuted. To have celebrities coming out as witches brings witchcraft out of the shadows and into the mainstream. While staunch Christians may never accept witchcraft as a legitimate spiritual path, ordinary people may well do so after seeing that celebrities they look up to have embraced it. Also, a new generation of children and teenagers may well decide to broaden their horizons – after all, the torch needs to be passed to someone. …
Given the possibility that the current discrimination against Pagans, Neopagans, Witches and Wiccans could escalate, it is very important to have celebrity witches such as Taylor Swift and Lana Del Rey demonstrating to their huge numbers of fans just how beneficial witchcraft can be, and encouraging them to embrace it. They will have a far greater impact on the future of Paganism, Neopaganism, Witchcraft and Wicca than any of the well-trained elders in these traditions."
My attitude is exactly the same regarding venerating the Greek Gods and Goddesses. Any positive portrayal, be it in music videos or Hollywood movies is a good thing, as it exposes them to a huge audience.
It makes me sad that Lizzo and Cardi B have been targeted by haters, but I think it's wonderful that they're finding empowerment through Greek Goddesses.
Tony Mierzwicki
Author of Hellenismos: Practicing Greek Polytheism Today and Graeco-Egyptian Magick: Everyday Empowerment.