This week begins about six months of PhD field work throughout the Western US, where I will be conducting interviews with Catholic monastics about how they dwell in and manage their diverse landscapes. As I drive south on the I-5 Corridor, a hurried pilgrimage, I rise and fall with the contours of the land. Mount Baker, Mount Rainier, and Mount Shasta rise into the sky. I crisscross rivers and watersheds –the Nooksack, the Columbia, the Rogue, and the Klamath. I pass hundreds of towns, villages and cities. I cross signs that mark the 'Camino Real', the 'Lewis and Clark Trail', and many other historical markers. I pass endless fields and orchards and vineyards where migrant laborers come and go, sometimes at great risk. I traverse the traditional territories of dozens of indigenous peoples. Above me, airplanes jet onward, and above that satellites orbit silently. The sun begins to my left and passes slowly to my right as I drowsily near my evening resting places.
Holyscapes are places like this: places where human beings make their living, where they go to be with family and friends, where they worship, where they move and where they dwell.
After about two days of driving, I am passing through Sacramento on my way to Point Reyes National Seashore. To my right I see an enormous morphing mass of birds holding over in a human-made wildlife refuge off the highway. I decide to stop. I take a short break to stretch, and watch the snow geese, ducks, herons and egrets squawk, eat, mingle and fly. This place represents the human-restored remnant of the ancient Pacific Flyway, travelled by millions of birds that eternally ebb and flow between north and south in massive waves. Our presence on the land has drastically reduced their numbers. But thanks to places like this, they still have a chance. I feel grateful for the refuge. I wished I could have stopped at a hundred different places to listen to their stories, and absorb their presences.
Holyscapes are places like this: places where nonhumans can flourish without exploitation and the threat of extirpation.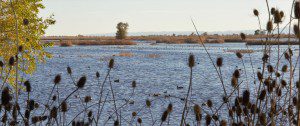 When I was first asked to bring Holyscapes to Patheos by my wonderful editor Kate Sheehan, I asked myself what relevance a blog about monasteries, landscapes of the sacred and spiritual ecology might have in a world where Beirut, Paris, Baghdad and Russia, are all reeling from recent terror attacks? In a world of racism, sexual, colonial and mass-shooting violence? The answer is, I don't know. But, a thought that comes is how meticulously ISIS has sought erase the sacred sites of Pagan and Christian antiquity in carving out a territory for themselves. Our past, present and presence on the landscape matters, so if erasing these places is an act of war, perhaps writing about them is an act of peace. As I drive, I also think about the signs I am not seeing, the markers that are not there. The land holds many invisible paths and many more invisible stories. I am not ISIS, I am not a terrorist; and yet the culture of which I am a part, Christianity and capitalism, have all sought to systematically erase the sacred places of indigenous peoples.
Holyscapes are places like this: recognizing the deep colonial history of the places we dwell in, and being conscious of the peoples, stories and sacred sites we may be unaware of in our own backyards.
Flipping between country radio, fiery evangelical preachers and NPR, I take long spells of silence to think about my research, my writing, and my life. Twenty Fifteen has been a year of loss, transition, and personal growth. I have uncovered many patterns that have led me to feel unworthy, or not good enough. I continue to examine the ways being a white, straight, male has allowed me to carry a tremendous amount of privilege into the world, and how I might use my privilege to do some good. I think about love and romance, relationships and commitment; about discerning my religious vocation in an increasingly post-religious world. I feel a deep sense of peace about all this, the direction my life has taken, love, the future.
Holyscapes are places like this: the wild and tangled inner landscapes where we fight demons, and strive toward the Divine.
And so yes this blog will be about travel, and it will be about landscapes, and it will be about contemporary spirituality and religion. But the overarching theme is that in seeking to understand the experience of landscapes, I am also seeking to understand the landscape of my own experience.