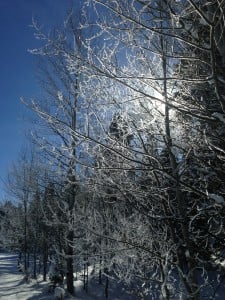 Tone can make a great difference in how effectively we communicate, especially when we are trying to offer correction or criticism. We might be right and we might have the truth on our side, but if we don't have love and we don't have the trust of the one we wish to correct, we are not ready to speak the truth. When there is love and trust, the same truth can be said with much more positive results. My experience has taught me that if criticism isn't offered with love, it will perhaps effectively motivate those who already are in agreement but it will do little to persuade others who remain opposed. In fact, it can often have exactly the opposite desired effect: it can cause people to dig in their heels even more and become almost recalcitrant in their opposition.
I do think there is a time and place for sharp rebuke. I often envy writers and speakers for their ability to put issues in stark relief and to make at least a rhetorical attempt to put an issue to a definitive rest. Some of my favorite living writers—Marilynne Robinson or Wendell Berry, for example—can write critically and sharply in a way that is incisive and bold and morally powerful. I can see the attraction of the tone of such critics as Terry Eagleton or, in the realm of film criticism, Anthony Lane. I love the rebukes of the Old Testament prophets, especially on behalf of the underprivileged. From the Mormon tradition, I admired those moments when Hugh Nibley wrote with a kind of fiery tone of almost sarcastic mockery about greedy and acquisitive Mormons who are indifferent to the plight of the poor, a tone that even seems evident in some of Jesus's most fierce attacks on those who peddle hypocrisy or who willfully perpetuate injustice. I have tried my hand from time to time at this kind of writing, although I am not sure I am very good at it and I certainly do not have the stomach for the kind of vitriol that it in turn can inspire.
But I have honestly wondered what good is it really and whose place is it, anyways, to offer it? What is the purpose of such rhetoric and how important is it that as Christians we become practiced in the art of sharp criticism? If you listen to many Christians today, you might assume that Jesus gave month-long seminars in the art of rebuke. It seems to me, rather, that, more often than not, he exemplified and taught a kind of meekness that is rarely praised as virtuous today. Part of the reason I am suspicious of triumphalist certainty and condemnation is the seduction it holds for those who are naturally prone to see themselves as superior or those who seem to relish the vanquishing of their enemies. Indeed, it seems that they reach for words just for the sake of being able to imagine to themselves that with mere words they can prove their superiority. I do not much like the religion or the politics of the zealots, those who seem almost gleeful at the chance to condemn others. This is not to say that I don't believe in right and wrong. I do. And I also believe that the good and the true need good defenses. But the best defense, to reverse the football logic, is perhaps a good offense, and in Christianity an offense is not so much an assault of true teachings but a conveyance of the truth in the bonds of genuine, unassailable, and undeniable love. We are taught in the Doctrine and Covenants that "no power or influence can or ought to be maintained by virtue of the priesthood, only by persuasion, by long-suffering, by gentleness and meekness, and by love unfeigned; by kindness and by pure knowledge, which shall greatly enlarge the soul without hypocrisy, and without guile, reproving betimes with sharpness, when moved upon by the Holy Ghost; and then showing forth afterwards an increase of love toward him whom thou hast reproved, lest he esteem thee to be his enemy."
Much to unpack here, but a few things jump out at me. You can't fake loving another. You either do or you don't. And you better believe that the person with whom you are speaking will instinctively feel your love or they won't. If they don't, if they won't, then you have more work to do to build that trust and that relationship before you should go around throwing bricks of truth at them. The truth, if the truth is going to be efficacious, must first exercise a kind of spiritual influence in your own heart, enlarging your capacity for love so that you are able to keep pace with it, embody it somehow. Otherwise, in all of your love-less preaching, you become a hypocrite. And finally, on those rare occasions when you do feel that a clear and incisive criticism must be proffered, you darn well better make sure that your intended target doesn't for a second feel that you don't love them like a true brother or sister. They have to know that your love and faithfulness are "stronger than the cords of death." The only love that I know of that is stronger than the cords of death is the pure love of Christ.
Sadly, we spend a great deal of our time in the Mormon church sitting together and talking about the gospel, perhaps disproportionate to the time that we should be spending loving and serving each other and serving with one another. In the end, you can spend years in the same ward with someone and really not know much at all about their story, about their struggles and trials, their journey of faith. And then all you get are some words tossed out, maybe tossed out in a dismissive or harsh tone that feels lacking in any kind of genuine or lasting love. Maybe it is a comment that pronounces judgment on someone precisely like you and maybe they did so only because they also don't know you and your trials and struggles. Or maybe we think we know each other but we don't know each other's heart. Knowing the heart of another, as it turns out, can take a lifetime and it certainly requires help from the Lord. In the meantime, we should be extremely careful with one another. The truth is that too many comments are made at church that send people home feeling offended, hurt, dismissed, or ignored. And maybe those feelings aren't justified, maybe they are. But in any case, they will only be overcome (or avoided in the first place) if there is genuine love and friendship growing among us. I suppose that this may be one of the greatest struggles of a church that only grows larger with each passing year, thus increasing the literal distance between leaders and church members and making it increasingly difficult to know each others' hearts. More faith, more trust are needed, but there must also be more communication, more mutual respect, and more kindness. If you were to measure how well we are doing by what we find on a typical day on a blog or on Facebook, I doubt anyone would conclude we are succeeding.
It seems to me that if you are going to be a Christian Christian, you should probably feel quite a bit ill at ease whenever we get around to discussing the topics that pertain to God's judgment. Sure, Jesus talked about judgment. But most of what he told us about it is that we should avoid it altogether. And yet, we feel so drawn to it, as if it will be the one thing that will mark us as a champion of truth. I do not believe that it should feel right or comfortable or even pleasurable to imagine, want, or otherwise welcome the condemnation of any soul. Paul tells Timothy: "Keep on reminding people of [salvation through Jesus Christ], and charge them solemnly before God to stop disputing about mere words; it does no good, and only ruins those who listen." He warns against "empty and irreligious chatter" and against "foolish and wild speculations" and instead suggest that a servant of Christ must be "kindly towards all. He should be a good teacher, tolerant, and gentle when he must discipline those who oppose him. God may then grant them a change of heart and lead them to recognize the truth" (see 2 Timothy 2).
God gets to do the work of changing people, not us. I am not opposed to sharp criticism and there are many behaviors and attitudes in society today that warrant a rebuke, but it does seem that this is the predominant ethos of today and the main reason why our nation and our religious community are hurting. I don't see why, when we have so much pressure and so many stresses in our lives that we can't be more accepting of one another's struggles. The truth is, I think on the whole Mormons are not terribly argumentative. And that, of course, can be an important virtue, but I am not suggesting that we shouldn't have disagreements. I am suggesting that we need to learn to have them in a more Christian manner, with a more welcoming tone of humility, meekness, and honesty. Indeed, it may be that one of our problems is that we can't talk about or acknowledge sometimes our deep differences of opinion. They frighten us and threaten our feeling of unity. But a unity won by silencing or shaming or denigrating opposition is hardly worth celebrating. Because then, when disagreements do arise, we engage in subterfuge, indirect criticism, backbiting, or suspicion and fear and we do so hiding behind a smiling face, appearances, authority, or distance. If we truly loved the truth and we truly loved one another, we could sit down together, speak "the truth in love" and listen and learn from one another, no matter who had which calling, no matter who feels they were wronged first, and we would do the good and important work of truly forgiving one another, exercising forbearance and longsuffering. We might not overcome our differences but at least this way, we would stay on the walk with God, holding firm to his spirit of brotherly kindness and patience, and we could have the confidence that together we will journey into a space of greater understanding and light.