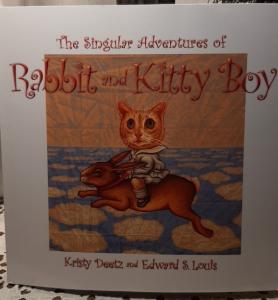 A Different Kind of  Entertainment
If you are a fan of literature that encourages you to think, makes you smile, and makes you contemplate the truths and the secrets of the universe; and if you are looking for entertainment and diversion that is beyond average, you might want to look at two books by artist Kristy Deetz and author Edward S. Louis: The Singular Adventures of Rabbit and Kitty Boy, and Holidays Unfolding: The Continuing Adventures of Rabbit and Kitty Boy. 
At the risk of sounding cliche, do not judge these books by their covers, or at least, not only by their covers. You may be fooled into thinking that you are picking up a child's book. Although there are moments when the lovable characters are childlike, these are not books for children. 
A Different Kind of Protagonist
Rabbit and Kitty Boy are intellectuals, adventurers, askers of the questions of the ages and seekers of the answers. They are shape-shifters and world travelers. They are explorers of philosophy, religion, culture, and art in its many forms. "Clever conversations between the two characters spark interpretation of the images, connecting with ideas from art history and theory, along with subtly dark humor–and plenty of puns!" (The Singular Adventures of Rabbit and Kitty Boy, cover).
The texts allow the reader to acompany Rabbit and Kitty Boy, best chums, innocent adventurers, and close friends of The Artist, into a colorful land of imagination where they seek to repair the fabric of meaning, navigate a reimagined calendar of special days, and gain sage wisdom, all while making sure to get enough to eat, and perhaps, a nap. Loyal, loving, unlikely friends that they are, they stick together, and grieve and worry if they are accidentally separated from each other, which does happen.
What To Expect
The books are multicultural, multi-faith, thought-provoking, and genuinely engaging. They are the wit and wisdom of Louis driven by the thoughtful and whimsical art of Deetz. Though many deep, spiritual topics are investigated by the endearing heroes, the bottom line is friendship. Everyone needs a friend like Rabbit and like Kitty Boy with whom to adventure, in whom to confide, and on whom to depend.
About the Authors
Kristy Deetz is an award-winning Professor in the Art Discipline. Her exhibitions have received  national and international attention and her paintings have been featured in a number of textbooks and magazines. Though retired, she still offers workshops and serves many venues as a visiting artist.
To learn more about Kristy Deetz's current show Threads, Folds, and Rabbit Holes, visit https://www.parkland.edu/Audience/Community-Business/Parkland-Presents/Art-Gallery/Exhibitions-Events/Exhibits/2024-Exhibits/Kristy-Deetz-Threads-Folds-and-Rabbit-Holes.
Edward S. Louis is the pen name for E. L. Risden, retired professor of English and author of fiction, poetry, and literary scholarship and theory. His recent works include Between Such Distant Shores (2020) and The Quantum Detectives (2021).