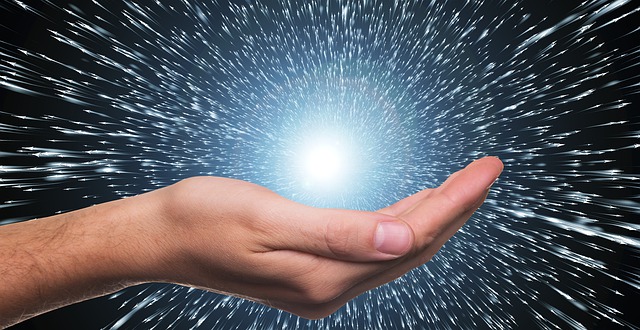 One of the most comforting aspects of Christianity to me is that I don't have to do anything to attain my salvation. It's not just that I don't have to do anything–I can't do anything. It is totally out of my hands. I can't achieve my own salvation, and I can't predict or decide anyone else's. However, the Bible has placed in my mouth, and in my hands, the most comforting verses in Christian scripture to guide others into the decision.
Why Should I Know the Plan of Salvation?
Every Christian should know how to offer the plan of salvation to others using the wisdom found in the Bible. In Psalms we read, "Your word is a lamp to my feet and a light to my path" (Psalm 119:105). We want to be able to offer the "light" to any and all who need it. Being able to minister that "light" straight out of the Word of God is quite a tool to have in the belt! But sometimes memorizing is difficult. How can we remember what to say and how to say it when something as important as a person's salvation stands on the line? I know a way! 
How Can I Remember?
This method is not original for me, but I really can't tell you where or when I learned it or adopted it. For many years I taught it to my Kindergarten students. Now I pass it along to older students. It seems to be an effective method for anyone because it uses something you have with you everyday all day to help your memory along–your hand.
Key words associated with the fingers of your left hand can help you to tell anyone about God's love using the most comforting verses in Christian scripture.
Give Me Your Hand
Thumb: It's the shortest finger, so we remember the word short.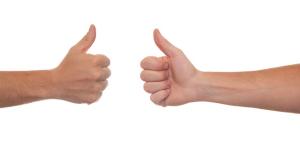 "All have sinned and fall short of the glory of God" (Romans 3:23).
Pointer finger: It can point downward for death (as the dead are buried in the ground) and upward toward heaven and eternal life. Death and life are the key words.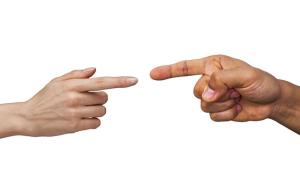 "The wages of sin is death, but the gift of God is eternal life through Christ Jesus, our Lord" (Romans 6:23). [To reinforce, I have my students literally point down and then up as they recite the verse.]
Middle finger: This finger is the tallest. Which verse seems to stand above all others in memory and popularity? Which one do you learn first in Sunday school and see on signs at sporting events? Hint: the greatest of these is love, and love just happens to be the key word.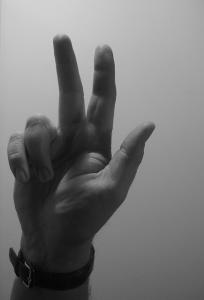 "For God so loved the world that He gave His one and only Son, that whosoever believes in Him shall not perish, but have eternal life" (John 3:16).
Ring finger: Verse four refers to the tradition of wearing the wedding ring on this finger. In marriage, one confesses love and becomes faithful to the beloved. Those words are the key to the ring finger verse.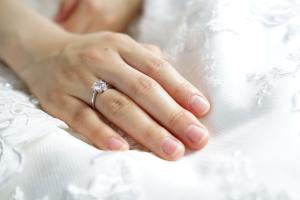 "If we confess our sins, He is faithful and just to forgive us our sins, and to cleanse us from all unrighteousness" (1 John 1:9).
Pinky finger: This finger finishes up the five, and then all five can be curled down to make a fist to knock. The "knock" is the very words of Jesus: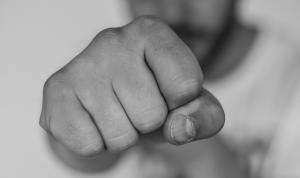 "Here I am! I stand at the door and knock. If anyone hears my voice and opens the door, I will come in to him and eat with him and he with me" (Revelation 3:20). 
For the final verse then, the fist is opened, palm upward to receive the salvation we seek.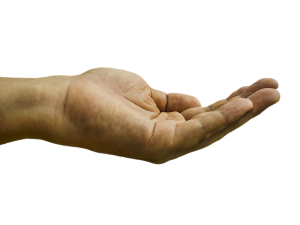 "To all who did receive Him, to those who believed in His name, He gave the right to become children of God" (John 1:12).
The most comforting verses in Christian scripture, God's plan of salvation, may be offered and explained in many ways with many verses, but I have discovered that this is a very good way to remember it, to teach it, and to extend it to anyone who is seeking the "light."
The Command
We have been commanded: "And you shall teach [my commandments] diligently to your children and speak of them when you sit at home and when you walk along the road, when you lie down and when you get up. Tie them as reminders on your hands and bind them on your foreheads. Write them on the doorposts of your houses and on your gates" (Deuteronomy 6:7-8).
The Commission
And we have been commissioned: "Go and make disciples of all nations, baptizing them in the name of the Father and of the Son and of the Holy Spirit, and teaching them to obey everything I have commanded you. And surely I am with you always, to the very end of the age." (Matthew 28:19-20).
God bless you, and may you bring the light of Christ to many through the most comforting verses in Christian scripture. Amen.