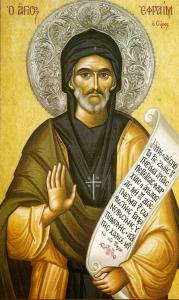 Ephrem the Syrian (306-373) was an important writer, hymnographer and theologian in the IV century. We know very little about his early years and the information we have are somehow in contradiction. We know that the Bishop of Nisibis (where Ephrem was born and that was then in Syria, today in Turkey), Jacob (or James), brought him to participate at the Council of Nicaea in 325. Then, after being in charge of a theological school in Nisibis he will retire in Edessa (also modern day Turkey), after his own city was invaded by the King of Persia. For this school he wrote great part of his works.
Saint Jerome was a great admirer of Ephrem saying that "acumen sublimis ingenii etiam in translatione cognovi," he was aware of the deep theological meaning in Ephrem's writings translating his works. He was a very austere man, always devoted to fasting and mortification of his body.
In an article we find in Catholic News Agency about him we find these words: "An effective evangelist and opponent of heresy, Ephrem was also known as a compassionate spiritual director, who warned new converts not to attempt excessive works of penance. Late in his life, the deacon made a pilgrimage to the city of Caesarea, where God had directed him to seek the guidance of the archbishop later canonized as Saint Basil the Great. Basil helped Ephrem to resolve some of his own spiritual troubles, giving him advice which he would follow as he spent his final years in solitary prayer and writing. Near the end of his life, Ephrem briefly left his hermitage to serve the poor and sick during a famine. His last illness came in 373, most likely from a disease he contracted through this service. When his own death approached, he told his friends: 'Sing no funeral hymns at Ephrem's burial … Wrap not my carcass in any costly shroud: erect no monument to my memory. Allow me only the portion and place of a pilgrim; for I am a pilgrim and a stranger as all my fathers were on earth.' St Ephrem of Syria died in June of 373. Soon after his death, he was remembered in a public address by his contemporary Saint Gregory of Nyssa, who closed his remarks by asking Ephrem's intercession."
On 28 November 2007, Benedict XVI remembered Ephrem the Syrian in this way: "The figure of Ephrem is still absolutely timely for the life of the various Christian Churches. We discover him in the first place as a theologian who reflects poetically, on the basis of Holy Scripture, on the mystery of man's redemption brought about by Christ, the Word of God incarnate. His is a theological reflection expressed in images and symbols taken from nature, daily life and the Bible. Ephrem gives his poetry and liturgical hymns a didactic and catechetical character: they are theological hymns yet at the same time suitable for recitation or liturgical song. On the occasion of liturgical feasts, Ephrem made use of these hymns to spread Church doctrine. Time has proven them to be an extremely effective catechetical instrument for the Christian community. Ephrem's reflection on the theme of God the Creator is important: nothing in creation is isolated and the world, next to Sacred Scripture, is a Bible of God. By using his freedom wrongly, man upsets the cosmic order. The role of women was important to Ephrem. The way he spoke of them was always inspired with sensitivity and respect: the dwelling place of Jesus in Mary's womb greatly increased women's dignity. Ephrem held that just as there is no Redemption without Jesus, there is no Incarnation without Mary. The divine and human dimensions of the mystery of our redemption can already be found in Ephrem's texts; poetically and with fundamentally scriptural images, he anticipated the theological background and in some way the very language of the great Christological definitions of the fifth-century Councils. Ephrem, honored by Christian tradition with the title 'Harp of the Holy Spirit,' remained a deacon of the Church throughout his life. It was a crucial and emblematic decision: he was a deacon, a servant, in his liturgical ministry, and more radically, in his love for Christ, whose praises he sang in an unparalleled way, and also in his love for his brethren, whom he introduced with rare skill to the knowledge of divine Revelation." The words of the Pontiff are a very good comment on the life of this great saint.
Let us read two verses from one of his many Hymns (we have around 400):
"1. This day are opened, our mouths to give thanks. They who opened the breaches, have opened my sons' mouths. Thank the Merciful, who has delivered the men of our city, nor thought at that time of exacting the debts that were due by us. When they rose up they that took us captive, the worlds in our deliverance, tasted of Thy graciousness.
R. From all that have mouths, glory be to Thy grace!
2. He has saved us without wall, and taught us that He is our wall: He has saved us without king and made us know that is our king: He has saved us, in each and all, and showed us that He is All: He has saved us in His grace and again reveals, that freely He has mercy and quickens. From every boaster, He takes away his boasting, and gives it to His own grace."
Certainly an author that would deserve to be better known.
From O Clarim