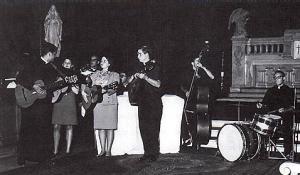 The book of Psalms can be read in many dimensions. The historical exegesis is most commonly applied. It often results in very boring results. There is also a powerful symbolic exegesis which can also be called allegorical or theological. This exegesis can only be practiced by high minds, like Saint Augustine.
In his commentary on Psalm 150, the great Saint Augustine says about the book of the Psalms:
"It is not random to me that the 50th psalm speaks of penance, the 100th of mercy and judgment, and the 150th of the praise of God in his saints. In fact, this is the order according to which we tend towards eternal and blessed life: first we detest our sins, then we live righteously so that, disapproving of bad life and practicing good life, we deserve eternal life ".
Augustine's remark is very powerful because it shows us that Ps 150 cannot be considered separately from the other psalms. The 150 psalms constitute the movement of a great symphony: We cannot praise (Ps 150) if we have not been able to shed tears for our sins before (Ps 50).
This is why the joy expressed in Gregorian chant is contained and austere, a joy with gravitas. It has nothing to do with the superficial, silly joy which we encounter in so many modern Church songs.
From gloria.tv