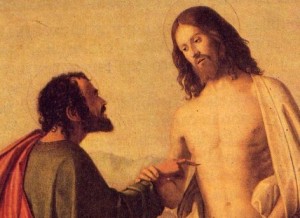 Christian art comes naturally from Christianity, it is the fulfillment of an artistic system which feeds itself with faith, it is a system which constantly searches to conform to what Jesus Christ reveals and teaches. Jesus is the true masterwork; He is deeply its basis as remembered by the Catechism of the Catholic Church in n. 476: "Since the Word became flesh in assuming a true humanity, Christ's body was finite. Therefore the human face of Jesus can be portrayed; at the seventh ecumenical council (Nicaea II in 787) the Church recognized its representation in holy images to be legitimate."
So Christian art is originally figurative, and it is impossible to loose this characteristic for it unless it looses itself and can no more longer express Christ. There is also another aspect that we must consider. Indeed, as we read again in theCatechism of the Catholic Church in n. 1159: "The incarnation of the Son of God has ushered in a new "economy" of images"; concerning this the Catechism quotes St. John Damascene: "Previously God, who has neither a body nor a face, absolutely could not be represented by an image. But now that he has made himself visible in the flesh and has lived with men, I can make an image of what I have seen of God." God made Himself visible in His Son and so He allows us to see Him so that we can portray Him. The men, who met and knew Jesus, spontaneously wish to treasure His portrait. The spiritual heart of the Christian heart starts intimately from the contemplative need to have a relationship with the face of the Beloved.
Analyzing the meaning of theological and spiritual reasons of the intimate figurative need of Christian art, the Catechism of the Catholic Church in n. 1160 says again: "Christian iconography expresses in images the same Gospel message that Scripture communicates by words. Image and word illuminate each other." So the painting of images is not only possible, because the person of Christ, God made Himself visible and His body became a measure and model of the artistic action, but it is also said that painting, and translating the Gospel's words into images, can explain them.
When explained the intimate figurative need of Christian art, we can ask ourselves now what type of figurative can be the custom-cut cloth for Christian art. The knowledge of the peculiar character of figurative realism necessary for Christianity, gives the value criteria to find the way to go out of crisis, in which sacred art is has been for half of the last century.
(Translation by Marina Madeddu)