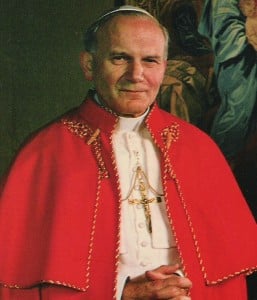 I'm reading with pleasure the Redemptor hominis of St. John Paul II. In this document, the Pope says: "Through the Church's consciousness, which the Council considerably developed, through all levels of this self-awareness, and through all the fields of activity in which the Church expresses, finds and confirms herself, we must constantly aim at him "who is the head", "through whom are all things and through whom we exist", who is both "the way, and the truth" and "the resurrection and the life", seeing whom, we see the Father, and who had to go away from us – that is, by his death on the Cross and then by his Ascension into heaven-in order that the Counsellor should come to us and should keep coming to us as the Spirit of truth. In him are "all the treasures of wisdom and knowledge", and the Church is his Body, "By her relationship with Christ, the Church is a kind of sacrament or sign and means of intimate union with God, and of the unity of all mankind", and the source of this is he, he himself, he the Redeemer". I mean, how logical that is, the center of it all have to be Christ.
But the daily narrative orchestrated by the media needs someone to talk to, interview, listen. It needs a symbol that signifies the ultimate reality. The problem is that the sign, in the media frenzy, then becomes the ultimate reality, and we spend more time talking about what the Pope says in high altitude of what the Almighty says in the highest.
I remember John Paul II, a Mass organized in order to have a strong media impact, with violins and flutes to accompany the steps of the tired Pope, sugary melodies that made the great Pontiff the star in an advertisement rather than the Vicar of Christ.
Does the media do a good service to the Church? I think that the Church suffers media attention, the churchmen (with some exceptions not always to be praised) act in a communication system that has parameters different from the those of contemporary communication. But without the media the Church would become one voice among many. The media needs the Church which supplies lots of material to offer to the general public, but especially the Church needs the media to make an impact, even if the price they pay can sometimes be very expensive.