I would like to introduce my new book, Scripture, Texts, and Tracings in Galatians and 1 Thessalonians edited by A. Andrew Das and B. J. Oropeza (Fortress Academic, 2023).*
This book marks volume four of the Scripture, Texts, and Tracings series from Fortress (Lexington Books). The series originated from a seminar at the annual Society of Biblical Literature conference called "Scripture and Paul." It focuses on the Apostle Paul's use of Old Testament (OT) Scripture, along with other ancient texts. Volume one centers on 1 Corinthians, volume two on Romans, three on 2 Corinthians and Philippians, and this final volume gives attention to Galatians and 1 Thessalonians.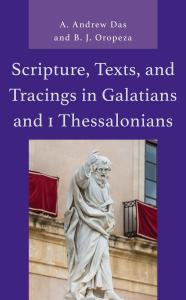 Interest in the New Testament (NT) use of Scripture skyrocketed several decades ago with Richard Hays's influential study, Echoes of Scripture in the Letters of Paul (Yale University Press, 1989). In this work, Hays introduced many biblical readers to the term "intertextuality." He also introduced the figure on an "echo," which he understands as a subtle allusion to (OT) Scripture found in Paul's letters. He also laid important groundwork for criteria that helps determine whether an echo is present in a given NT text.
Unlike the marked Scripture quotations which we normally find in the NT that use phrases like, "For it is written," and "Isaiah says," Hays challenged his readers to pay attention to unmarked Scripture references.
We find such references or "echoes," for example, in Romans 1:16-17 with the phrase, God's righteousness. Where did this phrase originate from? Which texts might have influenced Paul's understanding of it? Hays points us to relevant passages from Psalm 98 and Isaiah 51–52 as influencing Paul's reading of Romans 1:16-17 (Echoes, 36–41).
Scripture, Texts, and Tracings
My current book follows the intertextual legacy of Hays by specializing in both unmarked and marked Scripture references in Galatians in 1 Thessalonians. As editor along with Andrew Das, we gathered together a great team of scholars to investigate various passages in these letters.
Regarding the title of this series, by "Scripture" we refer the "Old Testament" that early followers of Christ read and followed (though not called OT at that time). Some references point us to the Hebrew version (proto-Masoretic/ MT), and many others to the Greek version (Septuagint version/ LXX), or sometimes Paul seems to have his own unique reading that follow neither of these closely.
By "Texts" we refer to ancient sources beyond Scripture. Sometimes Paul's words, ideas, or devices may resemble ancient Greco-Roman literature or Jewish literature from the Second Temple era (c. 500 BCE to 70 CE), along with other social, cultural, or ideological communication. The allegorical interpretation of Philo of Alexandria, for example, has a voice in this volume.
By "Tracings" we refer to unmarked presences of Scripture or other influences in Galatians or 1 Thessalonians. Here is where the allusions and Hays's figure of an echo come into play. Through a concentrated effort of examining the scriptures and texts that inform Paul—and sometimes the contexts of those texts (metalepsis)—our team of scholars are committed to unearth fresh and stimulating insights from Galatians and 1 Thessalonians!
Content of the Book
Introduction: Scripture, Texts, and Tracings in Galatians and 1 Thessalonians — A. Andrew Das and B. J. Oropeza
Paul's Engagement with Scripture in Galatians
Divine Identity and the Resurrection in Galatians 1:1–5: An Exploration of the Intertextual Matrix Underlying Paul's Redefinition of God's Identity — Matthew S. Harmon
Breaking Down, Rebuilding, and Transgressing What in Galatians 2:18? Paul's Use of Scriptural Metaphors and a New Interpretation — Nicolai Techow
The "Righteous by Faith Shall Live" … in the Spirit: Galatians 2:16–3:14 and Salvific Life — B. J. Oropeza
Cursed by Law-Breaking, Blessed in Abraham (Galatians 3:8–14) — Craig S. Keener
Habakkuk 2:4 in Galatians: Rewritings and Snippet Quotations — Roy E. Ciampa
"These Things are Spoken Allegorically": Paul and Christian Interpretation of Scripture — Mark A. Seifrid
Listening with Philo to Our Mother Sarah: Assessing the Validity and Value of Allegoresis Implicit in Paul's Use of It — Ernest P. Clark
Galatians 6:16's Riddles and Isaiah 54:10's Contribution: Gentiles Joining the Israel of God? — A. Andrew Das
Justification by Suffering: The Register of Old Testament Lament in Galatians— Channing L. Crisler
Counter-Narratives in Galatians — Christoph Heilig
Paul's Engagement with Scripture in 1 Thessalonians
11. Scripture as Paul's Foundational Ethic in 1 Thessalonians 4.1–12 — Jeffrey A. D. Weima
12. Called to Consecration: Jewish Holiness, Roman Piety, and Moral Discourse in 1 Thessalonians — Nijay K. Gupta
---
* ebook version is much more affordable than hardback edition