The St. Louis Rams blew out the Oakland Raiders yesterday 52-0. Rather than revel in a historic beatdown, many Rams fans are occupying themselves this morning by expressing real rage at their triumphant team.
The reason? During the pre-game introductions, five Rams–Jared Cook, Tavon Austin, Chris Givens, Stedman Bailey, and Kenny Britt–raised hands in a pantomine nod to the "Hands Up, Don't Shoot" protests going on in nearby Ferguson and other places. According to the players, they wanted to acknowledge and empathize with the peaceful protests against police-on-minority violence without "taking a side" on the issue of former Ferguson officer Darren Wilson's non-indictment last week.
From ESPN:
"My sister, brother-in-law, sister-in-law — all of them went this past week for Thanksgiving," Cook said. "They came back and reported to me about the things they saw and what was going on around there. Definitely, I will be making a trip to Ferguson."

[Kenny] Britt said he and his teammates were not "taking sides" with their display.

"We wanted to show that we are organized for a great cause and something positive comes out of it," Britt said. "That's what we hope we can make happen. That's our community. We wanted to let the community know that we support the community."
Call me crazy, but I think that's perfectly reasonable and even admirable by these players. They wanted to let their city know–including certainly many fans who have been on the streets participating in peaceful protests–that they know what is going on and are engaged in the issues too.
I think the gesture also demonstrates a mature restraint. The players made no judgment about anyone's guilt or innocence and did not use their media platform to encourage animus. It was a simple, silent show of solidarity with a hurting city. Professional sports is not always known as a socially conscientous enterprise, but I thought this was a bright moment for the team and for St. Louis.
It appears as if I am in the minority here. The internet response to the gesture has been overwhelmingly negative and often viciously so. Stories like the ESPN one linked above have thousands of comments from angry NFL fans, like this one, who has a friendly suggestion for the St. Louis police department:

I haven't the foggiest idea how raising two hands constitutes "crapping on the police." But this commenter is hardly alone. The St. Louis Police Officer Association is upset too. Here's a quotation from an official statement, included in the ESPN story:
"I know that there are those that will say that these players are simply exercising their First Amendment rights," SLPOA business manager Jeff Roorda said in the statement. "Well, I've got news for people who think that way: Cops have first amendment rights too, and we plan to exercise ours. I'd remind the NFL and their players that it is not the violent thugs burning down buildings that buy their advertiser's products. It's cops and the good people of St. Louis and other NFL towns that do. Somebody needs to throw a flag on this play. If it's not the NFL and the Rams, then it'll be cops and their supporters."
That's about as offensively absurd a statement as you will read in 2014. What does he mean by "people who think that way" about First Amendment rights? Is there another way to think? Why does he imply that the Rams were supporting "violent thugs" by raising their hands? Thousands of totally non-violent citizens have used the gesture. And then there's that astonishingly tone deaf ending, which sounds an awful lot like some sort of veiled threat against the players themselves. What a disaster.
There's more. This morning, Jared Cook posted a screen capture of a virulently racist message he received. He says that he received many such messages "all night" after the game. All for simply raising his hands.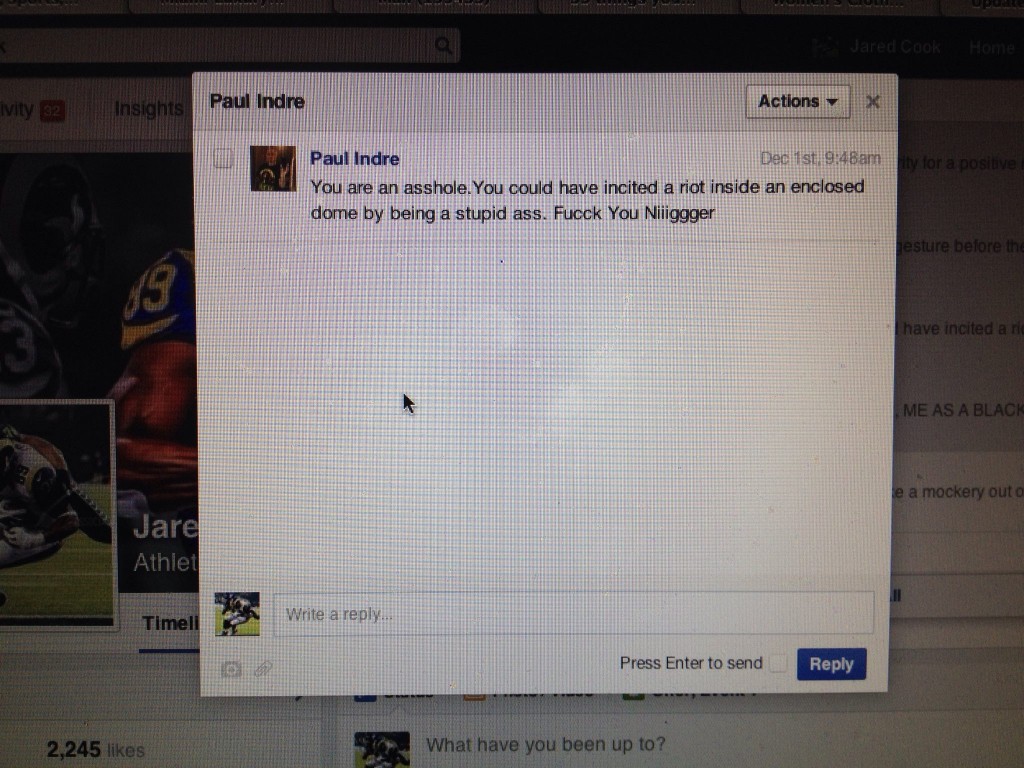 Listen: I haven't written about the Ferguson grand jury, and won't. Others are saying things much better than I could ever say. Hear them. But I will say this: This response to a meek, peaceful demonstration is totally outrageous. When a police officer association calls on an employer to punish employees who peaceably exercise their rights of speech and conscience, something has gone terribly wrong.