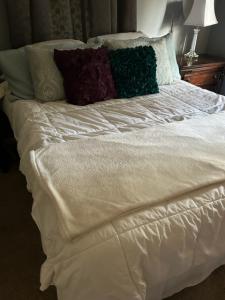 NICE THINGS
I have come to realize I like nice things.
No, not like a Ferrari or a Lexus. Have you ever ridden in a Ferrari? You sit low like you're sitting on the street, traveling at 80 miles an hour in second gear from stop like to stop like. It's like that roller coaster ride at Disneyland's California Adventure. Who the hell wants that?
No.
I'm talking about a freshly made bed, jammy sleep-shorts, a cool night (please dear baby Jesus!), a drive in my truck, grapes (red), a clean house, pre-dawn, time with a loved one where no one speaks, floating on my back in a pool looking at the stars, a good cup of morning coffee, fresh warm bread smeared with butter. Those kinds of things. You know I lean towards scotch on occasion or a cold beer if I feel dehydrated. I have been exposed to the Rusty Nail—two scotches mixed together—neat of course.
…where I am in life….
So, in this realization of my life-where I am in life, I am leaning hard in those directions. I have been for some time. I like to travel, but not a big trip like Europe. Too far. I would probably have to change planes in Chicago and that just sounds like slumming to me. I probably should go to Scotland or Ireland since that was where I was invented. But I would rather go to San Clemente or better still, Coronado Island, sit at a table half in/half out of the bar at the Del Coronado with, yes, a Rusty Nail, and watch the people walk by. Maybe commenting to a select few at my table why that person was wearing what they were wearing. Did they look in the mirror before they went out?
…you crawl in….
Then, go back sometime early that night, and climb into my freshly made bed. You know what I'm talking about—the freshly made bed. There is nothing like that in the world. You fold the cover and sheet back and it calls you. "Come to me, let me hold you," it says in a sweet, soft voice. You crawl in and everything from the day, everything simply slides away while you get into your PSP (perfect sleeping position in which I have patented) and slide into sleep. At least until 2:37am when you wake up in a cold sweat with your mind running about that thing you did or didn't do that day and what were you going to do to fix it. You're screwed then. The sleep is over, but at least it started well.
No, I like nice things. Simple things.
It's nice.
We are told they are….
Sometimes, that's how God shows up. He allows us to enjoy just those things which are totally contrary to other things the world tells us we should like. Nothing about those worldly things is true, but we think they are. We are told they are, so we believe it. It feels good so driving in a sports car while sitting so low you feel the asphalt on your bottom, well, that's supposed to make us feel better.
God is funny that way. He allows us to find and cherish those seemingly mundane things of life. Most of what the world tells us we want is nothing like what we really want. It simply fills a void in our lives. Distracts us from those things, those mundane things.
We sometimes think we have to do this or do that to be happy, when all we really have to do is find pleasure in where we stand. If we can simply raise our head from our task of the day, we can see it. It's nice. I promise.
About – Inside Our Gooey Minds (patheos.com)