Last week I was invited to be the community speaker for the local high school Baccalaureate. It was an honor but also challenging. How do you speak to high school students and to a community from such diverse religious and spiritual backgrounds? Bainbridge Island is a classic upper middle class, educated, privileged, white community. This sets off all the usual alarm bells, "Hm… they don't have any real problems." And, of course, these kinds of prejudice may have a grain of truth, but the facts on the ground upend these expectations. I've helped with our church youth group for many years, and I've taken my young people to serve across the country and across the city of Seattle. I have found them to be some of the most delightful young people I have ever known. The students' speeches and musical compositions at the Baccalaureate were stellar, wise even, and moving. As I've noted before, this generation is one of the most well adjusted generations ever, and they are far less arrogant and cocksure than my generation of Baby Boomers. They get it, they are no better or worse than anyone else, they just want a shot at life, and they want to serve and love and reach their dreams.
In fact, in many ways, I find high school students quite refreshing—they haven't stalled in their growth, they are still thinking, unabashedly so about themselves and the world.
And so, I said to this group of 500 adults and youth:
I bow to each of you. I call each of you an experiment in incarnation, a soul that is beginning to create something good, and beautiful and true and to make it flesh and blood. It is awesome to witness.
But that process of incarnation isn't easy.
Miles Davis, the great jazz musician, said, "Sometimes you have to play a long time to be able to sound like yourself." And that is the truth. I don't think I began to sound like myself until I was in my forties. Soul making takes a long time.
So being a human being is sometimes a strange mess. I was sitting with a young woman recently. She is your age; she is a beautiful and smart kid; she has everything going for her, the world is at her feet—great friends, great family, a lot like all of you, and she said to me, "I feel so empty inside… like I'm really alone… it's hard to sleep sometimes." I wonder if any of you have said that to yourself recently?
I'm going to tell you some news that's not easy: there is a hole inside of us that will never be filled, fully. And it creates nervous energy and anxiety that never goes away.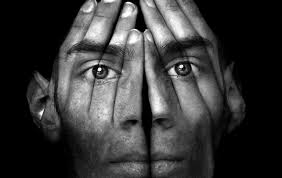 Our spiritual traditions tell us the truth about this hole. For Buddhism, one of the essential tenets is that there is NO self. In Christianity, followers are to lose the self in order to find themselves. In the Islamic mystical religion of Sufism, there is no self; there is only Allah.
So what do we do with that emptiness? You feel it. It's not an illusion, it's scary and it creates anxiety. Sometimes it makes you a little dizzy, like your standing right next to the edge of a cliff and looking down.
I think facing up to this emptiness is one of the essential tasks in life, so what will you do with this nervous energy inside of you?
I said to my young friend, we all have this emptiness, some of us distract ourselves with drugs, alcohol, or with prestige, money, or bling of whatever kind, but the truth is that we all have this anxiety, and the real choice is how will we use this energy in our lives–as a charge for our creativity? Or will it be an excuse to be dull, and "to live lives of quiet desperation…" as Henry David Thoreau wrote.
I said to her, use this anxiety to spur you forward to create something good, something true and something beautiful in the world.
That is all we can do. We are weird animals, evolved, with a big brain that knows we exist and knows we will die. There is a natural emptiness in us, and it is the engine of our creativity. So I say, cherish it; cherish it.
My teacher at the University of Washington was Gene Webb. He was a comparative religion professor there—I took his position when he retired from the UW. We remain close friends, and we meet for lunch and share our spiritual lives. He is a seeker at 72.  He just published his magnum opus, In Search of the Triune God. It's magnificent.
He said to me: "Jim, the whole world is an experiment in incarnation, God doesn't blame us for his failures, he just keeps trying."
I believe each of us is an experiment in incarnation: Our task is to use our energy to create something magnificent in the world.
As some of you know, my wife passed away last fall. She was the love of my life.  My 28 years with her were an experiment in incarnation—we made our lives together sacred and we created a beautiful family. We loved each other into being and our dinners were like communion for us, sharing love, encouragement—they were sacramental celebrations.
You can do that too. You can do that too. And so I ask what will you do with that nervous energy at the heart of your being, what will be your experiment in incarnation? Do you each have the courage to make something beautiful and true of your life?
Maya Angelou said, "I am convinced that courage is the most important of all the virtues. Because without courage, you can be patient, just, and loving for a while. But it is only with courage that you can be persistently and insistently kind and generous and fair and just."
So do you have the courage to make something sacred of your life?
To make beautiful music that delights and shimmers like shook foil.
To find your distinct voice, and express your unique self in the world.
To make extraordinary friends that sing with the joy and the grief of life.
Do you have the courage to be stewards of our environment, to create peace for all, to seek justice, to walk humbly, to be compassionate to all?
Someone asked me, why are you religious? I said, "I want to feel the ecstasy of the universe, and I want to serve that dream with everything that is within me."
You don't have to be religious—do it your own way—make your world big and bold and creative and good, and never settle for the  mundane, the pedestrian.
That is it my friends: the courage to be alive and to express and incarnate that, which is only given to you.
Go out my friends and do your work!