Wow, not long ago I wrote on Why I'm Not Watching the Super Bowl. Today, the NFL finally admitted the link between football and CTE: Read this and ask yourself whether you would knowingly let your son play football: Dr. Ann McKee, a neuropathologist at Boston University, said this about the relationship between football and CTE (Chronic traumatic encephalopathy):
"I unequivocally think there's a link between playing football and CTE. We've seen it in 90 out of 94 NFL players whose brains we've examined, we've found it in 45 out of 55 college players and six out of 26 high school players. No, I don't think this represents how common this disease is in the living population, but the fact that over five years I've been able to accumulate this number of cases in football players, it cannot be rare. In fact, I think we are going to be surprised at how common it is."
Wow, so, more than 80 percent of college players and nearly 25 percent of High School players are likely to have CTE.
So here is what I wrote about why I didn't watch the Super Bowl:
The Seahawks Aren't Playing. Okay, I like my Hawks, though even here, the reality of money, violence and the cynicism of the League are beginning to dim my loyalty to this team. Nonetheless, Pete Carroll's sheer will to transform any negative into a positive is stunning.
The Chris Borland Story. Read it and it will sober you too. Borland, a former Forty-Niner linebacker, is a physical and athletic specimen and watching him play was like watching Spiderman spring on people, breathtaking. But at 24, he says, the game "dehumanizes those who play and watch the game." It's a "spectacle of violence," and those who play it and watch are "complicit" in it. Borland talks about how the NFL concussion tallies are a joke. He's supposed to have had two concussions, in reality, he thinks it's more like "30." After quitting Borland went through a wide spectrum of tests and there was no apparent brain damage, "so far."
The Kenny Stabler Story. Growing up in the 60's and 70's I wanted to be an Oakland Raider. Watching Daryle Lamonica throw long bullet passes to Fred Beletnikoff was a thing of beauty. And then witnessing Kenny Stabler carry on this amazing team of junkyard dogs, was, for a young boy, mesmerizing. The black under Belentikoff's eyes and the stickum he wore on his hands made me feel like this was war. I wanted to be Kenny "the snake" Stabler, to run out of trouble and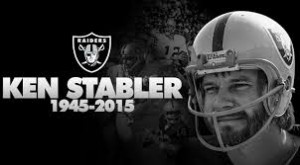 throw a touchdown and have everyone cheer. But the truth is Kenny Stabler died a wrecked man. He couldn't listen to his music anymore because of the wringing in his ears. He could barely remember names at the end. Cancer killed him but he died long before it. Read his story. Was all that worth a life?
The Jake Locker Hit. In 2007, against the Oregon State Beavers the freshmen phenom and savior of the woebegone University of Washington Husky football program suffered a terrible blow in a helmet-to-helmet hit. It was shocking to watch. And we know now these hits take their toll. I remember watching Jake's dad come on the field to see if his son was alive. I went back to read the story about the game, the big point was that everyone was most concerned whether or not Jake would be ready to play for the next game. So who is looking out for the young men in our college programs and why are we so willing to put their lives on the line for a football game? I searched the injuries of Jake Locker in his pro career—it is literally a map dotted by one serious injury after another, often because of hits to the head. The UW football program just had National Signing Day, 17 more football recruits; everyone was beaming, the coaches, and the fans. I just read that the UW, in the last year, brought in more than 31 million to support the Husky Football program. What are we doing to these scholar athletes?
The Fred McNeil Story. Growing up I loved watching the Minnesota Vikings, the Men in Purple—Purple People Eaters. McNeil was a part of one of the great defenses of that era. And from anyone's point of view he was the prototypical example of how a man should conduct his life. After twelve years in the league and two Super Bowls, he got married, had two children. By all accounts he was a loving father and a gentle giant. He attended law school, became a partner in a Minneapolis firm. But in his forties, the symptoms began, memory loss, inability to control his temper, leading eventually to a divorce and distance from his fa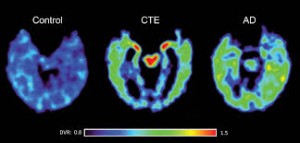 mily. The slow and dreadful symptoms of chronic traumatic encephalopathy (CTE) plagued him and he was in memory unit towards the end. CTE didn't kill him though it disabled him and destroyed his family. He recently died at 63 of cancer, and in death his brain was autopsied, and he was diagnosed with CTE. These stories have a too familiar ring.
What the League Says. Roger Goodell is featured in the Feb. 3rdNew York Times Review. Apparently, the whole league stands behind a Shield with these words: "Respect," "Resilience," "Integrity" and "Responsibility to Team." Goodell guards this Shield with his life, in part because this is who he is, and in part because he's paid more than 30 million a year to make sure his brand stands. And it's working. NFL revenue has nearly doubled in the last ten years to 12.4 billion in 2015. The conference championships this year set viewer records, anywhere from 40 to 60 million people are watching these games. Business is good, and everyone is benefitting. But is that so? Surely, some of the players are reaping their rewards. Our own Russell Wilson will make nearly 90 million over the next four years. The average NFL salary, however, was a paltry 2.2 million in 2015. And the average career length of an NFL player is 3.3 years, according to the NFL Players Association. So, to be sure, many players, perhaps most, walk away broke and broken.
Do We Care About the Health of Our Young Men Playing Football?
It took me some time to warm up to Pete Carroll. After all he was the head football coach at USC, our Husky's main nemesis. Carroll, however, seems genuinely interested in the character of his football players. He lets them be themselves. The Seahawks are beloved precisely because they are different. Marshawn Lynch—or Beast Mode as he is known, loves his community of inner-city Oakland; Richard Sherman speaks his mind on race; Russell Wilson preaches his gospel and is nothing but relentlessly positive—and a seeming do-gooder, visiting children in hospitals. It's hard not to admire these guys. It is one of the reasons I watch the Hawks, which I do on tape for an hour or so each week.
Do We Care About These Men and Their Families? Or are they simply like Roman gladiators, put out on the field of battle to be admired, but then quickly forgotten, perhaps not killed directly but indirectly by an insidious and devilish disease. We know that the violence of this game has long-term effects that are relentless and irreversible. What will we do with this knowledge? The ancient gladiators were admired for their martial ethic, but most were slaves and thus met their inevitable demise. They were sacrificed for the entertainment that it brought to the Roman Empire.
So, the NFL is our gladiatorial display. I wonder, without it, what would Americans do on Sundays? Would they go to church? Play football in the streets with their kids? Would they have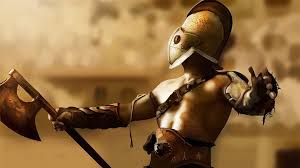 Sunday supper with family and neighbors? It's interesting to note that the gladiatorial games declined with the rise of Christianity. So, perhaps, truly, the NFL is our religion of choice, our martial shout out to the glory of apparently controlled forms of violence where we sacrifice those willing to put their lives on the line for us.
So, will you be watching the Super Bowl on Sunday?