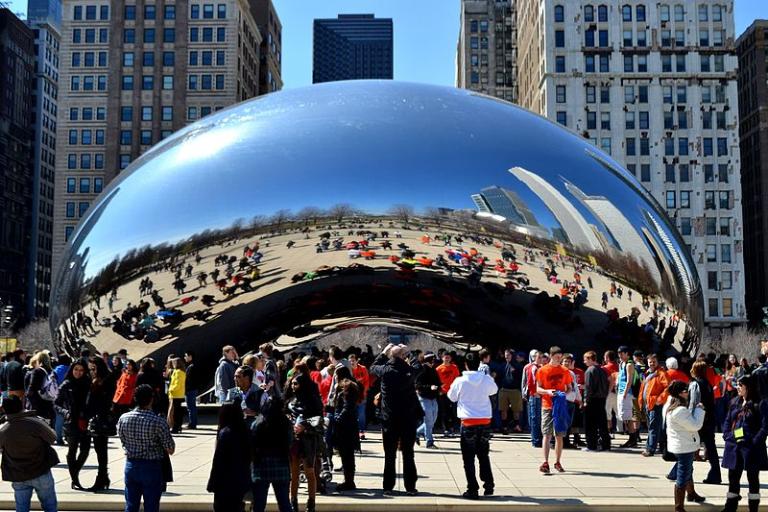 AirBnB has been in the news in Chicago lately, with disputes about how to regulate residents who offer rooms, or homes, for rent via the site.  And while I'm not going to dig into the details of proposed regulations, today the business columnist Phil Rosenthal added his two cents in "Tighter city rein on Airbnb needed to free neighborhoods from tourist trap," where he writes:
You move to a block because it's quiet, near the hustle and bustle but apart from it. There's usually available street parking and rarely much traffic. You wanted a residential block for your kids, not part of a business district.

If you had wanted to live near a hotel, you could have, and you didn't. Who wants the noise and the traffic? Tourists tramp through your neighborhood as if it were a fancified Ramada Inn parking lot, shouting at each other and treating flower beds as if they were ashtrays.

So no, you're not a fan of Airbnb.

You don't have much use for any of the services that enable opportunistic landlords to become innkeepers. You think that just because some schmo with space is willing to be a temporary roommate with some out-of-towner for a few bucks, you shouldn't have to pay for it.
And I kept waiting for the "but" — the recognition that this picture was exaggerated, that there's another side.  But he never gets to the "but"–out-of-towners, in his telling, are badly-behaved, boors, who have no rightful place anywhere but a few hotels where they can be cordoned off, quarantined, shuffled off to the museums, attractions, and restaurants in the morning, and returned to their spot in the evening.
At the same time, the Tribune published an editorial, "From the Ferris wheel to 'The Skyline': How would you ignite Chicago tourism?" asking readers for their ideas on new attractions to bring more tourists to the city.  So, well, my first thought is, treat them with respect, rather than as cash cows, who are imagined to be able to fund everything "for free" via hotel taxes, higher taxes on downtown restaurants, rental cars and parking, an extra charge for taxi rides and CTA tickets originating from the airport, etc.  (see my prior blog post on the proposed Lucas Museum funding).
How's this for regulation of properties rented out on a nightly or weekly basis:  tax them at rates equivalent to other service providers.  Enforce noise regulations as you would any other violation.  Require licensing that's reasonable relative to the scale of the particular business.  Require that AirBnB and similar sites disclose the full address of each unit, to relevant government bodies, so that cities can ensure that laws are followed, and condos, apartments, and co-ops can ensure that leases and community regulations are not being violated.  As to accusations that large numbers of AirBnB rentals take away from the housing stock? Well, get rid of density and other regulations that artificially limit the housing stock in high-demand communities.
How many times have you been told that Americans are untraveled, and ignorant of the world?  Yet our cities put up so many barriers to travel even within the United States, especially for families and budget travelers.
Whenever possible, when our family travels for more than just an overnight or two, we stay at rentals rather than at hotels.  For a family, a hotel stay is difficult and unpleasant, as is the need to eat every last meal at some restaurant or another, which adds to the price as well as losing its appeal after a while.  (With small kids, there was very little appeal to it in the first place.)  A multi-room "suite"-style hotel (or multiple adjoining hotel rooms) is generally more costly than a house or apartment rental.  Being located in a business or commercial district is equally unattractive, when you can't take the kids to a park of any kind, except, to use the British term, to a car park.  Yes, a hotel offers amenities such as daily maid service, and a fitness center, and perhaps a pool, but I'm fine with cleaning up after myself and paying a one-time cleaning fee when we leave.
When it comes down to it, Chicago, and pretty much every similar city, in order to milk as much money out of tourists and business travelers, violates the golden rule:  treat travelers to your town, as you would like to be treated, when you travel out-of-town.
Image:  https://commons.wikimedia.org/wiki/File%3AChicago-bean-329248_1280-2.jpg; By https://pixabay.com/en/users/gautherottiphaine-230124/ [CC0], via Wikimedia Commons