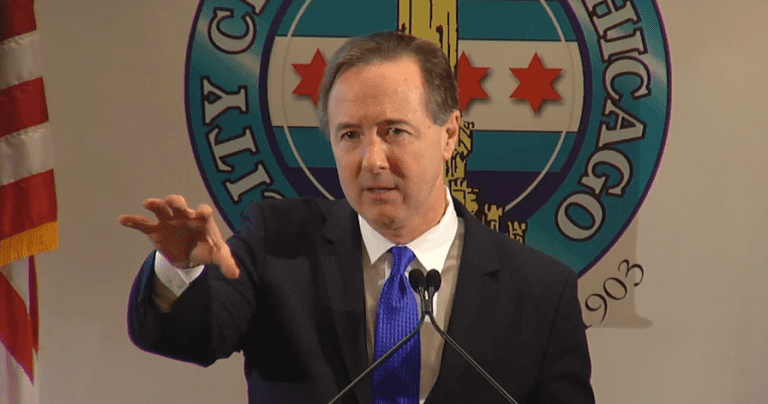 The Chicago Public Schools, and its CEO Forrest Claypool, in a long-running battle to get more pension bail-out money from the state, has now filed a lawsuit, alleging unequal state funding and claiming that this is racial discrimination because of the disproportionate number of students who are "of color" (that is, black or Hispanic) in Chicago public schools. (See today's Tribune.)
What's going on here? Illinois Policy rebuts the claim that CPS children are being treated unfairly. In all of the school-funding allocations from the state, Chicago schools come out far, far ahead because the funding is weighted heavily to districts with high levels of poor, minority, special ed, and/or English-learning children.
What's Claypool's case, then? He says that Chicago only gets 15% of state funds while it has 20% of students, because (though the Trib article doesn't explicitly say this) he's adding in the state contributions to the teachers' pension plan for non-Chicago teachers. Illinois Policy provides a chart which (though it only covers the years to 2014) reports that this total percentage has varied from year to year depending on the level of pension contributions. in 2014, Chicago received 17.6% of funding, when considering pension contributions, but a decade ago, in 2006, (when presumably Illinois was taking another one of its repeated pension contribution holidays), Chicago received 24.0% of total funding; the number's been steadily declining since then, so perhaps if the chart were extended two more years, this would match Claypool's claim of 15%.
Does Claypool have a case? Maybe.
The Chicago Teacher's Pension Fund was established in 1895, by the state legislature, to be a self-governing, self-funding entity. The Illinois Teacher's Retirement System was first created in 1915, then re-established in 1939. So far as I can tell, the local employer contributions have always been modest, and, according to the TRS itself,
From the beginning of TRS in 1939, teacher contributions were never intended to fund 100 percent of a member's retirement annuity. As in all defined benefit retirement plans, the benefits have always been a shared responsibility of the members and the employers, which in the case of TRS are school districts and state government. TRS is responsible for investing these contributions and adding all investment returns to the trust fund to enhance its ability to pay member benefits. The state, by law, assumes the lion's share of the employer's cost because state government requires all active public school teachers outside of the city of Chicago to be TRS members. Also, all public school districts are creations of state government.
Which seems like a pretty lousy rationale to me, especially when it's the local school districts that are setting teacher pay.
You want a fix for this disparity? Well, aside from the need for the state pension system to be wholly reformed, seems to me that it should come in the form of local school districts being responsible for the cost of annual accruals, based on appropriate actuarial assumptions. (It's fine for the state to manage the whole system, to provide continuity for teachers moving from one school district to another.) Or perhaps the Chicago teachers should begin to participate (again, for new accruals) in the statewide system. But "fairness" doesn't require that the State pick up the funding deficits that were due to irresponsibility by the city of Chicago in years past.
Image: Forrest Claypool, from https://vimeo.com/146044058