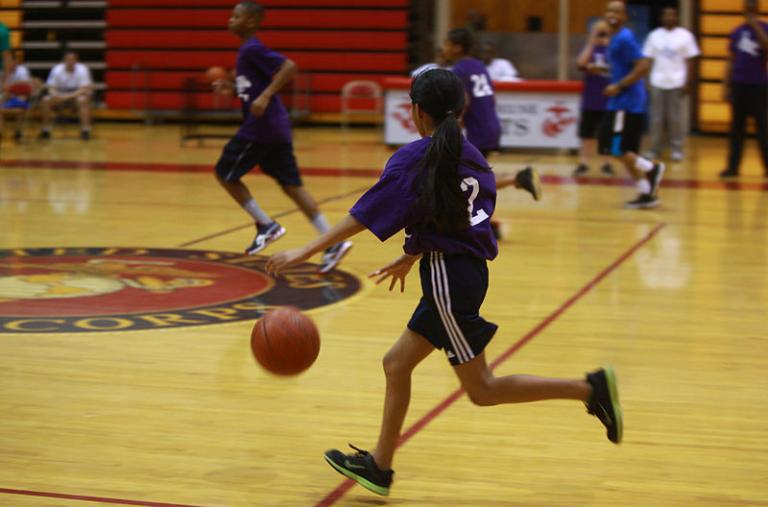 In today's Tribune (originally from the Washington Post):  "Fifth-grade Catholic youth team forfeits season rather than kick girls off."
The story:
For several years, a Catholic Youth Organization (CYO) basketball team in New Jersey had included a pair of girls. But recently the squad, now in the fifth grade, was presented with a difficult choice: Drop the girls, per the archdiocese's rules, or forfeit the season.

The team's decision was unanimous. It was also courageous and inspiring.

Before a game Friday against a squad from another parish, the youngsters from St. John the Apostle decided to forgo their final two games, plus the postseason, rather than play without two longtime teammates. "It's not fair that we get to move on but they can't," one of the boys said afterward.
What's missing from this celebration of the wisdom of children, in standing up for equality and fair play?
The school in question offers a girls' basketball team, and the two girls in question were not kicked out of basketball-playing, but moved over to the girls' team.  See this local report:
. . . the two girls at St. John the Apostle in Clark had played on a co-ed team last year, and the school athletic director took the same players for the fifth grade team this season.

The mistake was not discovered until last weekend when Richard Donovan, director of CYO athletics for the archdiocese, saw the fifth-grade team playing a game. Donovan notified the athletic director.
The two girls, who were allowed to play with the boys by mistake, have been placed on girls teams at the school, and the boys team is continuing its season in the playoffs, said Jim Goodness, spokesman for the Archdiocese of Newark that oversees the school.
Here's the school's website:  boys' and girls' basketball for grades 2 – 8.
So why didn't these girls play on the girls' basketball team?  It's not clear.  It's hard to imagine that they didn't know about the girls' team.  Did they or their parents decide that the boys' team was better for them, that it would develop their skills more, that the girls' team was inferior, because they were better players than the other girls?  That's a mean-spirited assumption, but the only one I can come up with.
And if that's the case, if the families rejected the girls' teams, there are no heroes here.
Image:  no, not these particular children.  A generic youth basketball game, from Wikimedia Commons. https://commons.wikimedia.org/wiki/File%3ABasketball_gateway_to_youth_mentoring_program_130222-M-ZB219-151.jpg; By Cpl. Paul Peterson (https://www.dvidshub.net/image/875178) [Public domain], via Wikimedia Commons