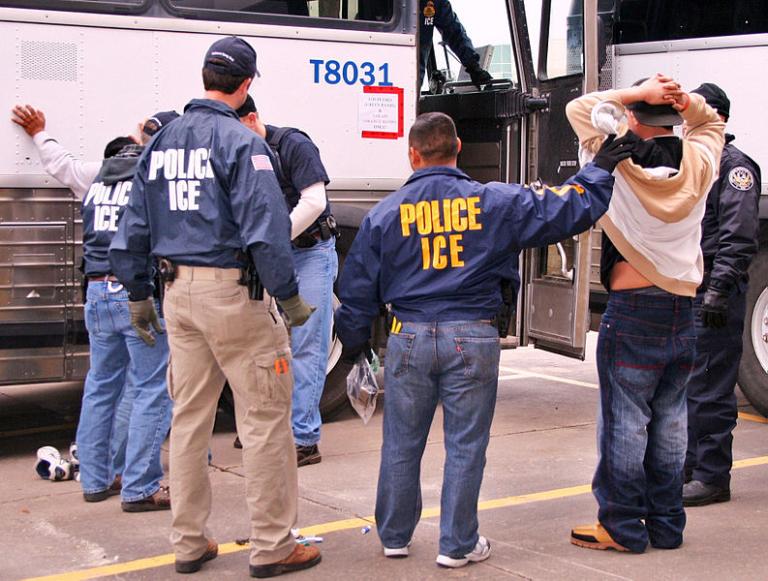 Earlier this week, the newspaper was full of articles like this one:  "Trump rhetoric has created 'atmosphere of terror' for immigrants, advocate says," which reported that
Chicago's enforcement office made 235 arrests across six states — Illinois, Indiana, Wisconsin, Kentucky, Kansas and Missouri — during an operation that began Feb. 4 and concluded Friday, U.S. Immigration and Customs Enforcement spokeswoman Gail Montenegro said. Forty-eight of those arrests occurred in the Chicago area.

For immigrants still shaken by President Donald Trump's ban last month on travel from seven largely Muslim countries, news of the raids, as well as rumors of federal agents' inquiries into immigration status on sidewalks and in businesses, has stripped away their sense of security.
The stories go on to say that those arrested are, in fact, criminals, and often those who had previously been deported and returned.  But illegal-immigration advocates spoke of the masses of illegal immigrants being terrified.  A story on the TV news focused on a pastor promising church members that the church would be a "sanctuary" if the feds came for them.  The fear described seemed so out of proportion to the actual arrests of people "convicted on charges such as prostitution, DUI, cocaine possession, burglary, criminal sexual assault, assault, and aggravated sexual abuse of a minor."
But, poking around on twitter, I finally found out the background:  people had been posting on facebook and twitter the following claim (per NPR):
"One of my regulars has a contact inside ICE and just told me there are mass raids planned for Chicago this week. Round-up quota is 20k people. They're mostly targeting schools, churches, etc. One of the neighborhoods on the list was Pilsen." Also: "Homeland Security is checking IDs on the red line for Hispanic or Middle Eastern appearance, heads up everyone."
A little searching on twitter turned up tweets by @WendEclair, @El_Philippe, @UghxLifeXX666,  and others.  No telling if this is all, or the tip of the iceberg, with more rumormongering on facebook or shared by text, or even (yeah, I know!) in person, or whether the same thing was happening outside of Chicago.
Who started this? How many people passed this on because they genuinely believed it, how many because rumors of round-ups would help them with their cause?
https://commons.wikimedia.org/wiki/File%3A100203houston_lg.jpg; By U.S. Immigration and Customs Enforcement (ICE), www.ice.gov. Please credit by saying "Photo Courtesy of ICE". [Public domain], via Wikimedia Commons