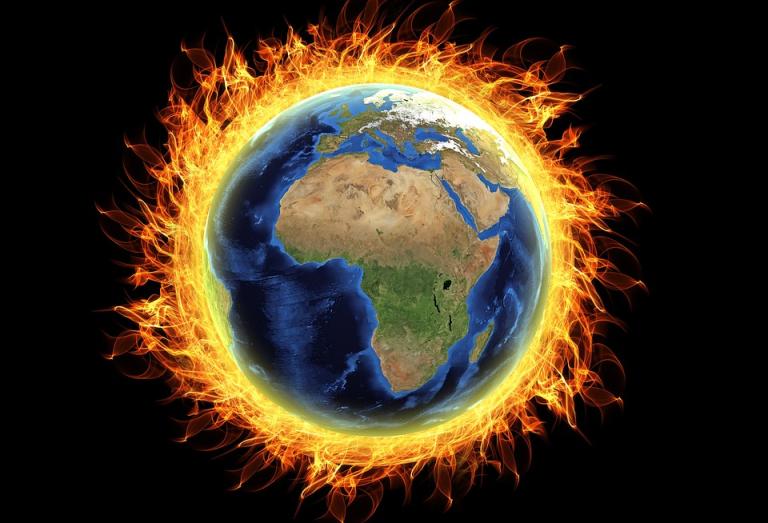 Hey, everyone — I said in my prior post that I'd been having real-world conversation.  Here's a piece from a real-world friend who assures me he is not some sort of crazy eco-warrior.  Please give me — and him — your feedback in the comments.
First, thank you, Jane, for allowing me to use your blog and to share my views on Climate Change with you and your readers.
Jane's perspective (shared here) is, unfortunately, not uncommon.  In fact, I would say that her kind of skepticism is still held by the majority of the American public.  I'd call it the result of the prevailing lack of clear information, exacerbated by direct efforts of misinformation on the part of some.  But that's not where I want to take this blog post.
Instead, I'd like to just share my view, simple as it is.  It won't address each one of Jane's points.  Maybe those can be the topic of future guest blog posts (if I'm invited back after this one…).
I'm the Scoutmaster of a local Boy Scout Troop.  Three weeks ago we took the boys to Starved Rock State Park here in Illinois.  This is an annual trip, with the highlight typically being the wonderful natural spectacle of frozen waterfalls in the many canyons the park has to offer.  Well, not this year.  This year we hiked in temperatures as high as 65 degrees.  And no, that's not normal for February in Northern Illinois.  In fact, it was a new all time high.
Am I dumb enough to think a single "fluke" in isolation has any wider significance?  No, of course not.  But it's an extreme weather event nonetheless.  And simple meteorological observations tell us that extreme weather events are getting to be more common.  The Illinois weather extremes of February go further.  February was, in fact, an extreme month in large parts of the United States.  It was the second warmest February on record, and the record warmest in many parts of the country.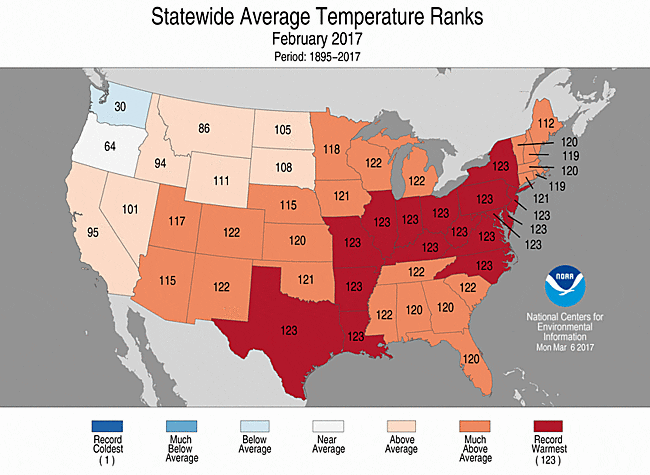 There were five outbreaks of severe weather, with the most prolific event during the end of February (roughly a week after our trip to Starved Rock) when nearly 60 confirmed tornadoes touched down in the Midwest, Southeast, and mid-Atlantic.  For Illinois, I'm told it was the first time ever for a February that the National Weather Service issued more tornado warnings than winter weather warnings.
I know, there will always be records, and there will always be flukes.  But when the records and flukes are getting to be more frequent and more extreme, it should give us pause.
In reality, though, the fact of global warming (and climate change more broadly) is really no longer in question.  NASA documents global warming quite impressively on its web site (climate.nasa.gov), citing numerous different sources that all reach the same conclusions.
The results of global warming are equally well documented, and they are worrying.  Severe weather that causes multi-billion dollar damage.  Ocean water levels rising that will ultimately threaten coastal areas.  Diseases that spread more easily.  Droughts that turn farmland into deserts and displaces people.  Water shortages.  Famines.  Etc.  All caused by climate change?  No, certainly not.  But it's almost certainly all made worse by climate change.  And it's certainly bad enough to not ignore.
The question then really boils down to what causes all this change, and whether we can do something about it.
The answer to the first question is quite simple.  It's us.  Humans.  More specifically, it's the increased greenhouse effect that's caused by emissions from humans, principally the burning of fossil fuels.  Just about the entire scientific community agrees on that point—no matter how much some people keep on denying it.
The second question, what we can do about it, is slightly trickier.  The advances in renewable energy are certainly promising.  The fact that prices of energy from renewable sources have come way down is encouraging.  Personally I'm convinced that's the way to go, but I'm all in favor of understanding the pros and cons.  Of course there are cons.  There always are.  But if the pros outweigh the cons and a shift in energy policy is the right thing to do, then let's do it.
The stakes are too high not to act.  The risks of inertia are too great.  We have to get beyond the silly side shows and partisan bickering.  Let's agree that there is a problem and then let's join forces to find and pursue the solutions.
Martin, self-avowed Climate Alarmist
Image from https://pixabay.com/en/global-warming-burning-earth-burning-1494965/; public domain
Map from NOAA National Centers for Environmental Information, State of the Climate: National Overview for February 2017, published online March 2017, retrieved on March 12, 2017 from http://www.ncdc.noaa.gov/sotc/national/201702.