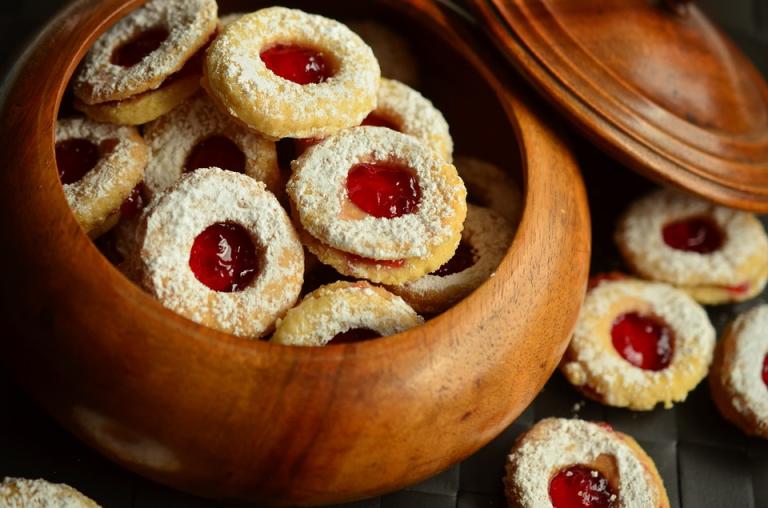 It's cookie-baking time, or, specifically, Plätzchen-baking time, traditional German Christmas cookies.
These are not super-sugary. It's basically a butter cookie, except with less butter and less sugar than a traditional American recipe, and as you can see from the photo (not my own), they're typically dressed up with jelly and powdered sugar rather than frosted.
But the best thing about them is that they're super-easy to make. Maybe not super-easy to make, as a top-notch cookie, but, as a satisfactory cookie for a snack, my 10 year old can make them from start to finish.
Here's the recipe:
200g (1 2/3 c.) flour
Pinch baking powder
pinch salt
50 – 60 g (1/4 – 1/3) fine sugar
1 tsp vanilla
100 g (7 tbsp) butter
1 egg
1 tbsp milk or water
Make sure ingredients are cold. Then combine by hand (kneading) to create dough, or use a mixer. Do not overknead. (Using a mixer is probably not the preferred way to make these, but it's faster and more kid-friendly.) Roll out dough with rolling pin; cut round shapes with cookie cutters, and cut a hole in half of them. Bake at 190 Celsius/375 Fahrenheit until golden brown. Then combine two cookies with jelly, sprinkle powdered sugar on top.
So there you go — one of the ways that we carry on my husband's German traditions.
And, by the way, before you ask, he says, speaking of German Christmas traditions: "THE PICKLE ON A CHRISTMAS TREE IS NO MORE OF A GERMAN CHRISTMAS TRADITION THAN FORTUNE COOKIES ARE A CHINESE TRADITION." (All caps to approximate his irritation level.)