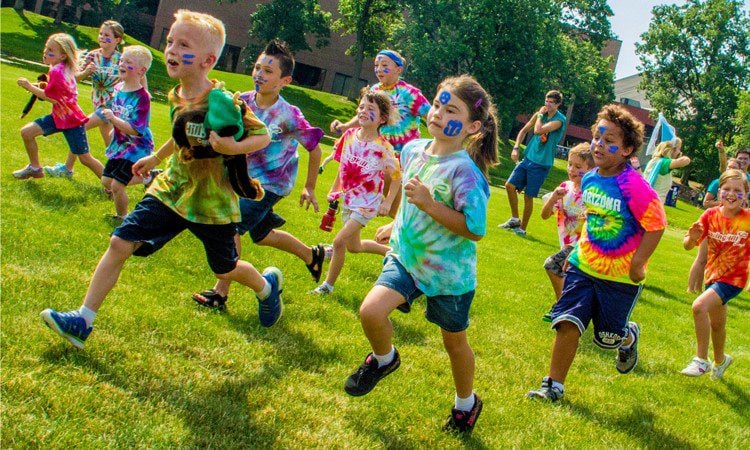 My oldest child just turned 18.  That means that I've been dealing with the question of "what do the kids do in the summer?" for — well, for quite some time now, and have solved it in a number of ways.
The summer when my oldest had just finished first grade, my younger two were in daycare, so for convenience's sake we used the "summer camp" option offered by the daycare, which was not bad, actually, and included field trips and swimming in their pool (they had an extra-large play area).  Other summers we uses the day camp offered by the park district, the summer school/enrichment classes from the school district, and, when each of them was old enough, sailing camp at the manmade lake, with Boy Scout camp and a nature camp tossed in for good measure.  Plus, I worked three days a week until my youngest turned 4, then five reduced-hour days, telecommuting, after that, so that we didn't need the "extended care" options of the 9 – 3 camp, and I was able, when my kids reached middle-school years, to varying degrees just tell them "stay out of trouble and stay out of my hair" and send them over to the pool (a couple blocks away) as much as possible.  Oh, and, until the team shake-up and new manager, I was able to take extra (unpaid) time off during the summer because this was our slow period.
And, incidentally, here are a few data points on local (northwest suburban Chicago) park districts' day camp options:
Arlington Heights:  $316 for 2 week sessions, 9 – 3, with extended care from 7 – 9 ($106 extra) and 3 – 6 ($158 extra), running from the first week of vacation through August 10th (leaving a 1 1/2 week gap before school starts).
Rolling Meadows:  $360 for 3 week sessions, 9 – 4, with an extra $95 each for late stay or early arrival.  Runs through August 3, with an extra by-the-day option for the week through the 10th.
River Trails:  8:30 – 3 pm, $377 per 3 week session, with before & after camp for $87 and $174.  Runs through August 10, with an extra week running all the way up to the start of school.
(Yes, this means that Arlington Heights is the outlier in terms of cost; I don't know why.)
And in Chicago:  varyingly 9 – 3 or 10 – 4, June 25 to August 3 (or August 17, by location), with the usual extended hours, for fees starting at $140 (why so cheap?  I don't know whether certain locations receive special subsidies rather than subsidies following specific low-income kids).
I will also add that my first year of signing up for "daycamp," based on the stories of parents scrambling to find care, I signed my boys up as soon as registration opened up.  I've now learned that there's plenty of space available.  The only real difficult has been years when for whatever reason we weren't able to plan our vacation for the very end of the summer, and had to figure out what to do with the boys instead, because that stretch in August when the daycamps close down but school hasn't started yet is tough.
So this is the background I bring to reading stories about the "summer care gap," such as this one at New America, from late June, which is a follow-up interview to a report, The Summer Care Gap, published in May, which the author, Amanda Lenhart, summarizes and gives personal context to in a Slate article.  Her lament is an upper middle class one, that of finding suitable activities during the day and a late-afternoon babysitter who will be more accommodating to unexpected overtime than an "extended care" option.  But working-class parents have the more difficult task of financing vacation daycare; subsidies are available but the system is difficult to navigate.  And her dream is, in part, greater vacation time and shorter school vacations, but also "more subsidized, high-quality, and engaging activities that allow kids to explore their passions, try new things, or keep up with academic subjects and have days that mirror the length of the average workday."
A
similar article in the New York Times
from two years ago raises the same issues, and came to the same conclusion:
A real investment in affordable summer learning programs could improve children's success in school, while relieving their parents of a stress that shouldn't be part of the season we still refer to as "vacation."
But is putting elementary-school aged children in daycare all summer long the answer?  The local park district's daycamp is a very practical solution, though it hardly conforms to Lenhart's vision of kids "exploring their passions" and I suspect that Lenhart's children's summer consists more of coding camps or other programs that promise to give your kid a head start on everyone else in the fall.  Perhaps the Chicago Park District's programs have enough economies of scale and grant money to ramp things up beyond playing capture the flag and swimming.
But here's my worry:  (middle class) kids are overscheduled enough as it is.  There is a real benefit to balancing formal activities with family care and other informal arrangements for grade schoolers, so long as the neighborhood is safe, in providing them with unstructured time and the opportunity to meaningfully "explore their passions" rather than be instructed in their "passions" in a classroom all summer long.
Image:  https://commons.wikimedia.org/wiki/File:Daycamp.jpg; By MSchottlander1 [CC BY-SA 4.0 (https://creativecommons.org/licenses/by-sa/4.0)], from Wikimedia Commons